'We are not a good side at the moment': Saints coach
Alan Richardson admits he is facing the toughest challenge of his St Kilda tenure as he tries to turn a team that currently isn't very good into a finals contender.
Richardson has overseen a patient list rebuild since taking over from Scott Watters ahead of the 2014 season.
Since then he has a 34-58 win-loss record, with two draws. The Saints have finished 18th, 14th, 9th and 11th.
This was supposed to be the season when all that patience paid off.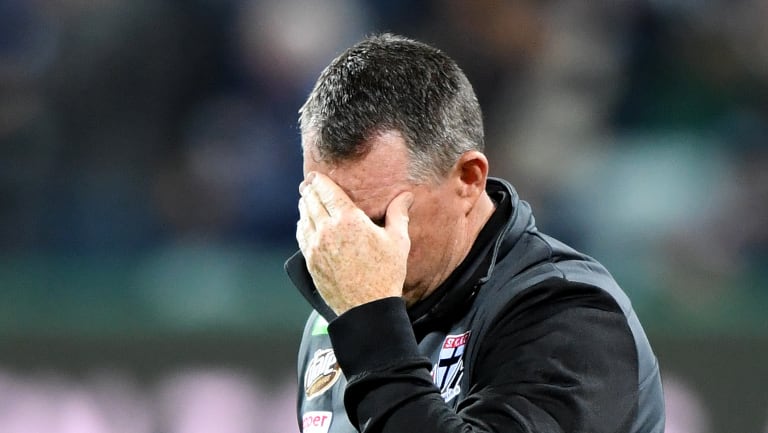 Saints coach Alan Richardson says the Saints "are not a good side at the moment".
But after six rounds, St Kilda are 16th with one win and a draw and haven't often looked like a side capable of returning to the finals for the first time since 2011.
"We are not a good team at the minute, absolutely, I totally agree," Richardson replied when questioned on his side's early-season form on Fox Footy's AFL 360.
"There's no doubt it's a challenging time for our footy club. It's a challenging time for our playing group and certainly for our coaching staff.
"And probably the most challenging time I've had in my time at the club, given that we've generally made pretty steady progress (each year), I reckon. There's no doubt about that.
"(But) I'm really looking forward to seeing how we respond as a playing group and as a club, with the fact that we're not able to execute what we're trying to do consistently.
"I'm responsible and we're responsible, I wouldn't say to make the place a positive place, but so that there's absolute understanding of what we're not doing to make sure we're more consistent, and that there's some real energy."
The Saints looked to have turned the corner when they snapped a run of three heavy defeats with a gutsy draw against flag fancies Greater Western Sydney in round five.
But they faded to a 35-point defeat against Hawthorn in Launceston on Saturday night.
St Kilda's next opportunity to get their season on track comes when they host Melbourne at Etihad Stadium on Sunday.
AAP
Source: Read Full Article