'Not quite right': Higgins opens up on concussion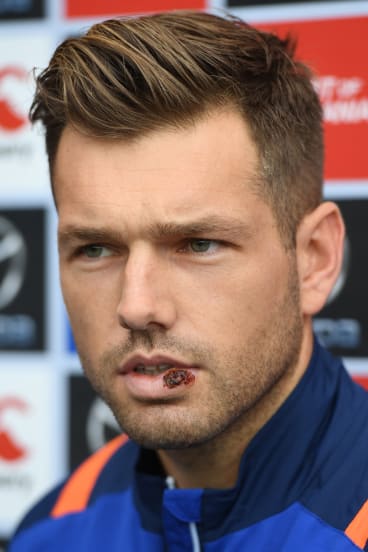 Shaun Higgins shows his wounds after the collision.
A rattled Shaun Higgins says he now has greater respect for the work that's being done to reduce the rate of concussion in football, but the North Melbourne star has no ill feelings towards Hawthorn's Ryan Burton.
Higgins will sit out this weekend's clash with Port Adelaide after a stressful weekend for he and his family, which included the birth of his daughter, Rosie.
Fronting the media for the first time since the incident, a softly spoken Higgins – sporting a bruised and bloody lip – had heard some of the debate surrounding the bump but was unwilling to buy into it too much.
"I was under the impression that if you elect to bump and it goes wrong that you'd find yourself in strife," he said.
"Clearly that's changed in the last 12 months and especially after the Nat Fyfe incident a couple of years ago – but that's not for my worrying at the moment, the AFL has got to look at that and I'm sure they will ."
More significantly, at age 30, Higgins is going through the aftermath of his first serious head knock and he says the recovery is nothing like he's been through before with other injuries.
"It's totally different because, I just said to Scotty I would've been putting my hand up to play if it had've been any other injury because you just know you can push through it," Higgins said on Thursday.
"But with head injuries like this, it's hard to explain but you just know you're not quite right.
"I knew [the AFL's work with concussion] was important but I don't think until you're put in that position … and the way I felt, and even family members and that sort of thing and the long-term effect … clearly they're going down the right path.
"All the players support it and when you go through something like this I think you support it even more so."
Higgins admits he's still not completely sure on the specific rules surrounding bumping and concussion, but he's not blaming the AFL or its rules for what happened.
Nor does he blame young Hawk Burton for bumping him.
"He was great, he texted me following the incident, he was obviously a little distressed as well … it's just not ideal for either party to be honest.
"I don't think with the incident itself that there was any intention to cause the injury or impact that it did."
In fact, Higgins believes that he, too, played a small part in the collision.
"I probably held onto the ball a little too long and if I had kicked it earlier we wouldn't be standing here but he was in a tough position and that's just what he chose to do.
"From our point of view, we're always taught to tackle and go in and tackle in any situation."
Higgins had made a bright start to the year, averaging 26 disposals going into the Hawthorn game.
He'll be replaced in the side by highly touted first-year player Luke Davies-Uniacke, who sat out the win over the Hawks after being rested.
Davies-Uniacke has been picked over the largely forgotten Sam Wright, who is back in the frame for senior selection after two and a half weeks in the VFL.
Wright has endured a torturous 18 months with foot and ankle problems and hasn't been seen at AFL level since round 11, 2016.
The Kangaroos have lost their last three contests against Port Adelaide, with their last win coming in round three, 2014.
And it was a different North outfit that day, with Levi Greenwood the leading disposal winner (34) and Brent Harvey kicking the most goals (three).
Source: Read Full Article