Phipps apologises for urinating on bar at Sydney pub, says he was 'bloody idiot'
Waratahs club captain Nick Phipps has labelled himself a "bloody idiot" and a "goose" after urinating on a bar at the Woollahra Hotel last Saturday night at his bucks party.
As revealed by Fairfax Media, Phipps was escorted from the premises of the Eastern Suburbs establishment at about 9.45pm on April 21 for urinating on a bar.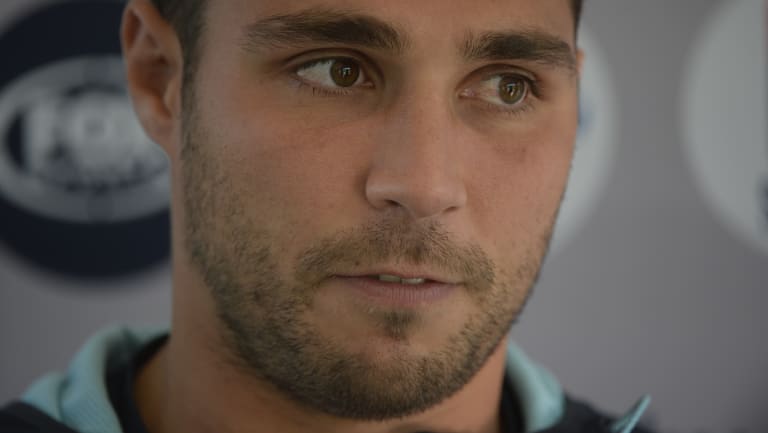 Cowboy: Nick Phipps apologises for an incident where he urinated on a bar during his bucks night.
The Waratahs halfback was celebrating his bucks night with teammates after a long day of drinking.
Speaking to media on Tuesday morning at Waratahs headquarters, Phipps apologised for the incident and said he expected to be punished by the team.
"I'm a goose," Phipps said. "If I'm going to do the crime, I'll definitely pay the time. It's always been my character – I'll stand up and accept the responsibility. I was a bloody idiot. I want everyone to know how sorry I am.
"It's certainly not something I was proud of, because it's not who I am or what we represent as a team. I want to apologise to my teammates, our organisation and our commercial partners, staff, patrons of the Woollahra Hotel, our fans and supporters for the embarrassment this may have caused.
"I take my responsibility as one of the senior players in the team very seriously and I will accept all the sanctions that are handed down to me."
Phipps says he does not remember much of the incident.
"I certainly remember just after the incident and beforehand," Phipps said. "It was something that happened for a few seconds and some of the boys grabbed me."
The 61-Test Wallaby is the club captain of the Waratahs and there is a chance Phipps will have that role stripped.
"There are probably going to be some sanctions handed down but I'm going to have to accept them," Phipps said. "My role at the club is something that's pretty important. To be honest that's not the way we should carry ourselves at the Tahs. It's something I want to deal with and get on the front foot and get back playing some footy.
"I've spoken to Rugby Australia. They've voiced their displeasure; they're not very happy with it which is understandable. It's something we'll sort out today and move forward."
It is unclear whether Phipps will be available for selection this weekend when NSW take on the Blues at Brookvale Oval on Saturday.
Phipps said it was up to him to regain the support of Australian rugby fans.
"The fans have been watching me around the place for a while," Phipps said. "It's certainly not something in my character. It's something I feel pretty disappointed about especially off such an amazing week last weekend. It's not something you want to call your parents about early in the morning about. It's something I'm going to have to deal with for the next little bit and regain the fans' trust and support."
Phipps and a group, including NSW and Australian captain Michael Hooper, were at the hotel after a long day celebrating the halfback's impending marriage. Phipps was dressed as a cow, a witness told Fairfax Media.
"The Waratahs are aware of an incident involving halfback Nick Phipps," the club said in a statement on Monday. "The matter is being reviewed and while this process is ongoing, the NSW Waratahs are unable to comment at this time."
By the time the party arrived at the Woollahra Hotel, Phipps and others were "pretty blind", the witness said.
After walking up to the bar and urinating on the front, an apologetic Phipps was removed without further incident and put in a taxi by his friends, Fairfax Media was told. The group continued the celebrations without him. It is understood he called publican Ben Lawler to apologise in the days following.
With reporting from Georgina Robinson
Source: Read Full Article