Phokos back after three knee reconstructions and hip surgery
Three knee reconstructions and a "six-in-one" hip operation would be enough to stop most netballers. Not Michaley Phokos.
The Tuggeranong mid-court star will make her Netball ACT comeback on Friday night to help her team chase a fourth consecutive state league title.
Michaley Phokos will play her first game in two years in the opening round of the season.
It will be the first time she has played for Tuggeranong since 2016, when her season was cut short after a handful of games when she ruptured her anterior cruciate ligament for the third time.
Her return was delayed an extra 12 months when she had clean-up hip surgery last year in a cruel blow for a mid-courter who made her debut as a 14-year-old.
But the horror injury run failed to squash her desire to get back on the court. "I saw it as a challenge," Phokos said.
"I didn't like people thinking, 'she's done'. I never wanted an injury to prevent me coming back. I always wanted to stop [playing] on my own terms rather than being stopped by an injury.
"So in my mind it was never a question. In my mind it was more when am I coming back, not am I coming back?
"I'd had two knee reconstructions before, so I knew what was coming. It was more mental than anything and I knew I just had to get through it."
The start of the state league season will coincide with the opening round of the Australian Netball League, with the Canberra Giants to play their first game in Adelaide on Saturday.
Tuggeranong has set its sights on an unprecedented fourth title in a row and will be bolstered by the return Phokos, but their hopes copped a major blow when injury ruled star shooter Jo Pivac out for the season.
"Joe has a lot of stress fractures in her foot, she'll get surgery and she'll miss nine months," said Tuggeranong's Breana Toze.
"Jo was our main shooter and our go-to player when we were ever in trouble. Maybe teams will think they can capitalise [on her absence], but we have a lot of faith in our three shooters we have to get the job done."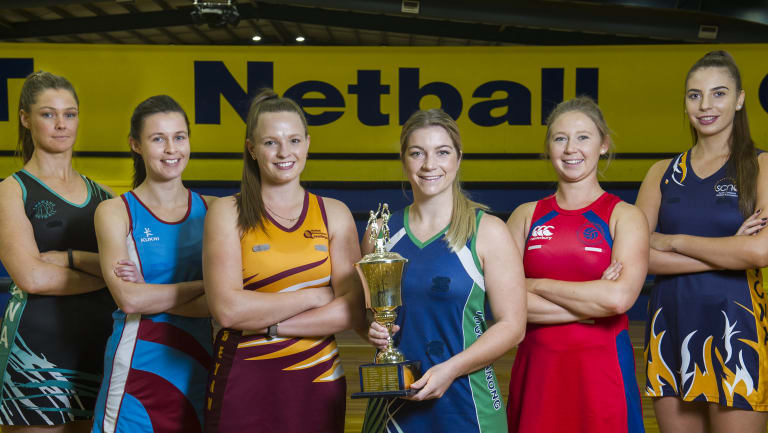 The Netball ACT season will begin on Friday night.
Tuggeranong will play against Belconnen in the first game of the year, while last season's runners up Canberra will clash against South Canberra.
Tuggeranong beat Canberra 58-56 in the grand final last season and the heartbreak prompted Canberra to use a sports psychologist in the pre-season to help them rebuild.
"It took a while to get over it … maybe we aren't over it yet. But it's definitely a big motivator for this season," said Bec Collis.
"We had a couple of sports psychology sessions at the start of pre-season to talk about [last year] and figuring out strategies to move on and using it as a motivator.
"That's a big thing for us. It's time we realise how big the mental side of things is … learning to deal with high-pressure situations and disappointments. We've still got our core group together and we're just looking on building on last year."
NETBALL ACT STATE LEAGUE
Friday: South Canberra v Canberra, Queanbeyan v Arawang, Belconnen v Tuggeranong. All games at Lyneham Netball Centre at 6pm.
Source: Read Full Article