Punters brave the rain and turn up in droves for final Canberra Cup
The people spoke with their feet and arrived in droves, bracing rain and chilly conditions to stand in solidarity with the Canberra greyhound community on Sunday.
On an emotional night, more than 1000 people turned up for the final Canberra Cup before the ACT government shuts down the industry on Monday.
There were trainers close to tears but club chairman Alan Tutt emphasised it was a night for celebration as greyhound racing drew to a permanent close in the capital.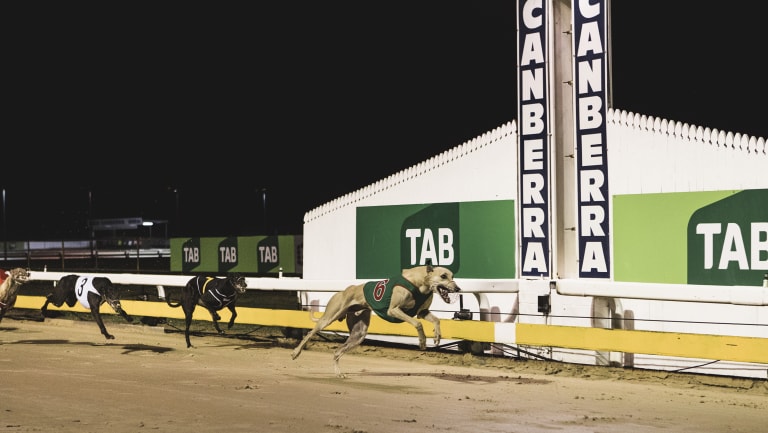 Smooth Blend wins the last ever Canberra Cup.
The ACT government followed Mike Baird's NSW government when it banned greyhound racing in 2016 after an ABC report suggested malpractice within the industry.
While Mr Baird later backflipped on the decision, the ACT government went ahead with their ban at the request of the Greens following the 2016 election.
Mr Tutt called the government's actions "a joke" following the club's 39-year unblemished record and praised the support of everyone who came out on the night.
"What an unbelievable turnout tonight, even some inclement weather hasn't stopped the punters from coming out and protesting them shutting this industry down," Mr Tutt said.
"There'd have to be more than 1000 people here, it's very exciting and shows that the public have had enough, people normally don't do much unless it's on your doorstep but they're here in droves.
"I've had people coming up to me all night telling me they're fourth-generation greyhound people and they're all asking what they can do to help keep this place open.
"It's a celebration tonight, greyhound racing is a great sport, no different to the horses and thoroughbreds or your football club down the road."
Owners, trainers and punters enjoyed one last night at the dogs, with some etching their names into the history books as winners on the last day greyhounds were allowed to race in the ACT.
Marika Mychailuk is an owner and breeder who has just had 10 pups that were born in February.
Canberra owner Marika Mychailuk just had 10 pups and slammed the ban.
"It's taking the livelihood away from people dedicated to the sport," she said.
"I've been coming out for many years and it's quite emotional tonight, there's lots of uncertainty about the future."
From Monday, people who are caught illegally racing greyhounds could be fined up to $15,000 or face a year behind bars.
It was a day that had been impending for more than six months but many were still coming to grips with what they believe has been a raw deal.
Owners who want to continue racing over the border in NSW can continue to do so, but will need to apply for an annual greyhound racing controller licence.
The Canberra Greyhound Racing Club has a temporary licence to operate at the Goulburn track from May 6.
Mr Tutt admitted he was worried about the mental state of some of his trainers.
"I do have a lot of concerns about tomorrow. The government really don't get it, it's not just about animal welfare but human welfare," Mr Tutt said.
"Some of these people are doing it tough and some of these code of practices coming in tomorrow are going to stealth us out of the industry.
"But we're going to fight hard legally and continue to help them. We have to help them because they need somewhere to go and enjoy their racing and that's the reason we're going Goulburn."
Goulburn trainer Denice Warren won the Cup with Smooth Blend, while the final race was held in memory of the club's longest serving chairman Les Manwaring.
Source: Read Full Article