Rabbitohs' Inglis and Dragons' Aitken prepare for second showdown
Sunday's second showdown of the year between Rabbitohs centre Greg Inglis and St George Illawarra counterpart Euan Aitken looms as a potential State Of Origin preview with the pair set to square off again in next month's series opener.
Aitken left Inglis "embarrassed" in round five when he ran around the Souths superstar great close to the line and scored a try, helping his side to a 16-12 win and cementing themselves atop the NRL ladder.
Shown up: Euan Aitken leaves Greg Inglis in his wake on his way to score in round 5.
It is one of several memorable moments that Aitken has produced to thrust himself into the NSW State Of Origin frame, where he would potentially oppose Inglis.
The south coast product has scored seven tries in 2018, including two in Sunday's season-defining 34-14 win over defending premiers Melbourne.
"He's an exceptional young talent, he's strong, he's a good defensive centre and Origin's about defence in key moments," Inglis said of Aitken.
"If you're talking about the centres, he's one of the leading centres in the game so far.
"St George will no doubt come out wanting to stamp their authority again and we just have to stick to the gameplan.
"Belly Ache [Melbourne coach Craig Bellamy] hit it on the head, they are the benchmark and they're sitting on top of the ladder for a reason, they're just week to week grinding and they just turn up each week."
Souths have turned a corner since that narrow loss to the Dragons, winning three of their last four including Friday's 36-18 triumph over the Knights in Newcastle.
The Rabbitohs will play in a specially designed jersey for Indigenous Round this weekend, designed by artist Dennis Golding with the help of the club's Aboriginal and Torres Strait Islander players – Inglis, Dane Gagai, Cody Walker, Alex Johnston, Kyle Turner, Braiden Burns and Tyrell Fuiamaono.
Predominantly charcoal, the jersey is covered in the outlines of five totems – a crocodile, praying mantis, hammerhead shark, goanna and a long-necked turtle.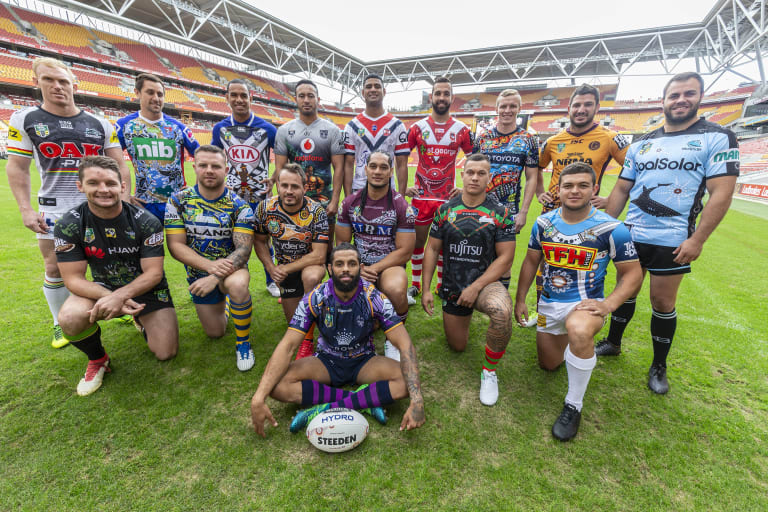 Looking the part: Players from all 16 NRL clubs reveal the Indigenous round jersey for 2018.
"In our heritage you belong to a group, you get a spirit animal and mine's a praying mantis," Inglis said.
"Like the rest of the totems on here there's a sense of belonging.
"It's kind of special when the NRL came up with the idea of pursuing the Indigenous round, it's important for the game itself that we celebrate all the multiple cultures in the game.
"I'm not representing just South Sydney, but my heritage as well. That's why it's so important, each and every week you go out and represent the background your family, your heritage and where you're from.
"This week is important because we're acknowledging the Indigenous people and players in our game."
Gagai, represented by the hammerhead shark, said Indigenous Round was an important part of the NRL calendar.
"Not only for Indigenous players but for the Indigenous community, that we recognise the traditional owners of the land," Gagai said.
"We're a very multicultural country but in saying that we've got a great history in the Indigenous people and a great culture. It's good that the NRL recognises that.
"To be able to represent the Indigenous communities and our families is something very special.
"This weekend's going to be extra important because we're coming up against the in-form team of the competition."
Source: Read Full Article