Russell Packer unlikely to be part of league's American dream
Russell Packer concedes his criminal record will probably rule him out of contention for the Denver Test, although he's unlikely to be the only NRL star prevented from being involved in the rugby league's big push into America.
There is a concerted effort to introduce quality league content into the lucrative United States market, beginning with the England-New Zealand Test in June. It may not be the only international taken into the Americas following revelations that Utah and New York are attempting to attract an end-of-season clash between the Kangaroos and Tonga.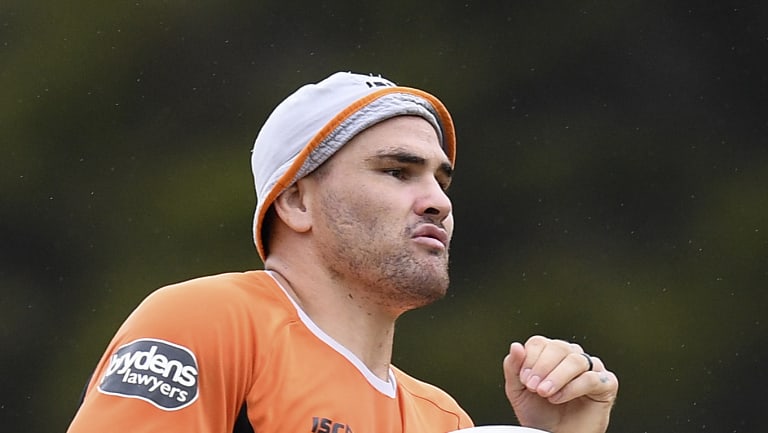 US Test: Wests Tigers co-captain Russell Packer may not be cleared to play in America.
The NRL has made no secret of its desire to bring the opening round of the 2019 season to America, while the Rugby League World Cup is already locked in for the US in 2025.
Packer was one of the form forwards of the competition before succumbing to injury and could press his case for a Kiwis call-up if he makes a strong return against North Queensland on Thursday. However, Packer's vicious assault of a fellow New Zealander – which resulted in a year of jail time – will likely prevent him from being considered for the landmark international.
"I don't think I can travel to America," Packer said.
"To be honest, I've been injured for the last four weeks, I haven't thought about the Denver Test. That's kind of too far ahead, it contradicts your week-at-a-time (mentality)."
Pressed on his availability for the game, the seven-Test veteran said he was more focused on club than country.
"I'm not too sure, I don't set the rules," Packer said.
"Irrespective of something in the future, anything could happen this week. I could do my MCL and be out for another five weeks. I don't think I'll be picked anyway. You guys always want to think about future things but the present happenings are the most important."
While the game's ambition to get a foothold in the States is an exciting development powerbrokers may not have considered just how many of its players might not be able to make the journey due to their criminal records.
Brisbane and Parramatta are among the teams mooted as potential participants in an NRL season opener in the US. However, incidents involving Matt Lodge and Jarryd Hayne in America could make those teams less attractive to take to the US. Eels bolter Kenny Edwards was previously involved in a Kiwis training camp in the US but said he was unsure about his travelling status after subsequent incidents.
Michael Maguire is the firm favourite to be announced as the new New Zealand national coach at a press conference on Thursday.
No haka for Norman
Still on the Kiwis and one man who certainly won't be available for selection is Corey Norman.
The Parramatta playmaker qualifies for the Kiwis through his father and has been approached on two occasions about donning the black. However, he wouldn't feel right doing the haka..
"Steve Kearney hit me up when I was back at the Broncos and David Kidwell asked me (for the World Cup)," Norman revealed.
"I've said no to that a couple of times. I've got that in my culture but I haven't been brought up around it. If I didn't play for the Kiwis I'd be playing for the rep jersey or the money and I don't think that's right.
"I know a lot of Kiwi boys and they are passionate about their culture and where they come from. I don't respect it enough to put that jersey on and do the haka.
"I'm a proud Aussie and it would mean more to put the Australian jersey on."
Manly's odd man out?
Manly's salary cap squeeze could result in one of the club's best players moving on.
Martin Taupau remains on the club's books on big money and, when you look at his performance against the Roosters, he is certainly justifying the price tag. However, Sea Eagles officials feel they need to free up some space due to their salary cap mess and there are few players they could move to make it happen.
Captain Daly Cherry-Evans signed the biggest and longest deal in NRL history and the Trbojevic brothers are considered off limits, leaving Taupau as one of the few they may consider parting with. By no means do they want Taupau to go, but third parties have been sussing out whether rival clubs would be interested should Taupau become available. Watch this space.
Horsing around…
Which two NRL forwards have been sourcing peptides from a horse trainer? The pair have gone off the reservation in the search for an illegal edge without the knowledge of their club.
Dragon a wanted man
St George Illawarra have only one top-line off-contract player, Leeson Au Mau, that they are desperate to retain. Several rival clubs are keen on him but if he's going to leave the Red V, the Warriors are poised to get his signature.
Englishman eyes NRL
Castleford forward Adam Milner is the latest Englishman determined to have a crack in the NRL.
Milner is one of the Super League's most consistent back-rowers and is only five games shy of bringing up 200 games for the Tigers.
The 26-year-old is yet to make his Test debut but will be a contender for Wayne Bennett's side for the Denver and season-ending Tests. There has been some interest from NRL clubs already and he is hopeful of testing himself in Australia next year.
"Absolutely, I'm at the right age to do so, to come over and test myself in the NRL," Milner told us.
"All I've known is Castleford. I debuted in 2010 and I"ve been a one-club man my whole career.
"I'm seeing what's out there and it's been a dream since I was a young lad to go over and challenge myself in the NRL. It's a pretty good time to do so.
"I'm hopeful an opportunity comes my way."
James Graham, Gareth Widdop, Josh Hodgson and the Burgess boys are among the marquee Englishmen who have enhanced their reputation in the NRL.
"Even before their time there was Adrian Morley and Gareth Ellis, some big names over there," Milner said.
"If I could be half the player they were over there, I wouldn't be doing too bad.
"There's English talent going over there and doing well. If I could be one of those, it would be a dream for me to achieve that."
Source: Read Full Article