Simmons posts NBA playoff triple-double in fiery encounter
Ben Simmons had the first playoff triple-double by a rookie in nearly 40 years as the Philadelphia 76ers outlasted the Miami Heat 106-102 to move within one victory of the second round.
The 76ers lead the eastern conference series 3-1 and can close out the Heat when play resumes in Philadelphia on Tuesday night.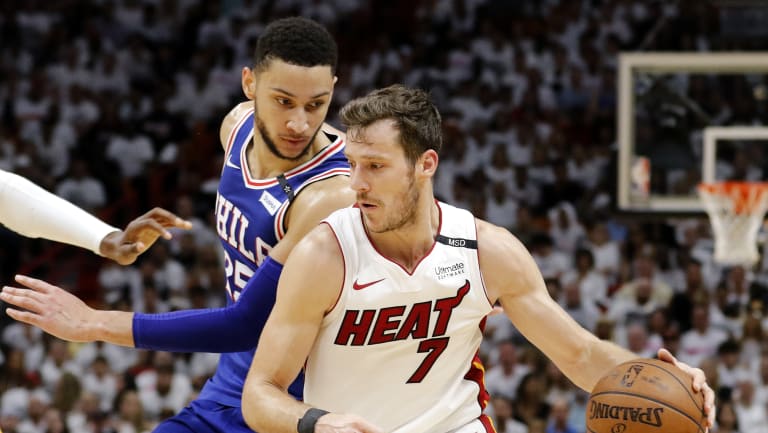 Ben Simmons guards Miami's Goran Dragic.
Simmons scored 17 points to go with 13 rebounds and 10 assists to become the first rookie since Magic Johnson in 1980 to post a playoff triple-double.
JJ Redick scored 24 points and Joel Embiid finished with 14 points and 12 rebounds for Philadelphia.
Dwyane Wade led all scorers with 25 points off the bench for the Heat, who led by 12 points in the second half before letting a game they almost certainly had to have slip away.
A wild scene was the story of the second quarter. Philadelphia's Dario Saric was driving from the right wing and had his dribble knocked away by Justise Winslow, and four players wound up on the floor as they went for the loose ball.
Josh Richardson took the worst of it, getting slammed into by Embiid. Richardson stayed down for more than a minute, eventually getting helped to his feet and to the Miami locker room.
Hardly anyone noticed.
All eyes were on the other end, where Dragic was shoved to the floor by Robert Covington. James Johnson – a black belt and MMA fighter – took exception and went toward Covington, so Simmons came in for a few words.
It wound up taking two referees, two Heat coaches and a few players to get everyone separated.
Winslow needed stitches to close a gash over his left eye. Richardson, his left shoulder bruised, came back for the second half. Simmons sent another message moments after the dustup by drilling Wade.
Miami led by 12 in the third, but ceded control in a hurry. The Heat went five minutes without scoring, and Redick's reverse layup with 9:01 left capped a 14-0 run that put Philadelphia up 87-83.
The 76ers wouldn't trail again.
In New Orleans, Anthony Davis scored 33 of his franchise playoff-record 47 points in the second half, and the Pelicans completed a first-round playoff sweep of the Portland Trail Blazers with a 131-123 victory.
Jrue Holiday capped his 41-point performance with an 18-foot pull-up jumper that gave the Pelicans a six-point lead with 40 seconds left.
AP
Source: Read Full Article