The hormone race
It used to be so easy. Men were men, and women were women. You could just tell, right?
True, some Eastern bloc runners in the '70s and Chinese swimmers in the '80s blurred the picture a little. Still, you could tell. It was drugs: that you could tell.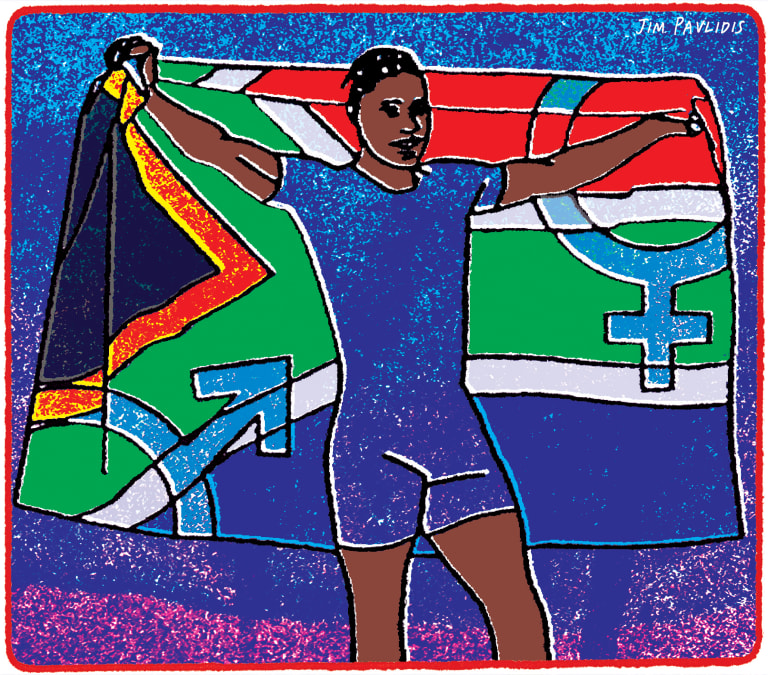 Caster Semenya has undergone humiliating gender testing.
In 1993, Jeanette Winterson wrote Written on the Body, a novel remarkable for the fact that its protagonist is given neither a name or a gender. It is not that he/she avoids sex. There's plenty of it, with men and women. It's just that you can't tell.
But that's fiction for you. Reviewers talked about it in terms of post-binary gender. As if you couldn't really tell.
Twenty years later, along came Caster Semenya, from South Africa, and from nowhere. In 2009, she won the world 800 metres title in Berlin, a startling and for athletics authorities disorienting performance. They could tell, of course, but just to be safe, the IAAF sent her off for a sex verification test.
Semenya claims gold at the Commonwealth Games.
It was humiliating. "It seemed to be working with a kind of 'I know it when I see it policy'," said a critic at the time. The testers could tell.
Semenya, it was discovered, had a man's level of testosterone, but it was all her own, endogenous. It was almost a year before the IAAF cleared her to resume, on testosterone-suppressing medication. It was the new rule.
Bit by bit, the conversation changed. We learned about hyperandrogenism, and different sexual development, and intersexuality. We learned how little separates genders biologically, and how shades can occur.
Maybe you couldn't just tell? Generation Y was relaxed about all this in a way that Generation X was not.
Semenya won two Olympic gold medals at 800 metres, and three word championships, and earlier this month on the Gold Coast the Commonwealth Games 800/1500m double.
In the loosened conversation, we were asked to consider whether intersex was any different to, say, Ian Thorpe's arm span, or other athletes' lung capacities, natural advantages. Remember Thorpe's heyday, when Grant Hackett said: "I'm swimming times no one's swum before, and finishing second."
If there could be intersex, could there not also be at the far end of the spectrum, a super sex category. How could you tell?
In 2015, the Court of Arbitration for Sport, considering the case of another intersex athlete, Indian sprinter Dutee Chand, suspended the IAAF's rule, concluding it had not established the case that natural testosterone conferred an advantage. CAS gave the IAAF two years to produce the evidence. Meantime, Semenya, Chand and unknown others were free to be themselves.
This week, the IAAF produced. A decade of rigorous research, it said, showed that endogenous testosterone occurred in women athletes at 140 times the rate of women in general, giving them an advantage of up to nine per cent. Scientifically, they could tell.
From November, in the most susceptible events – races from 400 metres to the mile, but not sprints – affected women would have either to reduce their testosterone medically, or choose another event – or race against men.
This was not sexism or stigmatisation, said the IAAF, nor did it imply cheating. "[It is] about levelling the playing field to ensure fair and meaningful competition … where success is determined by talent, dedication and hard work rather than other contributing factors," said IAAF president Sebastian Coe.
IAAF president Sebastian Coe.
It is hard to argue. Gender might exist on a spectrum, but aths, like most sport, is divided into competition for men and women. You have to draw the line somewhere. You have to be able to tell.
The debate is not quite done. Some wonder why a couple of field events that statistically ought to be on the list are not. Some question the science still. Some protest intervention at all: Usain Bolt was never made to tie his shoelaces together.
What Semenya does now is not clear. One British expert predicts that she could run up to seven seconds slower over her pet 800. She could accept this, or move to longer distances, or appeal again, or retire.
On Twitter, she posted only this meme: "How beautiful it is to stay silent when someone expects you to be enraged."
If she retires, she goes with her gold medals, to her wife, having made redundant the cynical old certainty that "you can just tell". It is a unique mark. Interviewed during her exile in 2009, she said: "God made me the way I am and I accept myself."
Source: Read Full Article