Vieira faces happy dilemma after Trapeze Artist wins one for the Ages
Bert Vieira doesn't know what to do with his horse of a lifetime after Trapeze Artist won the All Aged Stakes in track record time at Randwick on Saturday.
He has already insured the colt for $40 million and has three or four studs hunting Trapeze Artist for a life beyond racing.
Record run: Trapeze Artist ridden by Tye England, right, in the closing stages of winning the All Aged Stakes.
"I'm a racer, I want to race," Vieira said. "I want to win an Everest and go to Royal Ascot next year but he is very valuable and if someone wants to pay me the money he could go to stud.
"I think I have to up the insurance to $50 million after that.
"He just keeps coming out and winning and he broke the track record, that his how good he is – the fastest horse at Randwick."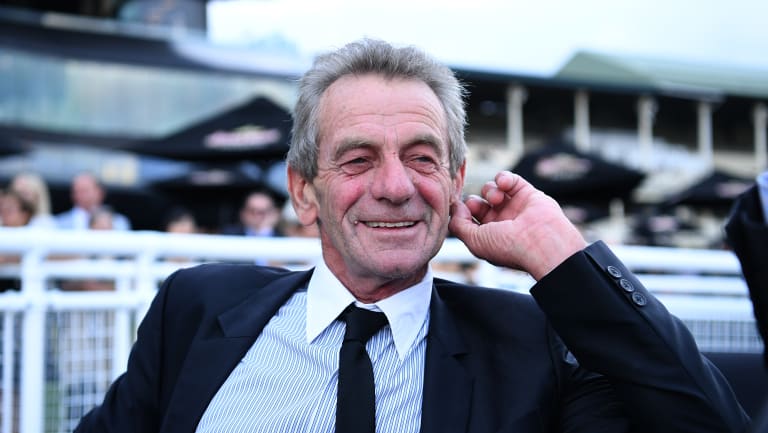 Listen up: Trainer Gerald Ryan is all smiles after Trapeze Artist's victory.
Vieira will be feted by Everest slot-holders, and with Inglis already holding talks, the ATC and Coolmore were quick to point they also would like to have a chat about the $13 million showcase event.
That is if a $40 million stud deal can't be done.
While Trapeze Artist added another page to his resume with the track record, this win wasn't as explosive as his Golden Rose and TJ Smith victories, where he put spaces in good field. It was a war that showed he was in for fight.
There is little doubt that Trapeze Artist is the best son of Snitzel to go to stud but he showed his grind and determination to run down Le Romain.
"They were going so quick that he just had to show he was the best horse," jockey Tye Angland said. "He was chasing a proper older horse in Le Romain but he never gave it away.
"There would have been plenty of colts that would have but he just dug in and found another gear."
Jason Collett, who picked up the ride on Le Romain from an injured Glyn Schofield, thought he was winning in the straight after sitting out the leader.
"I thought I probably had them covered at the top of the straight but to that winner's credit he is pretty tough," Collett said.
The margin was a head on the line with Showtime, which had set the record speed, 1-1/2 lengths in their wake in third. It gave Angland three group 1s on Trapeze Artist.
"I did my job. He won his three group 1s this season. I can't do much more with him," trainer Gerald Ryan said. "I thought I was going to get beaten by Le Romain again there for a while, but he is just a very good horse.
"Even after that, people will say he wasn't impressive but he ran a track record, he's beaten a two- or three-time group 1 winner in Le Romain, who's had more improvement coming off the TJ.
"I'd like to see him keep racing. I'd like to come back for an Everest. He'd be sensational in that. There are a lot of dollars involved."
Ryan has always held a very good opinion of Trapeze Artist and he believes that the best may be yet to come from the colt, who found his true form when the blinkers went on in the Back Opal.
"He was a handy two-year-old, he was better as a spring three-year-old but just continues to improve and we are just seeing how good he can be," Ryan said.
"If he has a six-week break and comes back I'm sure we will see a special horse as a four-year-old."
Source: Read Full Article