Wallaroos and Wallabies to face New Zealand in first double header on Australian soil
Rugby Australia will be hoping for a serious improvement on last year's worst ever Bledisloe Cup crowd at ANZ Stadium after announcing on Tuesday the first ever Wallaroos and Wallabies double-header on Australian soil.
Australia's women's XVs side will play the Black Ferns on August 18 as a curtain-raiser to the men, who face the All Blacks in their opening Bledisloe Cup fixture.
Crowd pleasers: Michael Hooper of the Wallabies and Grace Hamilton of the Wallaroos at ANZ Stadium yesterday.
Both sides will then play another double-header the following weekend in Auckland at Eden Park on August 25. It is a long time coming from RA, who have not scheduled a Wallaroos match in Australia for 10 years.
Nonetheless, the Wallaroos will be playing in front of their biggest ever crowd for the match, which will be played at 5.30pm.
The Wallaroos lost their last home Test in 2008 by six points against New Zealand and have had to make their way across the ditch in the last few years to try and win in tough conditions.
The exposure for the women's game will be brilliant and in turn, RA will be crossing its fingers more people make their way through the turnstiles.
After a Super Rugby season plagued by an ugly and protracted process of cutting a Super Rugby team, interest in the game had waned.
Just 54,846 fans watched the Wallabies last year at ANZ Stadium, which was the lowest ever Sydney Bledisloe Cup crowd in the professional era.
It did not help that Australian Super Rugby teams did not win a single game from 26 attempts against their Kiwi rivals.
A high-quality women's game beforehand and the fact the Wallabies defeated the All Blacks in their last outing between the sides at Suncorp Stadium in October might be enough hope for RA that they will get a better turnout on the biggest evening of the year for Australian rugby.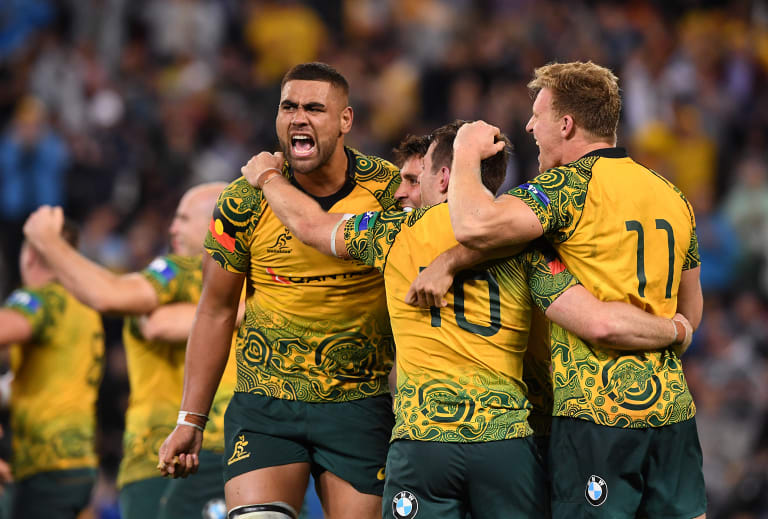 On the rise: The Wallabies celebrate their Bledisloe win at Suncorp Stadium in 2017.
Wallaroos player Grace Hamilton, who played before the Wallabies at a match in Eden Park in 2016, said she couldn't wait to have the support of a home crowd.
"If we get it out now I think there will be a lot of opportunity for people to come here and see what we're about," Hamilton said. "We're getting more exposure now so people will actually want to support us in the future.
"It's a massive thing. We've never played on home soil in a double-header. Having this opportunity shows how much support we've got for women's rugby now and how far we have come.
"It's a privilege to get this opportunity, especially on home soil. It'll be tough. The Black Ferns are the best in the world but you'd got to beat the best to be the best."
Wallabies captain Michael Hooper also threw his support behind the announcement.
"I've always been a fan of there being a game before," Hooper said. "Seeing how competitive and how much enjoyment the women get out of their rugby and to have that game so close with the men and the women is outstanding."
Hamilton believes the inaugural Super W competition will have a positive effect on the national team.
"You can see from the Super W how much better every team got," Hamilton said. "If every girl buys into that process I think we'll get better and stronger.
"It was just quality. It was only six weeks but it's definitely a process that accentuated how good women's rugby can be. We saw the girls skyrocket in their performance as teams and individuals. The more Tests, the more high level [games] we have."
2018 Australia and New Zealand fixtures
Saturday 11 August
Wallaroos v Black Ferns, ANZ Stadium, Sydney
Wallabies v All Blacks, ANZ Stadium Sydney
Saturday 18 August
Black Ferns v Wallaroos, Eden Park, Auckland
All Blacks v Wallabies, Eden Park, Auckland
Saturday October 27
All Blacks v Wallabies, Nissan Stadium, Yokohama
Source: Read Full Article