Welcome to Sin City, Andrew Bogut. You are now one of us.
Dear Andrew,
Welcome to Sin City, big man! Can I call you "big man"? At 213cm tall — seven foot in the old scale — that's pretty bloody big. How about we call you "Bogeyman"? Let's go with that.
Anyway, we're already in a lather up here after hearing that you, NBA superstar Andrew Bogut, will be coming to our humble little town of five million sports-loving souls to play with the Sydney Kings in the National Basketball League.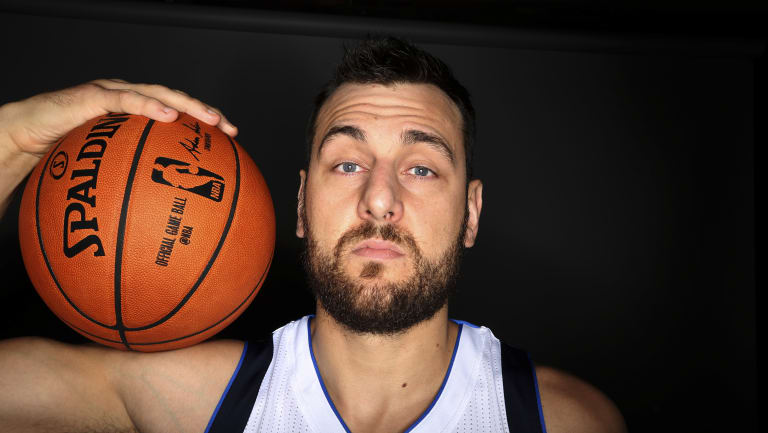 Kings man: Andrew Bogut has agreed to join the Sydney Kings.
The biggest signing in NBL history is how many are describing it.
As we understand it, you rebuffed Melbourne United at the last minute to join the Kings. There's been talk about you heading up a new Melbourne franchise but that seems to be on the backburner. Instead, you've chosen us ahead of your hometown.
Despite what Melbourne says, this is the true centre of the sporting universe. I mean, just look at our world-class stadiums and footy attendances.
We also adore genuine 24-carat sporting superstars. Lance "Buddy" Franklin at the Swans. Dwight "All Night" Yorke and Alessandro "Alex" Del Piero at Sydney FC. Wendell "International Del" Sailor at the Waratahs. Hell, let's go all the way back to Ellery "The Pearl" Hanley at Balmain.
In recent times, we've only really had Cooper "Coops" Cronk. Great player and bloke from all reports but not really rough enough around the edges for this joint. That kid needs a scandal, preferably on social media.
Typical of the chaotic way we do sport up here, your announcement has been botched.
News broke on Sunday night, there was going to a press release sent out on Monday and then a media conference on Tuesday but now that's all on hold with your contract pending NBL clearance.
The NBL better not let Sin City down. They can't tease us like that and pull the deal because we all know that when the Kings are strong the NBL is strong.
After finishing last season in second-last place, we need a player who can evoke the same level of interest as the glory days when the likes of Dean "Man Mountain" Uthoff, Damian "Three-O" Keogh, Shane "Hammer" Heal and, of course, "D-Train" Dwayne McClain were blowing the roof of the Kingdome.
The local league was on its knees in May 2015 when Larry Kestelman bought it for $7 million. Since then, however, crowds have returned, ratings on Fox Sports are on the incline, sponsors are climbing on board again.
The game should be strong here. It's strong enough to produce seven Australians currently in the NBA, all of whom are playing important minutes in the finals right now. Ben Simmons is heating up and will soon be on fire. Is it the shoes? No, it's more than that.
In time, we'd love to see some of these players returning to the NBL towards the end of their careers.
Next August, Simmons, Matthew Dellavedova and others — hopefully you, too, Bogeyman — will suit up for the Boomers against Team USA in two exhibition matches at Etihad Stadium. Exciting times.
Still, you need to remember that Sydneysiders have quite short memories. That's what happens when you live your life through an Instagram account, taking pictures with "bae" with Bondi Icebergs as the backdrop, living the best life you can while also being the light you want to see in the world.
They need to know your story: the  first Australian player to go No.1 in the NBA draft who then became that all-important, tough, selfless big man at the top of the key for Golden State when they went 73-9 to win the championship in 2015-16.
But do you know what I like really about you, Bogeyman? I'm sure you're dying to know.
I like that you are unlike most sportspeople these days: unfiltered, heart-on-the-sleeve, loose-as-Mother-Goose whether it's in a media conference or on Twitter.
You've taken on Hillary Clinton, Opals star Liz Cambage and basically waged a war against political correctness without crossing the line. You are a walking headline by simply being yourself.
What about this when you left Golden State? "That's how it is," you said. "I don't buy into the sources thing. I don't buy into all that [expletive], because this league is so two-faced and everybody is so fake."
I also liked what you said a week ago; about how you could never last in the AFL because they controlled their players so tightly.
"We're the other extreme in the NBA where it's every day you have media access and if someone wants to talk to you, they get access to you," you said. "So I think there should be a bit more access that's in a controlled environment through the club.
"If you just got caught doing something silly on the weekend or whatever, go and do your press conference on a Monday, get it out of the way, it stops door stopping, it stops the (journalists) of the world jumping out of bushes and stuff, almost running them over. I just think that looks very unprofessional."
So, big man, welcome to Sin City. Can't wait to see you. Let us know when you get into town and I'll book a section upstairs at the Coogee Pavilion. If it's good enough for NRL players, it's good enough for us.
Source: Read Full Article