Will Miller hoping for further impact at Waratahs after re-signing for 2019
NSW back-rower Will Miller says he is simply trying to make an impact at the Waratahs after signing a new one-year deal.
The 25-year-old, who joined the Waratahs this season after playing five games with the Rebels, is now on contract until 2019 following some favourable performances this year.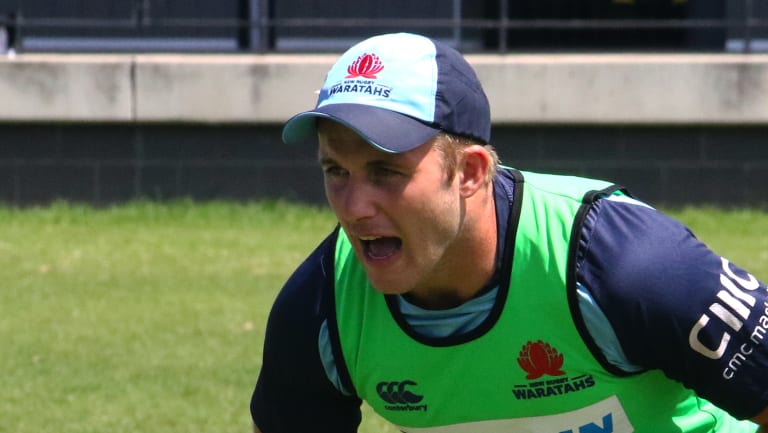 Reward: Will Miller will stay at the Waratahs until 2019.
From seven matches this season Miller has averaged 31 minutes and started in two fixtures.
His prowess over the ball has impressed those at the Waratahs and it was no surprise the club was keen to keep him on board.
"I'm looking forward to playing another season," Miller said. "I've been happy to get a few starts. It's as much as I could have hoped for coming in behind 'Hoops' [Michael Hooper] and getting an opportunity on the blindside. It's something I wasn't really expecting. I'll take it with both hands and go with it."
Waratahs assistant coach Simon Cron, who coached Miller at Norths, said the country product had a "huge work rate".
"He is a very good on-baller, so puts a lot of pressure on the opposition breakdown," Cron said.
Miller has slotted in at No.6 in his two starts alongside Hooper and Michael Wells, who are now mainstays of the Waratahs back row.
That pair has only missed a combined 45 minutes out of a possible 1280 minutes this season.
Miller said he has made it his mission to reduce Hooper and Wells' loads when he was on the field.
"I try and just make an impact," said Miller, who is a strong chance of returning to the Waratahs' starting XV this weekend. "I try and take a little bit of work off Hoops and Wellsy because they are both big work-rate players. If they can do a little bit less and do what they do a bit better and put all their energy into that, then that's better for the team and it'll help me get into the game quickly."
After a week of soul-searching the Waratahs will roll their sleeves up for a month of bruising encounters against New Zealand sides.
First up is a meeting with the Auckland-based Blues at Brookvale Oval on Saturday night.
The bookies have the Waratahs as strong favourites for the match against the Blues, who are 13 points behind their nearest New Zealand rivals, the Chiefs.
NSW will welcome back Israel Folau, who has overcome a hamstring injury.
The group will be determined to bounce back from a 29-0 thrashing at the hands of the Lions, which was the first time the Waratahs have been kept scoreless in Super Rugby.
"It's not a good feeling going pointless, let alone losing," Miller said. "I think everyone is up for the challenge this weekend. It's another big one, a Kiwi team. All the teams in Super Rugby are top level."
Source: Read Full Article