Amazon rumoured to be developing a robot for the home
Ten years ago, Amazon introduced the Kindle and established the appeal of reading on a digital device. Four years ago, Jeff Bezos and company rolled out the Echo, prompting millions of people to start talking to a computer.
Now Amazon.com Inc. is working on another big bet: robots for the home.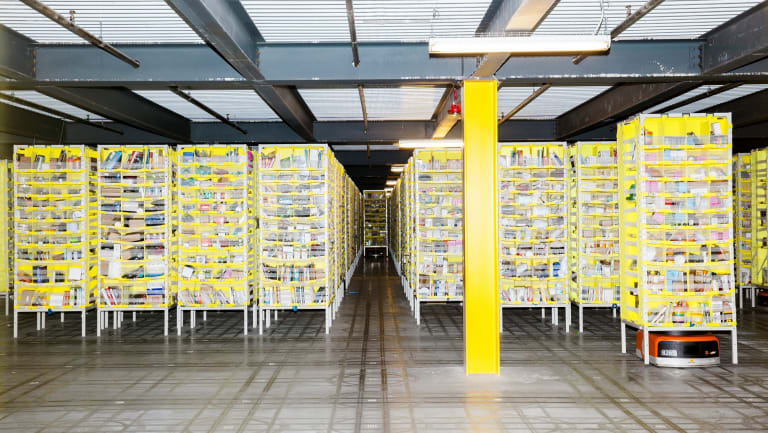 A robot fills orders inside an Amazon fulfilment centre in the US.
The project is different than the robots designed by Amazon Robotics, a company subsidiary, in Massachusetts and Germany, people familiar with the project say. Amazon Robotics deploys robots in Amazon warehouses to move around goods and originated as a company called Kiva Systems, which Amazon acquired in 2012 for $USUS775 million ($US1.01 billion)
The promise of domestic robots that offer companionship or perform basic chores has tantalised the technology industry for decades. Nolan Bushnell, the founder of Atari, introduced the three-foot-tall, snowman-shaped Topo Robot back in 1983. Though it could be programmed to move around by an Apple II computer, it did little else and sold poorly. Subsequent attempts to produce useful robotic servants in the US, Japan and China over the years have performed only marginally better. iRobot Corp.'s Roomba, which only does one thing — vacuum — is the standout in the field and has sold more than 20 million units since 2002. The company's shares fell as much as 8.6 percent on Monday, the biggest intraday decline since early February.
More recently, Sony Corp. and LG Electronics Inc. have shown interest in the category. In January at CES, LG showed off a robot called Cloi in a demonstration that failed multiple times. Sony demonstrated a new version of a robotic dog called Aibo, which it sold a version of until the mid-2000s after first unveiling the concept about 20 years ago. It doesn't do much other than bark (although Aibo has been programmed to play soccer). The canine bot also costs $US1,800, or about the same price as a real dog from a breeder.
Advances in computer vision technology, cameras, artificial intelligence and voice activation help make it feasible for Amazon to bring its robot to the marketplace. The retail giant has shown itself willing to partially subsidize the costs of its devices for Prime subscribers who buy more products and subscribe to services through its gadgets. That could also make such a product more affordable for mainstream consumers in the future.
The consumer robot market will be worth about $US15 billion a year by 2023, according to an estimate from Research and Markets, which would be up from about $US5.4 billion this year.
Bloomberg
Source: Read Full Article