Fortnite is friendly, social and colourful but is it addictive?
Fortnite: Battle Royale has become a global phenomenon in an extremely short time. Developer Epic announced this week that the game had hit 125 million active players — three times the number it had six months ago.
When the game launched on the Nintendo Switch during this week's international E3 gaming conference, it was downloaded more than 2 million times in 24 hours.
As with past meteoric success stories in the video games business, this has all led to an explosive domino effect that takes awareness of the game outside its niche community, through the wider gaming audience and into the mainstream non-gaming world.
Fortnite has hit 125 million active players — three times the number it had six months ago.
Like Pokemon and others before it, this has meant a great deal of success for Epic, but has brought a great deal of scrutiny and fear-mongering too.
While Pokemon GO was pilloried mostly for its supposed ability to lure children into dangerous situations where they might be mugged, kidnapped or hit by a car, Fortnite stands accused of being somewhat more malfeasant.
Accusations have been made that the game is specially designed to addict and corrupt children. But is Fortnite really more dangerous than other online games, or does the near inconceivably large number of people playing it just make it seem that way?
For the unfamiliar, Fortnite is a very simple game to understand. Each player makes a character, and at the start of each round of the battle royale mode (which is what the huge majority of players use), 100 characters jump out of a flying bus to the island below, strategically choosing a landing location based on what resources they might find there, how easy it will be to attack rivals and avoid being attacked, or whether they'll easily be able to meet up with friends.
From there players gear up, pulling apart and building up structures as they go, and as the playing area shrinks they shoot it out until only one player remains and is deemed the winner. For the team-minded, there are also modes where you can play in groups of two or four.
The Hunger Games style of elimination isn't a new idea, but Fortnite's style and the ease of access (it's totally free) has helped grow its success.
Of all battle royale games, Fortnite is easily the friendliest, most colourful and most social, and it's come along at just the right time.
The ubiquity of online connectivity means that not only are certain kinds of players clamouring for totally online competitive games, but many also enjoy watching the games being streamed live. And Fortnite is an extremely streamable game.
Games like this spawn entire communities around them, and Epic seems to be actively fanning those flames.
Unlike many free games, Fortnite doesn't offer players a way to gamble in the battle royale mode. However, Epic still makes a killing selling cosmetic items that let you customise your character — in fact, it reportedly rang up nearly $US300 million ($A402 million) in sales just in the month of April — and it offers a "battle pass" for players (or parents of players) who would prefer to pay just a fixed amount per season. Battle pass players earn more cosmetics the more they play.
Games like this spawn entire communities around them, and Epic seems to be actively fanning those flames.
Already there are very popular streamers who deal exclusively with the game and have become celebrities in their own right, and constant tweaks, changes and challenges within the game drive constant discussion.
Fan events and official "Fortnite Friendlies" (special events where all the people in the same physical space get matched into the same game together), help solidify online friendships into real-life ones.
Elizabeth Schreiber watching her son Ben playing Fortnite on iPad.
Elizabeth Schreiber, mother of 11-year-old Ben, sees the social and personal benefits of the game.
"I'm quite open to Ben communicating with people in any way that he can," Schreiber said. "In a sense, it's just a virtual version of him.
"If he leaves the game early he feels he's letting his team down, and he's quite proud of his accomplishments in the game."
Nonetheless, Schreiber understands why parents might have concerns.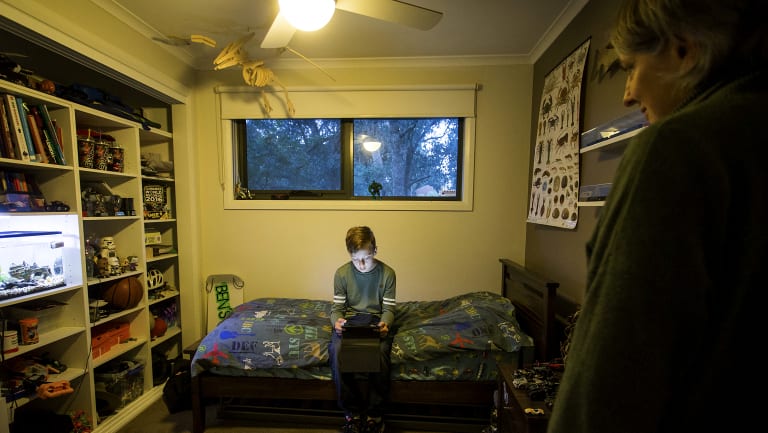 Elizabeth Schreiber says the game is 'just a virtual version' of her son Ben.
"Ben has no sense of time and can get really aggro when he's told to get off it. There's a real sense of urgency," she says.
"When he stops playing it for a few weeks, it's like coming off sugar; his urgency to play it and to know what's going on diminishes."
Ben says he usually organises Fortnite sessions with his mates after school.
"I play with people around Australia and my friends at school," he says. "There's so much stuff to do, and you can talk to people and work as a team."
"There's more action than other games. It's just fun."
While Fortnite is certainly not a game played exclusively by children — the playerbase skews much older than Minecraft, for example — its sudden popularity has taken many parents by surprise.
While games can affect the mental health of people of any age given the right circumstances, when it comes to kids, online games can also provide new avenues for old issues such as bullying, talking to strangers and the stress of trying to fit in socially.
For Fortnite in particular, parents should know that every system that runs the game has parental controls built in that can be used to limit game time or restrict certain online features.
Limits like these can ensure kids can keep their commitments to play online with friends without being on it all day. Options in the game itself can also limit online interactions. Fortnite is an M-rated game, but Epic officially welcomes kids as young as 12 to make accounts. It's up to the parents to decide if the game's appropriate.
Since the game's free and is pretty easy to understand, non-gaming parents shouldn't have any trouble jumping in themselves to see what it's all about.
Source: Read Full Article