LG 2018 Ultra HD OLED television review: brains and beauty
With a new ThinQ smart assistant at your beck and call, LG's Ultra HD OLED televisions are more than just a pretty face.
OLED is the gold standard when it comes to picture quality, thanks to the fact the screen doesn't rely on a backlight so it can produce perfect blacks and amazing contrast. LG has led the way and its dedication to OLED manufacturing is paying off as the prices drop on this year's giant 65- and 77-inch OLED televisions.
LG has omitted the G series from its 2018 line-up, leaving the 55/65/77-inch C series, 55/65-inch E series as well as the 65/77-inch W series wallpaper models. Starting at $4099 they all offer identical picture quality, the differences come down to the bezel and the speakers.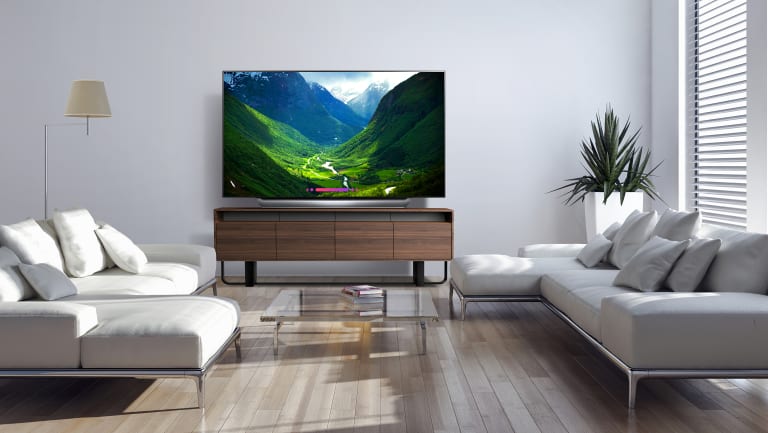 LG's C8 starts at $4099 for a 55-inch model.
Look sharp
This year hasn't seen a major overhaul in terms of picture quality or panel brightness, but there are still subtle improvements thanks to LG's new faster Alpha 9 processor.
If you have an eye for detail you can see the Alpha 9's impact in slightly improved upscaling, noise reduction and colour rendering, which helps when you're watching content that wasn't shot in Ultra HD.
When evaluating a high-end television it's generally best to abandon standard picture mode for cinema mode and then tweak to taste, but you might find one of LG's pre-configured Technicolor or ISF expert picture modes more pleasing to the eye. They tend to dial down the video processing, including the TruMotion motion interpolation which can be a little too aggressive by default and cause imperfections in the picture.
Watch a DVD or Blu-ray and you can see the television's upscaling in action, working hard to do the best it can with a less than perfect picture. It even does a reasonable job with Australia's shabby free-to-air broadcasts which will always struggle to look good on a big screen.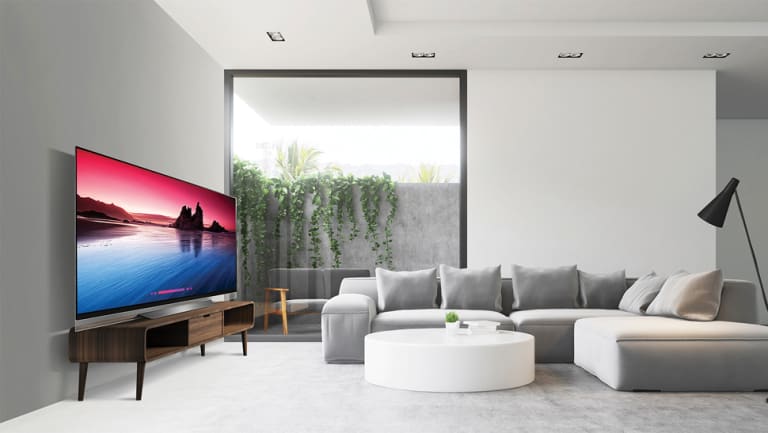 LG's E8 starts at $4999 for the 55-inch model, featuring better speakers and a slightly different design compared to the C series.
The improvements are subtle considering that LG's upscaling was already impressive, but thanks to the extra processing power there's less need to tweak the settings to combat tell-tale grain and noise. The same applies when adjusting the motion interpolation to reduce jitter in difficult panning shots on Ultra HD Blu-ray discs like The Martian and Planet Earth II.
High Frame Rate (HFR) is the next battle in the home entertainment war and the television's extra grunt ensures it can handle 120 frame-per-second video for silky smooth action without jitter. Netflix will likely be Australia's first source of HFR content, while next year a firmware update will upgrade the television's video ports to HDMI2.1 so they're ready to play HFR content from external sources.
The more powerful processor also helps when it comes to smart TV apps. The television runs the WebOS4.0 platform and offers access to the usual suspects such as Netflix, Amazon Prime Video, Stan (co-owned by Fairfax Media), YouTube, Bigpond Movies, Google Play and free-to-air catch up apps including Freeview Plus.
In the shadows
The new processor delivers some future proofing, adding support for the fledgling Technicolor HDR format alongside Dolby Vision, HDR10 and HLG.
These high dynamic range formats offer greater detail in the brightest and darkest parts of the picture, which you can see on Ultra HD Blu-ray discs or online services such as Netflix.
For now Netflix, Amazon Prime Video and the iTunes store remain about Australia's only sources of Dolby Vision content while we wait for the new generation of Dolby Vision-capable Ultra HD Blu-ray discs and players.
Netflix's Lost in Space looks stunning in Ultra HD Dolby Vision, revealing the finest details in the deepest shadows alongside the piercing bright helmet lights as the Robinson family crash lands. Meanwhile delicate details in the ice and snow aren't blown out even in the brightest scenes.
Get Smart
Rather than picture quality, the biggest change with this year's LG televisions is the addition of the ThinQ smart assistant to its OLED and Super UHD models. ThinQ relies on natural language processing so you can say things like "volume up" or "make the TV louder" rather than needing to remember specific phrases.
The televisions don't hang on your every word, instead you need to press the button on the remote to grab ThinQ's attention.
While this restriction is good from a privacy perspective, it makes ThinQ less practical considering you're already holding the remote; it's often faster to press the volume, channel or input controls than to tell the television what you want.
ThinQ becomes more practical if you're looking for something to watch, with the ability to search across the free-to-air Electronic Program Guide and multiple streaming services; although frustratingly when you ask for programs on broadcast television it tends to favour search results from YouTube. You can also ask questions about what you're currently watching, such as the name of the director.
Beyond entertainment you can ask ThinQ a few basic questions like "What's the weather going to be like tomorrow?" but it only displays the results and can't yet speak them aloud.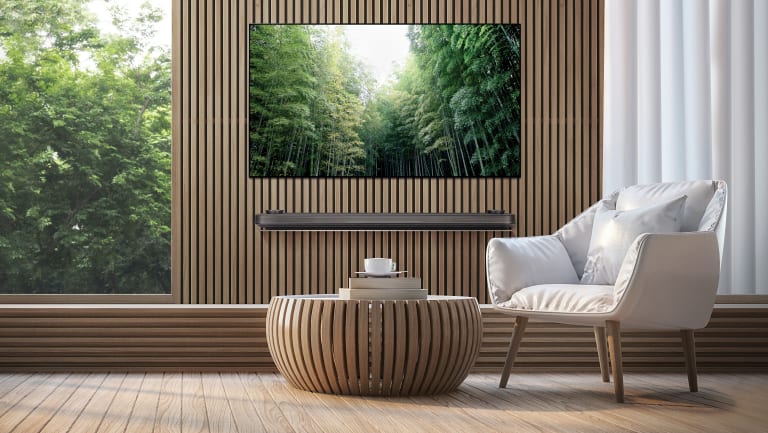 The 'wallpaper' W8 is the most expensive of LG's 2018 OLEDs, starting at $9999 for a 65-inch model.
The next phase of LG's smart assistant ambitions is to add Google Assistant to its televisions in the second half of this year, to help the television find its voice. At this point you'll have the full power of Google's smart ecosystem at your fingertips, plus you'll be able to control a wider range of smart devices around your home.
LG's WebOS4.0 smart TV platform is slick but doesn't have access to the same breadth of apps as Android TV. ThinQ's standalone capabilities are rather underwhelming — unless you have a home full of LG's ThinQ appliances — and it will be interesting to see how tightly ThinQ integrates with Google Assistant and whether the result feels fragmented compared to Sony's slick Google Assistant implementation on Android TV.
So what's the verdict?
LG's Ultra HD OLEDs still lead the way when it comes to picture quality and while 2018 doesn't bring a breathtaking upgrade, there are subtle improvements which help lay the groundwork for things to come.
Unfortunately it's harder to get excited about ThinQ if you've seen fully-fledged smart assistants like Google Assistant, Alexa and Siri in action.
Thankfully ThinQ is embracing Google Assistant rather than attempting to reinvent the wheel, so LG's smart televisions are due to get an IQ boost down the track, but it remains to be seen whether combining the two assistants is a smart move.
Source: Read Full Article