Vodafone TV review: telco's Google-powered streaming box holds its own
Leveraging the power of Android TV to let you watch both subscription video and free-to-air broadcasts, the Vodafone TV is yet another attempt at building the one streaming box to rule them all.
The $120 Vodafone TV follows in the footsteps of the $99 Foxtel Now and $192 Telstra TV 2 streaming video players. All three aim to merge the best of broadcast and broadband television into the one tiny box. The biggest difference is that, unlike its rivals, Vodafone TV doesn't have a built-in ability to watch Foxtel Now subscription channels; although there is a workaround.
If you can live without built-in Foxtel then the Vodafone TV has a lot to offer in Australian lounge rooms, especially as it doesn't require Vodafone to be your internet service provider. If you do sign up with Vodafone, you can pay off the box over 24 months.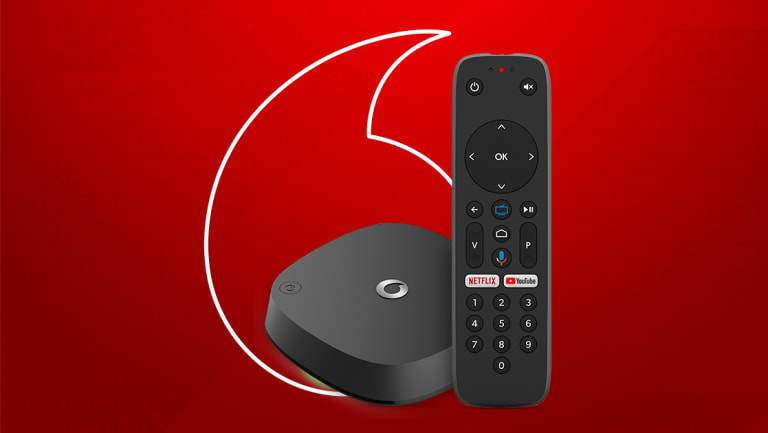 The Vodafone TV offers voice commands through its remote, although search is limited to Google's services.
The droid you're looking for?
While Vodafone's box won't win over Apple TV owners, Google fans will appreciate that it runs the pure Android TV 7.1.1 interface. It's a welcome change from Foxtel's kludgy mix of the iQ3 and Android TV menus, or Telstra's elegant but locked-down Roku interface.
Android TV puts a wealth of apps and services at your fingertips, optimised for the big screen, although there are still glaring omissions.
You've got movie rentals from Google alongside Netflix and Stan (co-owned by Fairfax Media), taking advantage of the HEVC video format to deliver crisp Ultra HD resolution but not High Dynamic Range. Unfortunately Amazon Prime Video is absent, while SBS and Nine's free-to-air catch up services are also no-shows.
To be fair, the blame for these omissions lies with Android TV and/or the service providers, not Vodafone. It doesn't appear that Vodafone has gone out of its way to block apps, unlike Foxtel's box which still lacks Netflix and actively blocks Kodi. Or Telstra's box which locks you out of the full Roku app store.
Beyond the usual suspects
The Android interface is slick, taking advantage of a voice search button on the remote, but it's not as impressive as Android running on a Sony smart TV.
For example, Vodafone TV's home screen content recommendations are limited to Google's services and you miss out on decent cross-platform search. Ask for "Marco Polo" and a Sony Android TV takes you directly to the show in Netflix, but Vodafone TV pulls up the Italian explorer's Wikipedia entry.
Apart from subscription video, you can dive into the Android app store and find music apps like Google Play Music, Spotify, Tidal and TuneIn, along with other streaming video services such as YouTube, ESPN, Vimeo, Twitch and Crackle.
If you want to watch your own video library you'll find media players like Plex, MX Player, VLC and Kodi, which can stream across your home network or from the box's USB port. Finally there's an eclectic mix of Android games and support for Bluetooth controllers.
If that's not enough to keep you entertained, the Vodafone TV acts as a Chromecast dongle for streaming from your mobile devices, so if you do want access to Foxtel Now, SBS on Demand or 9Now, you can get them on the big screen via your smartphone.
Finally it's possible to sideload any apps you like if you want to further expand the box's capabilities, but keep in mind there's only 8GB of onboard storage and 2GB of RAM.
Tune in
The ability to watch free-to-air broadcasts is the final piece of the puzzle, thanks to an RF aerial input on the back (but no RF output for running the aerial through to your television).
Vodafone's free-to-air app is very basic and, like Telstra and Foxtel's boxes, it lacks the ability to pause, rewind or record live broadcasts. The onscreen guide isn't as impressive as Telstra's, but Vodafone's efforts are still an improvement on Foxtel's clunky free-to-air options.
So what's the verdict?
The Vodafone TV is a worthy contender, granting you greater freedom than Telstra and a slicker user experience than Foxtel. Android TV will be a welcome addition to many lounge rooms, even if it falls short of what you get from a truly Android-powered smart TV like a Sony Bravia.
If you really care about free-to-air television then you should weigh these boxes up against the Fetch TV Mini or Mighty, but if you'll rarely watch broadcast television then Vodafone TV could be a good fit for your lounge room.
Source: Read Full Article