Assassination attempt on minister deepens divisions as Pakistan nears elections
Islamabad: An assassination attempt on a minister has deepened divisions ahead of Pakistan's coming elections, with an Islamist party denying involvement and an opposition figure blaming it on fiery rhetoric by the ousted premier.
A gunman on Sunday shot Interior Minister Ahsan Iqbal, a senior member of the ruling Pakistan Muslim League-Nawaz (PML-N) and ally of ousted Prime Minister Nawaz Sharif, as he was leaving a constituency meeting in Punjab province.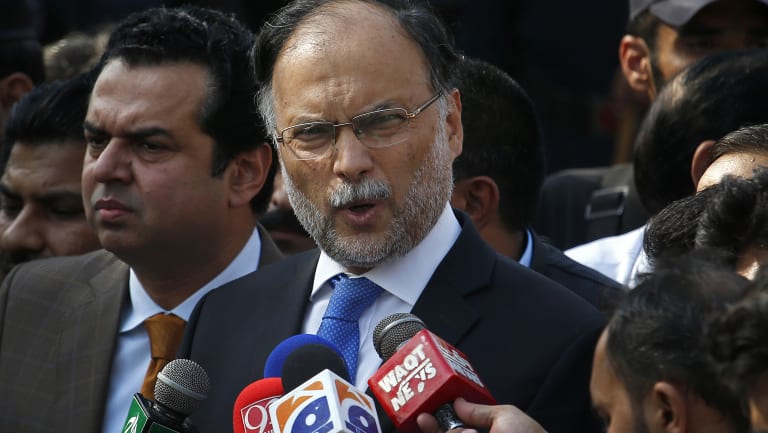 Pakistani Interior Minister Ahsan Iqbal survived the assassination attempt.
Pakistan's Supreme Court disqualified Sharif as Prime Minister last July over a small source of unreported income and he is currently on trial before an anti-corruption court, though his party still holds a majority in Parliament.
Sharif has denounced the court ruling as a conspiracy led by rival Khan, routinely gathering large crowds of his supporters to voice his grievances.
Sharif has Sharif has portrayed Khan as a puppet of the powerful military establishment, which has a history of meddling in Pakistani politics. Khan denies colluding with the army and the military denies interfering in politics.
Sunday's attack heightened the sense of unease in the runup to the election, expected by late July.
Preliminary reports suggested Sunday's attacker had links to a new Islamist political party that campaigns on enforcing the death penalty for blasphemy and replacing secular influence on government with strict sharia law.
A local administrator's initial report on the attack, seen by Reuters, said the arrested gunman had "showed his affiliation" to the Tehreek-e-Labaik party.
"We have got nothing to do with him," Labaik spokesman Ejaz Ashrafi said on Monday. "We are unarmed. We are in an unarmed struggle. Those conspiring against Tehreek-e-Labaik will not succeed."
Party leader Khadim Hussain Rizvi on Sunday condemned the attack on Iqbal, and said Labaik was in an "unarmed struggle to bring the Prophet's religion to the throne".
Police said a bullet hit Iqbal in the right arm and entered his groin. They named the suspected shooter as Abid Hussain, 21, but have not officially reported any motive.
"Religious radicalism is in his background," Minister of State Chaudhry said, adding that others had been arrested and police were investigating groups that may have influenced the attack.
"Such people, on an ideological level, are prepared by others… radicalism is not an individual issue, it is a social problem," he said.
Labaik was born out of a protest movement supporting Mumtaz Qadri, a bodyguard of the governor of Punjab who gunned down his boss in 2011 over his call to relax Pakistan's draconian blasphemy laws. The movement's protests shut down the country's capital for three weeks last year over a change to an electoral law which it said amounted to blasphemy.
The assassination attempt on Iqbal has stoked fears of a repeat of the pre-election violence by Islamists that blighted the last two polls, including in 2007 when former prime minister Benazir Bhutto was killed on the campaign trail.
Reuters
Source: Read Full Article