Comedian elicits boos and walk outs at White House reporters' dinner
Some of the most prominent White House reporters in Washington are considering abandoning their annual correspondents' dinner after a contentious address by comedian Michelle Wolf left the room stunned.
The White House Correspondents' Association dinner, famous for its gentle roasting of the president of the day, once attracted Oscar winners, sports stars and high-profile business people.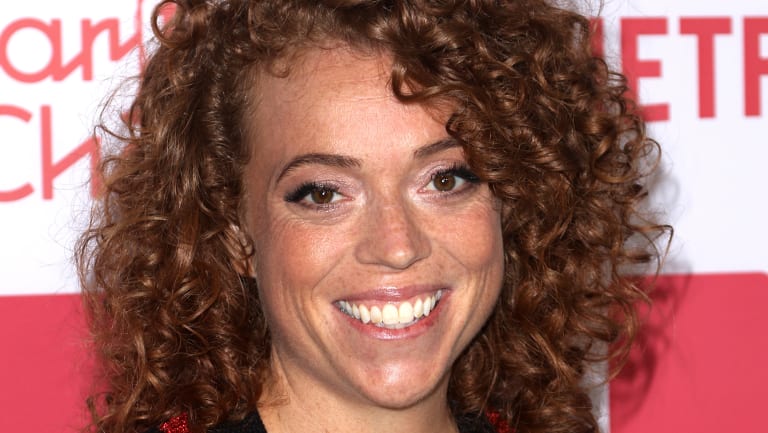 Michelle Wolf's caustic speech made some members of the audience boo and walk out.
Its star power dimmed considerably last year when the famously thin-skinned Donald Trump, who routinely slammed reporters as dishonest peddlers of "fake news", announced he wasn't attending. He was the first president to skip the event since Ronald Reagan bowed out in 1981 due to an assassination attempt.
However, journalists are also considering bowing out after Wolf left guests booing and squirming over abortion jokes and attacks on the physical appearance of press secretary Sarah Huckabee Sanders, who was sitting less than a metre away.
Wolf's blistering critique of Sanders mocked everything from her truthfulness to her Southern roots, calling her an "Uncle Tom for white women".
"I love you as Aunt Lydia in the Handmaid's Tale," she began, to a stony-faced Sanders.
"I actually really like Sarah, I think she's very resourceful," Wolf continued. "Like, she burns facts and then she uses that ash to create a perfect smoky eye. Maybe she's born with it, maybe it's lies. Probably lies."
After one crass joke drew groans in the Washington Hilton ballroom, Wolf, an alumnus of The Daily Show who has a Netflix talk show coming next month, laughed and said: "Yeah, shoulda done more research before you got me to do this".
Among Wolf's more printable one-liners were:
Sarah Sanders Huckabee was stony-faced as she was mocked by comedian Michelle Wolf at the White House Correspondents' dinner.
Matt Schlapp, chairman of the American Conservative Union, was among a handful of Trump supporters who walked out of the room in protest. The following morning, journalists had heated debates on Twitter over Wolf's address and the reaction to it.
Some said low-blow attacks were the "quintessential feature" of Trump and those complaining about Wolf's speech should have been more outraged by the incendiary rally speech the President gave in Michigan on the same night.
Others panned Wolf including CNN's Jeff Zeleny who said it was "an embarrassment in the room and surely to the audience at home".
The New York Times' chief White House reporter Peter Baker and White House correspondent Maggie Haberman were also uncomfortable.
Wolf defended her routine and insisted critics had mistakenly assumed she was targeting Sanders' physical appearance.
Mike Allen, co-founder of news site Axios, said there would be "big debate whether to end the dinner as we know it, and whether some news organisations announce they will no longer attend".
The Washington Post's media columnist Margaret Sullivan called for an end to the dinner as it is almost "suicidal for the press's credibility".
As he did last year, Trump flew to a Republican-friendly district to rally supporters on the same night as the dinner. In Washington, Michigan, the President assured his audience he'd rather be there than in that other city by that name.
"Is this better than that phony Washington White House Correspondents' Dinner? Is this more fun?" Trump asked, sparking cheers.
"I could be up there tonight, smiling, like I love where they're hitting you, shot after shot. These people, they hate your guts… and you've got to smile."
Donald Trump spoke at a rally in Michigan instead of attending the annual White House Correspondents' dinner.
Unlike last year, when Trump aides also declined to attend, the Trump White House had its contingent, including counsellor to the President Kellyanne Conway and Commerce Secretary Wilbur Ross. Former administration officials were on hand, such as onetime press secretary Sean Spicer, ex-chief of staff Reince Priebus, former chief economic adviser Gary Cohn and ex-political aide Omarosa Manigault-Newman.
with AP
Source: Read Full Article