Educator uprising: Red-clad teachers march in Arizona statewide strike
Phoenix: A sea of teachers clad in red shirts flowed toward the Arizona Capitol on Thursday for an unprecedented walkout that closed most of the state's public schools, part of an educator uprising that bubbled up in other parts of the nation and spread west.
Waving signs and red balloons, tens of thousands of teachers and their supporters headed through downtown Phoenix for a rally at the state Capitol to demand a 20 per cent raise for teachers, about $US1billion to return school funding to pre-Great Recession levels and increased pay for support staff, among other things.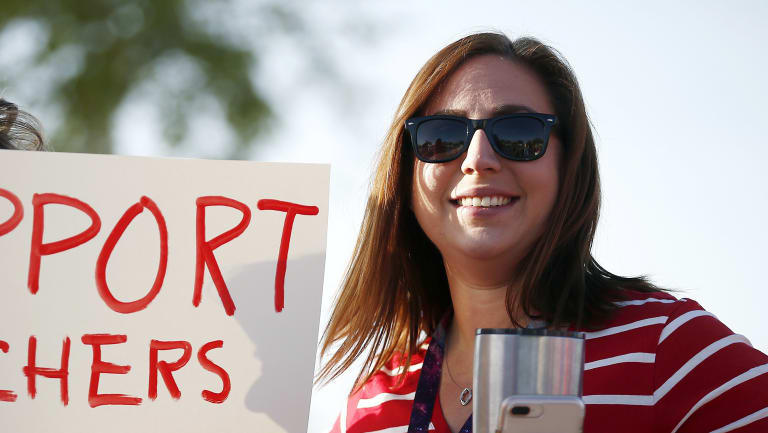 Stefanie Lowe, a teacher at Tuscano Elementary School, smiles as she joins other teachers, parents and students as they stage a "walk-in" for higher pay and school funding in Phoenix.
Widespread protests also were underway in Colorado, where some schools have shut down.
Teachers in both states want more resources in the classroom and have received offers either for increased funding or raises. But teachers say the efforts aren't enough, with Arizona educators launching the first-ever statewide strike to press lawmakers to meet their demands.
The crowd in downtown Phoenix began its 3-kilometre trek to the Capitol, with demonstrators carrying signs saying, "Money for Schools" and "Make Schools Great Again."
Young women carrying babies joined retired teachers as rock music blared. With temperatures expected to reach at least 40 degrees C, many carried water jugs and umbrellas to combat the heat.
The walkouts in two states are the climax of an uprising that spread from West Virginia, Oklahoma and Kentucky. A grass-roots movement known as #RedforEd began weeks ago with protests in Arizona, and Colorado teachers later took up the fight.
More than 10,000 educators rallied around the Colorado Capitol, many using personal time to attend. They chanted, "Education is our right" and "We're not gonna take it anymore" and drew honks from passing cars. About half of all Colorado students will see their schools shuttered over two days.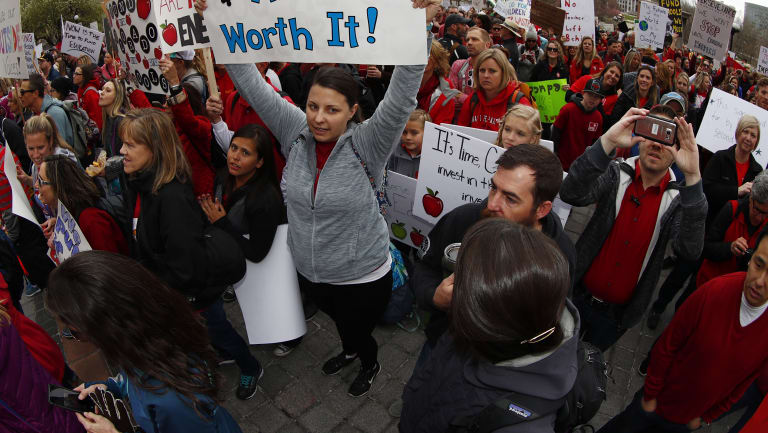 Teachers and their supporters from Douglas and Jefferson counties in Colorado cheer during a teacher rally.
Lawmakers have agreed to give schools their largest budget increase since the Great Recession. But teachers say Colorado has a long way to go to recover lost ground because of strict tax and spending limits.
In Arizona, Republican Governor Doug Ducey has offered teachers a 20 per cent raise by 2020 and said he has no plans to meet with striking teachers and or address their other demands.
The leader of the state's largest teacher membership group told Phoenix television station KTVK that Ducey's unwillingness to meet with organisers makes him believe they "will be out for a while."
Joe Thomas of the Arizona Education Association has said the walkout has no end date, and educators may have to consider a ballot initiative for education funding if lawmakers do not come up with their own plan.
A teacher in the Douglas County, Colorado, school system, leads a cheer during a teacher rally on Thursday.
Ducey told the TV station in a separate interview that he's "not ignoring anyone" but is focused on meeting with lawmakers to push his plan, which has raised concerns about how it would be funded.
School districts across Arizona announced closures before Thursday, including the state's largest – Phoenix, Mesa and Tucson. The walkout has led makeshift day care centers to open for parents who have no place to leave their children when they go to work.
Addie Martinez dropped off her 9-year-old son and 6-year-old daughter at a Phoenix Salvation Army that has opened a child care centre before she rushed to her job as a medical assistant. The facility has room for up to 100 kids and will provide breakfast, lunch and snacks for $US25 per child.
Martinez said she supports the teachers despite the inconvenience because "they are educating our future." She said she was prepared to take her children back on Friday and next week to the center, which offers activities that include arts and crafts and dodgeball.
More than 840,000 Arizona students were expected to be out of school Thursday, according to an analysis from the Arizona Republic that tallied up at least 100 school districts and charter schools that are closing. The state Department of Education said the state has more than 200 districts and more than 1.1 million schoolchildren.
AP
Source: Read Full Article