EU in denial about mishandling immigration, says Alexander Downer
London: Australia's outgoing High Commissioner Alexander Downer says Brexit will damage the EU, which is in denial over its mishandling of immigration.
Speaking to Fairfax Media from Australia House in his last few hours in the job, a candid Downer singled out the European institutions for criticism and said they needed to shoulder much of the blame for the Brexit result.
Describing the EU's handling of immigration as "chaotic" and its management of the eurozone during the Cypriot financial crisis as causing "catastrophic harm" he said it was Europe and not Britain that had the most to lose from Brexit.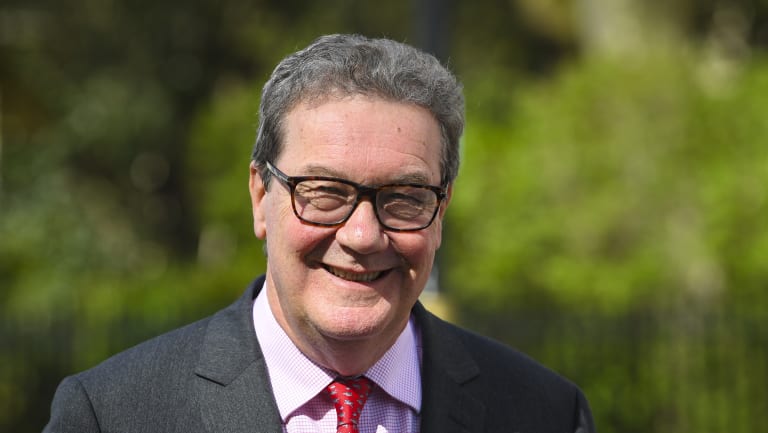 Outgoing High Commissioner to London Alexander Downer
"The European Union institutions don't admit it but I think it's clear that [Brexit's] going to substantially weaken Europe," Downer said.
"Europe's going to become more introverted, less trans-Atlantic, less global, and less liberal.
"I don't think it's going to have a very big effect one way or the other on the British economy," he said.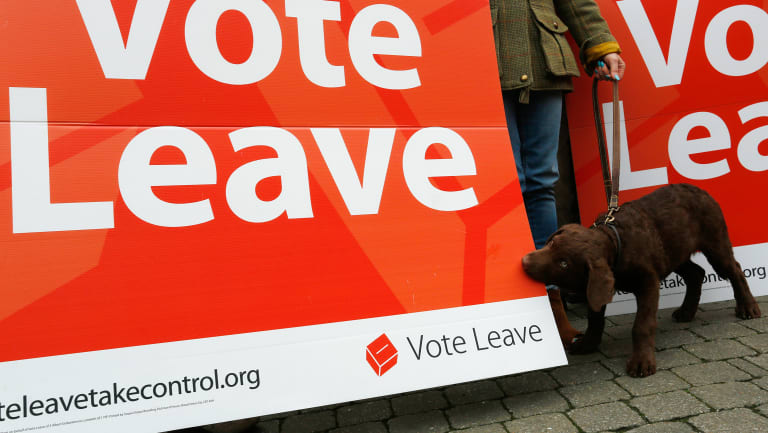 A dog bites a Vote Leave campaign poster in the run-up to the referendum in 2016.
Downer said those who advocate Britain staying in a customs union or a second referendum to try to reverse the 2016 vote to leave needed to accept responsibility.
"Remainers in Europe and in the UK need to reflect on the mistakes they've made that have led to this and the mistakes haven't just been made within the UK, the mistakes have been made in Brussels as well," he said.
He took aim at the EU's policy of freedom of movement, which allows citizens of EU countries to travel and work visa-free, regardless of their language or skills.
The right-wing populist party UKIP seized on free movement as a key reason to vote Leave, bleeding mainstream support from the Tory party and some working-class Labour voters.
In 2016, the then Conservative prime minister David Cameron sought an emergency brake on immigration to try to stem UKIP and many Tory MPs' demands for a referendum.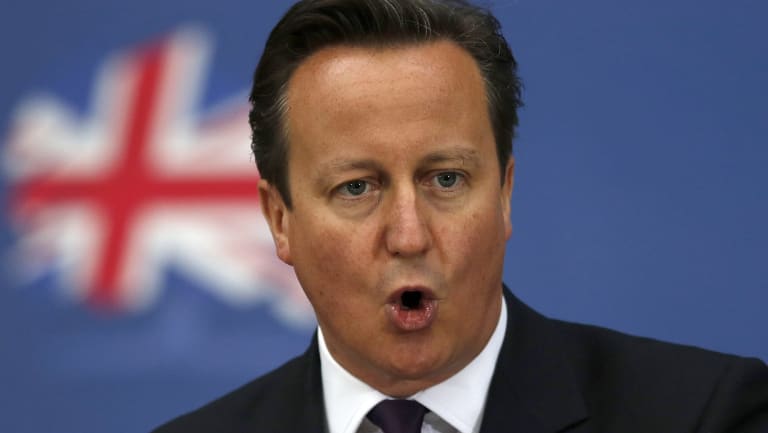 Former British prime minister David Cameron took the UK to the referendum.
Cameron wanted to quarantine new migrants from accessing benefits and social housing during their first four years in the country but was rebuffed by the EU.
Downer said if the EU had dealt with the issues raised earlier, it could have prevented Britain from leaving the trading bloc.
"The chaotic approach to immigration a couple of years ago has had a deleterious effect on public opinion towards the European Union," he said.
"Perhaps if immigration had been better managed…you might not have got the result in the referendum that you got," he said.
And he took aim at the common currency and how the eurozone dealt with the European debt crisis, when Greece, Portugal, Ireland, Spain and Cyprus were forced to seek bailouts or assistance from other nations. Strict spending controls or austerity measures were imposed on the nations receiving assistance, sparking protests and massive spikes in unemployment rates.
Downer served as a special advisor on Cyprus to former UN Secretary General Ban Ki-moon for six years between 2008 and 2014.
"I saw the catastrophic effect on living standards in Cyprus of the measures that the European finance ministers and the European Central Bank, the measures they took against little Cyprus and of course next door Greece – Spain, Portugal, Ireland," he said.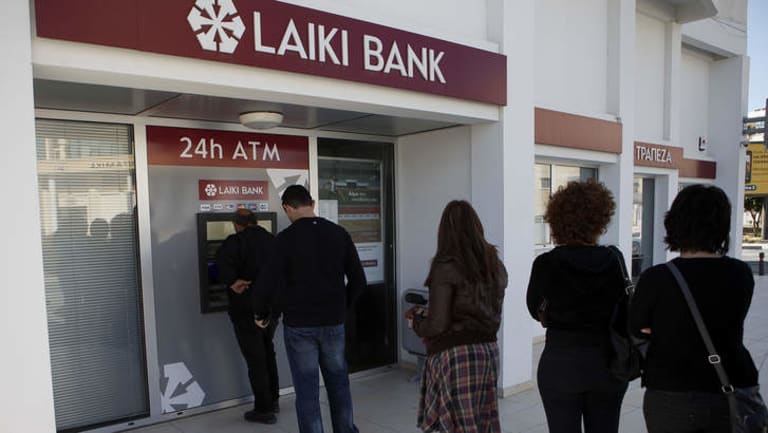 Badly mishandled: People queue to use an ATM outside a Laiki Bank branch in Larnaca, Cyprus.
"I mean great hardship has been imposed on people.
"The euro … has created a bad image of the European Union," he said.
Downer was originally meant to spend three years as High Commissioner but had his posting in London extended by a year.
He will be replaced by former attorney-general George Brandis on Tuesday.
Downer intends to spend his time between Australia and London and has accepted corporate board positions and a job with an unidentified university; and will chair the centre-right think-thank Policy Exchange.
Source: Read Full Article