Man United vs Copenhagen – Champions League: Latest scores updates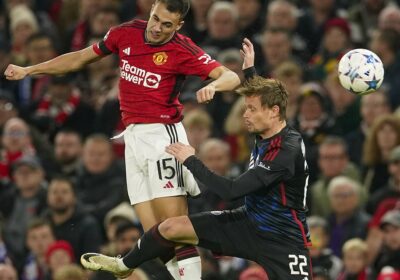 Man United 0-0 Copenhagen – Champions League LIVE: Visitors hit the post after Old Trafford pays a moving tribute to Sir Bobby Charlton
Follow Mail Sport's live blog for all the latest updates from Old Trafford as Manchester United host Copenhagen in the Champions League.
18 mins: Man United 0-0 Copenhagen
Dalot makes a great ball across the box, and Hojlund goes for it, but Copenhagen are able to frustrate it and get the ball away.
In the next attack, Man United come forward again, and the Danish defence are forced into heading out for a corner.
16 mins: Man United 0-0 Copenhagen
A great ball is played through to Hojlund, but he blasted his shot high above the bar.
It's clear he's desperate to get on the scoresheet tonight though, especially with all his Man United goals coming in the Champions League.
13 mins: Man United 0-0 Copenhagen
It's been a cagey start, neither side wanting to make the first mistake. Who will break through first?
10 mins: Man United 0-0 Copenhagen
The opening ten minutes pass at Old Trafford, and it's still scoreless. Copenhagen closest to breaking the deadlock so far.
That pre-game tribute to Sir Bobby Charlton
5 mins: Man United 0-0 Copenhagen – visitors hit the post!
The Dansh visitors break forward, and Goncalves makes a blistering shot, which hits the post and bounces back into play. Copenhagen couldn't do anything with the follow-up, but they came close!
4 mins: Man United 0-0 Copenhagen
Rasmus Hojlund attempts to put Grabara under pressure in the Copenhagen goal, but the masked keeper is just about able to get the ball away.
2 mins: Man United 0-0 Copenhagen
The Danish champions win an early corner, but it amounts to nothing.
KICK-OFF: Man United 0-0 Copenhagen
Following a stirring tribute to Sir Bobby Charlton, we're underway at Old Trafford.
A moving tribute impeccably observed by all
It precedes a moment of silence, which is also a tribute to a footballing icon.
A lone piper leads out Erik ten Hag with a floral wreath
A moment's applause for Sir Bobby Charlton
A Man United legend
The Champions League music plays
Both sides enter the field at Old Trafford
Signs dotted around honouring Sir Bobby Charlton as the English and Danish sides come out onto the pitch.
The players gather in the tunnel
An emotionally charged night at Old Trafford
A possible promising omen?
Man United have never lost four European Cup / Champions League games in a row. With three defeats on the bounce, it would be historical if they made it four tonight.
Ten minutes to go until the action gets underway at Old Trafford.
Galatasaray 1-3 Bayern Munich FT
Coman, Kane and Musiala have got the goals for Bayern Munich's win.
Bayern top the group with nine points.
Galatasaray have four points from three games.
Copenhagen have one point, a draw against the Turkish club.
Man United sit bottom with no points.
The only way Man United can climb Group A is by beating the Danes tonight.
The visitors pay their respects to Sir Bobby
Sir Bobby Charlton, World Cup winner, international icon, and Copenhagen are paying their respects, alongside the rest of the football community.
The players are warming up at Old Trafford
Ian Herbert: Man City fans should respect Sir Bobby
The focus is naturally on the Champions League tonight – but it's inevitable that there will always be one eye on the Manchester derby this Sunday.
Mail Sport's Ian Herbert calls on Man City fans to respect what Sir Bobby Charlton did to put Manchester on the map, despite the rivalry of the two clubs.
Bayern have moved 3-1 up in the other group game
About three minutes to go in Turkey, plus stoppages, but it looks like Bayern will make it three wins from three in Group A.
Galatasaray have four points, and Copenhagen have one. The pressure is on Man United now.
Can Erik ten Hag do the job on the pitch?
It feels like there's a new off the field situation for Man United to navigate every few days, but can Erik ten Hag focus on the job required on the pitch and get their Champions League campaign going?
A special occasion for Man United's Dane
Rasmus Hojlund used to play for Copenhagen, before moving across Europe to further his career, and now they're coming to Old Trafford.
Background on Copenhagen
Copenhagen began their group stage with a 2-2 draw in Turkey on Matchday 1, but lost 2-1 at home to Bayern Munich three weeks ago.
Since the Bayern game, they have drawn 1-1 at AGF, and then won 2-1 at home to Vejle BK in the league on Saturday.
Man United vs Copenhagen in the past
This is the fourth meeting between the two teams.
They shared one win each in the 2006-7 Champions League group stage, which was Copenhagen's first ever win in the competition.
Man United got the better of the Danes in the UEFA Europa League quarter-final in August 2020.
They'll be desperate to get a third win on the board tonight, and get their first points of the group stage this year.
An hour to go
There'll be club tributes to Sir Bobby Charlton in the run up to kick-off.
Copenhagen team news
Copenhagen have also confirmed their starting 11 for the match tonight, led by captain Viktor Claesson.
Rasmus Hojlund's younger brother Oscar is named among the substitutes for the Danish Superliga champions.
How to follow the rest of the Champions League action tonight
It's not just Man United in action tonight – Spencer Morgan is on blog duties for Arsenal's trip to Sevilla, as well as the other games going on tonight across the Champions League.
In Man United's group, Galatasaray and Bayern are currently drawing 1-1, but I'll keep you updated if that score changes. They've just started the second half in Turkey.
Man United team news – two changes for Erik ten Hag's side
Following Saturday night's 2-1 win at Sheffield United, Erik ten Hag has made two changes to his starting 11.
Raphael Varane and Sergio Reguilon come into the side for today's game against Copenhagen.
Jonny Evans and Victor Lindelof both miss out, but they are available options to the manager from the bench.
Adam Shergold on Man United's priorities
Mail Sport's Adam Shergold laid down some of Man United's priorities coming into this clash with Copenhagen.
After high-scoring defeats to Bayern Munich and Galatasaray, it's time for Erik ten Hag's side to get some points – and confidence – on the European stage.
Patrick Collins on an English hero
Patrick Collins wrote about Sir Bobby Charlton for the Mail on Sunday – an English hero that many admired and wanted their children to imitate.
Hello and welcome to Man United vs Copenhagen
Hello and welcome to Mail Sport's live blog covering Man United's Champions League game against Copenhagen at Old Trafford.
Kick off is at 8pm local time, or in just under an hour and a half. We'll have all the team news and action.
It is the club's first home game since the death of Sir Bobby Charlton, and we're expecting a great reaction to pay tribute to one of Man United's all-time greats.
TOP STORIES

Source: Read Full Article