Ronnie Rees dead at 79: Wales footballer passes away as former clubs pays heartbreaking tribute | The Sun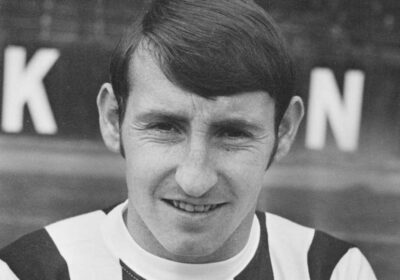 FORMER Wales star Ronnie Rees has died at the age of 79.
The iconic winger, who scored three goals in 39 games for his country, passed away on Tuesday.
And tributes have flooded in from his former clubs.
Rees enjoyed a fine career at the top, playing for Coventry, West Brom, Nottingham Forest and Swansea.
The Sky Blues said in a statement: "Coventry City are deeply saddened to learn of the death of the former player Ronnie Rees.
"Ronnie, who has sadly passed away at the age of 79, was widely considered one of most exciting talents of the 1960s and the Sky Blue Revolution – starring in Third Division and Second Division title triumphs.
READ MORE IN FOOTBALL
TURKISH DELIGHT
Meet the team of Premier League rejects who are the best side in Europe
FAMILY PRIDE
My dad won Champions Leagueand almost lifted Ballon d'Or – now I'm in Prem
"Our condolences are with family and friends of Ronnie at this sad time."
West Brom tweeted: "We're desperately saddened to learn of the passing of former Albion winger, Ronnie Rees.
"The thoughts of everyone at the club are with Ronnie's friends and family at this tragic time."
Swansea added: "Everyone at Swansea City is deeply saddened to hear of the passing of former player Ronnie Rees at the age of 79.
Most read in Football
TRAGIC END
Sir Bobby Charlton's cause of death revealed after Man Utd legend died aged 86
KIT HITS THE FAN
Man Utd stars 'moan adidas kits TOO TIGHT and are wearing replica tops'
STAR'S AGONY
Luis Diaz breaks silence after dad kidnapped by gang as cops 'close the net'
JOG RON
Cristiano Ronaldo demands REFEREE is substituted after Al-Nassr goal ruled out