I'm a reality star fighting jobsworth council over my pub – they want to see us fail… but I'm going nowhere | The Sun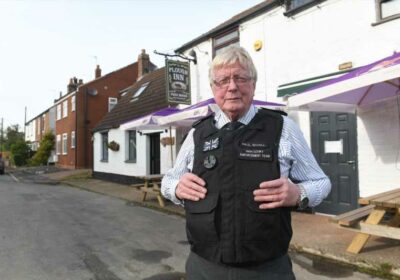 A TV star bailiff has told how he is fighting the council after he bought a pub and got wrapped up in a planning row.
Paul Bohill, star of Channel 5's 'Can't Pay? We'll Take It Away', and his business partner, Andrew Ward, recently took over The Plough Inn, in Hollym, Yorkshire, from its previous owners of 20 years. 
Paul and Andy are set to make big changes, which are backed by many in the village, but they fear a complainant will halt progress as they have become embroiled in a planning row.
Paul said: "I became involved in the pub because my business partner Andy has a campsite in Hollym and was hoping to open a restaurant on site. 
"But after the planning authority wasn't too keen on the idea and the pub came up for sale, we decided to get that instead, with it being only a short walk away.
"When we first looked at it, there was plaster falling off the walls, it was dirty and the toilets were horrendous. It had fallen into a state of disrepair, so we needed to completely refurbish the place."
MORE ON PLANNING ROWS
KNOCKOUT PAD
Tyson Fury gets green light for Grand Designs-style renovation after row
STONE ME
I'm A Celeb castle in planning row after 200-year-wall is knocked down ILLEGALLY
Within a week, a group of village volunteers were over cleaning, painting and decorating the place. 
They urged the owners to open as soon as they could, so one side of the bar is open, while the other side is still undergoing a revamp.
One of Paul's main priorities was improving disabled access, which included having a wider doorway and new toilet facilities. 
He continued: "Through having a disabled friend, I know how important it is to make public spaces welcome to everyone and always ask, 'how would this work for a disabled person?'
Most read in The Sun
JUNGLE SQUAD
Full confirmed I'm A Celebrity line up so far – plus all the rumoured stars
SARAH'S STRUGGLE
My marriage is hanging on by fingernails after cancer, says Sarah Beeny
STREWTH
Soap legend in talks to join I'm A Celebrity after 28 years on show
BACK AT IT
This Morning legend returning to show after year off after Holly & Phil 'feud'
"So while we were waiting for planning permission to build an extension for our original toilets, we needed to build a temporary emergency toilet block with disabled access. 
"It is important to us that we can give people this facility as quickly as possible so we were advised we could get retrospective planning permission.
"We had our own machines and materials ready and waiting and have built the footings for it. But this has not gone down well with a complainant.
"We also found a covered doorway, which had been bricked up but was on the original plans, so we opened it up again because it was wide enough to fit a wheelchair through. Unfortunately, there were objections to this too."
These changes prompted a complainant to get in touch with the planning authority and encourage them to investigate the pub. So far, several visits have taken place, where staff have been quizzed about the toilet plans, doorways, outdoor tables, the pool table and the jukebox.
Paul claims there has also been a complaint about people smoking outside the pub and they were visited by the police and health and safety officers. 
The Channel 5 star added: "We are not trying to bend rules and we understand why certain procedures are in place but we have been visited by almost every public body now.
"Pubs are closing all over the country and we actually want to spend time and money to make this place a success and a community hub. Lesser people may have given up and shut the place down by now, after all of these visits.
"We eventually want to have a commercial kitchen and serve food, we are registering The Plough Inn as a warm space providing free tea and coffee and we want the local rugby team to come in here after their games. It is getting worrying that somebody wants to see us fail."
Read More on The Sun
BANK BOOST
One-off payment worth £185 set for thousands – check if you're getting one
STREWTH
Soap legend in talks to join I'm A Celebrity after 28 years on show
Although East Riding of Yorkshire Council can't provide a detailed comment on an ongoing case, it confirmed a complaint has been made. 
Stephen Hunt, director of Director of Planning and Development Management at the council, said: "We have received a complaint about a potential breach of planning control and are currently investigating."
Source: Read Full Article