As The Idol is axed TOM LEONARD asks what was Lily-Rose Depp thinking?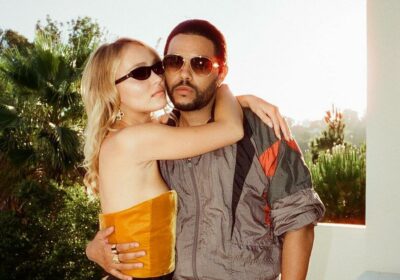 Critics called The Idol 'torture porn' and labelled it offensive and misogynist… As the HBO show is axed after just one season TOM LEONARD asks: What was Lily-Rose Depp thinking when she agreed to be leading lady?
READ MORE: The Idol AXED after just one season on HBO after abysmal reviews
GQ magazine called it 'the worst sex scene in history'.
A nubile pop starlet sprawls on a bed blindfolded, as her dull-eyed lover crouches in a corner and narrates sexual fantasies for her to act out.
As he luridly makes clear, these involve throttling and choking her.
GQ's verdict, however, was premature. Unfortunately for budding actress Lily-Rose Depp — daughter of megastar Johnny — successive episodes of controversial TV drama The Idol only managed to get worse.
On Monday, the melodrama was finally put out of its misery, cancelled after just one season of what seems likely to go down in television history as one of the most misguided projects ever.
Gratuitous scenes at which audiences baulked included Lily Rose's mentally-damaged character slashing her thighs with a blade, being sexually stimulated as she sings in front of a room full of people, and encouraging her boyfriend to torture her childhood friend with an electric collar.
TOM LEONARD: The Idol was finally put out of its misery, cancelled after just one season of what seems likely to go down in television history as one of the most misguided projects ever
Cancelled: HBO has canceled its controversial drama series The Idol after just one truncated five-episode season
Created by TV industry darling Sam Levinson, who produced US network HBO's hit Euphoria, and a cabal of all-male cronies from the pop music and nightclub worlds, The Idol was branded 'rape fantasy' and 'torture porn' by appalled critics.
Hollywood was left reeling by the outrage as an army of furious detractors labelled it offensive, misogynistic and regressive.
Whatever happened, they asked, to the MeToo movement and — following the downfall of predator Harvey Weinstein — Hollywood's claim that it would clean itself up over its treatment of women?
The Idol's creators insist that the series — shown on Sky in the UK — is provocative, edgy and transgressive.
Yet instead of satirising a 'dark corner' of the music industry, as promised, the show was accused of celebrating it.
The plot, such as it is, revolves around Jocelyn (no surname, played by Lily-Rose Depp): a sexually liberated singer who has recently lost her mother and whose last tour was cancelled after she had a nervous breakdown.
She wants to restart her career and 'be taken seriously', but she can't come up with any songs — until she meets sinister talent scout and nightclub owner Tedro (played by the real-world superstar singer The Weeknd, aka Abel Tesfaye, The Idol's co-creator).
The svengali-like Tedro soon has the pop star under his spell, and he and his cult-like followers move into her palatial home, driving away her own entourage.
Lily Rose Depp stars alongside The Weeknd – Abel Tesfaye – who is one of the show's creators
Tedro somehow convinces Jocelyn that submitting to his sexual violence will increased her creativity so she can write great songs.
There's an especially sharp irony given the fact that Depp, 24, comes from a family that's no stranger to violence and abuse.
Lily Rose is Johnny Depp's daughter by his ex-wife, French singer and actress Vanessa Paradis, and — only a year ago — Johnny's libel case against ex-wife Amber Heard treated the world to one of the most lurid exposés of Hollywood excess in recent history.
HBO, which commissioned the series — and produced such hits as Sex And The City, The White Lotus and Game Of Thrones — has been left squirming in embarrassment. The channel had actually boasted that Levinson and co-creator, The Weeknd's Tesfaye, were the 'sick and twisted minds' behind The Idol, which they called 'the sleaziest love story in all of Hollywood'. Perhaps they now regret those words.
On the review site Rotten Tomatoes, The Idol has a dismal 19 per cent approval rating. After viewing figures for the second episode tumbled, HBO chose not to release them for. It has announced the series is to end an episode early: the fifth and final episode will be available in the UK on Sky Atlantic from July 3.
Wallowing in pretentiousness, The Idol would be hilarious if it wasn't so disturbing.
In their first encounter, Tedro wraps Jocelyn's dressing gown around her face and, just before she suffocates, takes out a knife and orders her to open her mouth before cutting a hole. 'Now you can sing,' he tells her.
While the most obvious real-world parallel to Jocelyn is perhaps troubled popstar Britney Spears, Lily-Rose — half-French, after all — often seems to be mimicking Brigitte Bardot, with smudged eyeliner and a cigarette dangling from her pouting lips.
Seasoned Hollywood-watchers weren't surprised by the outcry given the identity of the man behind The Idol. Sam Levinson established his sleazy credentials with the relentlessly explicit but popular HBO drama series, Euphoria, about over-sexed, drug-abusing California teenagers, which premiered in 2019.
The son of Oscar-winning film director Barry Levinson, who made 1980s classics Good Morning Vietnam and Rain Man, he is, much like Ms Depp, a 'nepo baby' — a beneficiary of nepotism.
Following the success of Euphoria, industry insiders say Levinson aimed to make something even more shocking and exploitative.
Tesfaye, who makes an underwhelming acting debut, is a Canadian R&B giant who brags endlessly in his songs about his drug-taking and sexual prowess. Levinson was reportedly inspired to create the show when Tesfaye told him his fans were so devoted to him he could start a cult. The two men then teamed up with ex-nightclub promoter Reza Fahim.
This testosterone-fuelled trio hardly seem the ideal candidates to tackle the music world's misogyny with tact and sensitivity, but HBO needed a follow-up to its dynastic black comedy Succession, and Levinson was a reliable hit-maker.
Yet while Succession enjoys sharp writing and an outstanding cast, The Idol relies on cynical shock value to make up for poor acting and a cringingly bad script.
In the first episode alone, having brushed aside an 'intimacy advisor' who suggests she shouldn't be exposing her breasts in a photoshoot, Jocelyn meets Tedro in a nightclub, almost has sex with him on a staircase, then goes home and chokes herself while touching herself.
Her best friend and assistant (a lone symbol of humanity) warns her that Tedro seems 'rapey'.
Jocelyn cheerily replies: 'I kinda like that about him.'
In the second episode, Jocelyn arrives three hours late to rehearse a music video — set in a strip club. The make-up artists have to paint over the self-inflicted knife wounds on her inner thighs. The boss of her record company declares: 'Mental illness is sexy.'
That night, she has more perverted sex with Tedro, whispering to him: 'I want you to get that robe from my closet, tie it around my face and **** me till you feel me black out.'
The third episode sees the pair on a shopping trip in Beverly Hills, during which he slaps her several times in the face while they have sex in a dressing room.
When it emerges Jocelyn's mother used to abuse her as a child by hitting her with a hairbrush. Tedro tells her these beatings gave her 'motivation', and sure enough he is soon doing the same.
Poor ratings: The show's cancelation doesn't come as much of a surprise, given both the critical reception and the show's poor ratings
'This is really gonna hurt, but if you push through the pain, it'll be beautiful,' he whispers as she kneels, trembling in terror. After her ordeal is over, she tells him: 'Thank you for taking care of me.'
If that sounds unwatchable enough, it was meant to be even worse. Old friends Levinson and Tesfaye allegedly dreamt up some scenes which were too twisted to be shown. In one, Tedro was to beat Jocelyn until her face is bloody, only for her to smile and ask for more.
Before the series aired, a startling investigation by Rolling Stone magazine revealed that Levinson had taken over after Tesfaye complained that the original director, a woman, had too much of a 'female perspective'.
He also reportedly said he wanted it to be more about his character.
Levinson scrapped the almost-finished series at a cost of up to $75million and started all over again. The 'disturbing sexual content' and nudity were increased at the expense of any meaningful message and, according to one source, 'it went from satire to the thing it was satirising'.
Some have speculated that the series makers were desperate to keep Tesfaye — in whose sumptuous home the film was shot — sweet, so they made him the unlikely object of a beautiful pop star's obsession.
The physically unprepossessing singer-turned-actor didn't have to shed a single item of clothing during his trysts with Depp's character — another detail that has fuelled complaints about the show's chauvinism.
The plot, such as as it is, revolves around Jocelyn (no surname, played by Lily-Rose Depp)
The Idol's production crew were horrified by Levinson's new version, one of them telling Rolling Stone: 'It was like any rape fantasy that any toxic man would have in the show — and then the woman comes back for more because it makes her music better.'
The aim of the series makers, said crew members, now seemed simply to shock.
HBO claimed in a statement that The Idol's creators had been 'committed to creating a safe, collaborative, and mutually respectful working environment'.
Levinson said that some details in the Rolling Stone article felt 'completely foreign' to him but also appeared to welcome the scandal on the grounds it would ensure the show became a hit.
Lily-Rose Depp called the show's endless nudity 'therapeutic'. She said: 'I was never interested in making something puritanical. It's OK if this show isn't for everyone and that's fine — I think all the best art is [polarising]'.
And what of Johnny Depp?
The actor hasn't commented publicly, but a source close to him reportedly said: 'Johnny loves that Lily is carving out a career of her own and challenging herself to take on roles that interest her and test her… He believes that she must be doing something right since the role is getting so much attention, and he is proud of her success.'
Viewers begged to differ with Levinson's promise that The Idol would be the biggest show of the summer. HBO claimed in a statement to have been 'pleased by the strong audience response', while mercifully calling time on a turkey for the ages.
What it means for the careers of those unfortunate enough to have been involved in the project is still uncertain. The Weeknd has returned to touring, while Lily-Rose Depp has managed to land a lead role in the upcoming film, Nosferatu.
After her sexually deranged and violent lover in The Idol, the bloodthirsty Transylvanian vampire should provide some light relief.
Source: Read Full Article