Cal Wilson's cause of death: New details emerge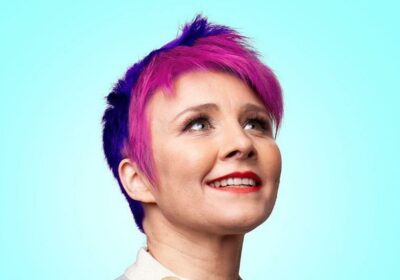 Cal Wilson's cause of death: New details after she was admitted to hospital
Cal Wilson believed to have suffered from aggressive cancer
Was in hospital two weeks before her death
READ MORE:  Who is Cal Wilson's husband Chris Woods?
Australian comedian Cal Wilson was suffering from a rare and aggressive form of cancer when she died at 53, Daily Mail Australia understands.
Wilson was surrounded by loved ones on Wednesday when she passed away at Sydney's Royal Prince Alfred Hospital.
The comedian, who lives in Melbourne, was in Sydney filming The Great Australian Bake Off when she was admitted to hospital.
It's understood Wilson was battling cancer in secret and only revealed the details of her illness to close family and friends.
She was in hospital for two weeks before her death, with entertainment reporter Peter Ford suggesting the cancer was related to her lungs.
Australian comedian Cal Wilson died after a battle with cancer, it has emerged
The 53-year-old seen here on the set of the Great Australian Bake Off prior to her death
In the hours after her death was announced, Great Australian Bake Off judge Darren Purchase  said the comedian appeared 'very sick' the last time he saw her.
'I am sorry this has happened to such a good person, and I cannot get out of my head the last time I saw her when she was very sick,' he wrote.
'I wish I could give her a hug and tell her how much she means to me and so many people.'
Just five days ago, Wilson, who is survived by her husband Chris Woods and her son, Digby, appeared in promotional images for the Melbourne Fringe Festival act, The 50 Year Show.
In a haunting interview on the Bakeology podcast, just months before her passing, her close friend Adam Miller asked Wilson what Digby would remember her for.
The moment suggested that her friends were aware of her battle with cancer, even though she had kept it private from the public eye.
'What do you think Digby will remember you for?' Miller asked.
'I think it will be for pancakes because that's a fairly regular weekend thing,' Cal responded.
She also joked about the amount of fun the pair had during their baking sessions.
'And when you serve the pancakes, you throw them like a frisbee, the first couple, and then if you're going to have maple syrup on them, obviously you don't do that,' she said.
'We make a lot of gingerbread together. Well, we start making it together, and he goes off with the lump of dough as any good child should,' she joked.
Cal said she hoped her son Digby (pictured together) would remember their weekends together making pancakes during a touching interview back in August
She is survived by her husband Chris (pictured on their wedding day) and her son Digby 
Wilson had spoken about her great love for her husband, who works in the education sector. 
'Chris is kind and a man of his word,' Wilson explained earlier this year.
'When he couldn't stay at a gig one night, he told me he had to leave as he wanted to see one of his students run a cross-country. I thought, "Wow, here is a man who has chosen to be a teacher not for the money but because he genuinely loves it",' she added. 
Wilson met him at a bar in the hip Melbourne suburb of Northcote. 
'I was getting over a bad relationship at the time and we met at a mutual friend's gig. I thought, "He could be a great fling". Twenty years later we are still together with a 14-year-old son,' she told The Sydney Morning Herald in July.
Wilson had also worked as a radio and television presenter, actress and author. She starred on TV shows Spicks and Specks, Would I Lie To You and Good News Week.
Tributes for the comedian flooded social media on Wednesday afternoon.
Actress Rebel Wilson said: 'This is so tragic, and my heart goes out to Cal's family.
'I was very, very lucky to work with Cal on multiple projects, especially over the last few years where she wrote brilliant material for me. She was amazingly talented and amazingly kind.'
Cal Wilson also worked as a  radio and television presenter, actress and author
Radio host Myf Warhurst, who frequently appeared with Wilson on ABC's Spicks and Specks, wrote: 'Oh Cal, what utterly devastating news. What a joy it was to be in her magnificent orbit over the years. My love to all who love her x'
The show's host Adam Hills shared his own tribute.
'The news of Cal's death has broken me slightly but the outpouring of love for her has been so heartwarming,' he wrote.
'She was one of life's best people and she made everyone happy. Everyone. Off stage and on. That's how you live a life. May her spirit live on. Love ya Calbo.'
Comedian and TV host Julia Zemiro said: 'Most generous. Most excellent. A huge hole in the Arts community and in my heart.'
The much-loved comedian has been remembered as a 'warm, caring and happy' person by family, friends and colleagues 
READ MORE: Cal Wilson's touching final post 
Source: Read Full Article