Coleen Rooney's real reason for never leaving husband Wayne despite affairs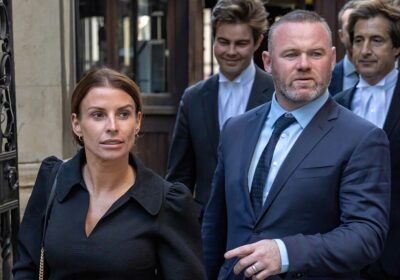 Coleen Rooney has never divorced her husband Wayne Rooney, despite his many cheating scandals – and it seems her religion has played a large part in that. 
The star has opened up about the trials and tribulations of their married life in her new Disney+ documentary, Coleen Rooney: The Real Wagatha Story.
Over the years, Coleen has had to endure numerous cheating scandals, with Wayne already starting to see prostitutes when he was just 16 years old. 
However, in her documentary, she admitted it was after Wayne's third scandal with Laura Simpson that she told him "I can't do this anymore", and moved back in with her parents Tony and Colette.
The scandal in question saw Wayne in a car with "party girl" Laura following a boozy night out and – to make matters worse – the former England player was three times over the drink driving limit when police pulled them over.
READ MORE: Coleen Rooney told Wayne 'I can't carry on' after antics with other women
After spending some time apart, Coleen ultimately decided to stay with Wayne, with pals explaining the reason she decided to forgo getting divorced.
"She loves him, but more than that, she loves family. Most of the time he's a good husband and a hands-on dad," one of Wayne's friends reportedly told The Sun.
"Some years ago after one of his other idiotic drunken sprees she gave him a big lecture and he asked if she wanted to call it a day. 
Don't miss…
Coleen Rooney tearful in explosive new trailer for Wagatha Christie documentary[LATEST]
Coleen Rooney's book 'leaves Wayne concerned' over 'intimate' details about past[NEWS]
Classic cars owned by Eric Morecambe and Wayne Rooney up for sale[UPDATE]
We use your sign-up to provide content in ways you've consented to and to improve our understanding of you. This may include adverts from us and 3rd parties based on our understanding. You can unsubscribe at any time. More info
"She was forced to admit that divorce is not something she wanted to think about."
Coleen is very religious and comes from a Catholic family, which means her divorce would not be recognised in the eyes of her church. 
Reports say she also values keeping her family close above all else, which means splitting them apart is not something she could ever bring herself to do despite her heartache.
In an interview with the Sunday Times, Coleen also said of her bond with Wayne: "We know each other. There's love there, and if there wasn't we wouldn't still be together. So I'm not stupid."
Express.co.uk. has contacted Coleen Rooney for comment.
Coleen Rooney: The Real Wagatha Story launches this week on Disney+.
Source: Read Full Article