Escape To The Chateau's Angel Strawbridge sparks big debate with unearthed snap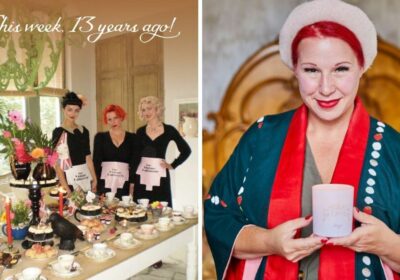 Angel Adoree scolds Dick Strawbridge over chateau renovation
Angel Strawbridge has sparked a heavy debate with her Instagram followers after revealing she was thinking about cutting her iconic red hair.
The 45-year-old, who rose to fame on the Channel 4 property show Escape to the Chateau, posted a throwback image of herself from 13 years ago.
Known for her iconic red barnet, Angel penned: "Well…look what popped up on my Angel Strawbridge Facebook account! The Vintage Patisserie…13 years ago this week."
She added: "On a separate note, this picture caused a big Strawbridge debate: Should mummy cut her hair..?"
Angel said that her husband's response was: "I'll love you whatever length your hair is!"
READ MORE: Simon Cowell 'confronted' by Alan Carr over Britain's Got Talent replacement[LATEST]
This prompted a discussion in the comments section, with many of her 335,000 followers saying she should opt for the chop.
One person typed: "Your hair is iconic no matter how you have it! It'll always grow back anyway, have fun with it."
A second agreed and said: "Yes! Cut your hair! It's beautiful!!!"
A third commented: "Go for it! It's hair and it grows back. Also as a fellow redhead, it does your hair good to give it a really good chop once in a while x."
However, some fans told her to leave her hair alone. One person penned: "Looks lovely short but I think it shows your personality off better when it's long x."
Another fan similarly said: "I think you can do so much with longer hair. So it's a no from me."
Don't miss…
Big Brother embroiled in 'racism' row after Olivia's 'horrid' comments[WATCH]
Big Brother's Kerry in tears as trans contestant Hallie shares health heartbreak[LATEST]
Jack Dee hits out at Big Brother reboot after winning first-ever celeb version[OPINION]
We use your sign-up to provide content in ways you've consented to and to improve our understanding of you. This may include adverts from us and 3rd parties based on our understanding. You can unsubscribe at any time. More info
Angel and her husband Dick Strawbridge captured the nation's hearts for over six years in their Channel 4 show, Escape to the Chateau.
The programme followed the pair as they bought and renovated the historic Château de la Motte-Husson, turning it into a thriving business and family home.
The documentary finished in 2022 and the duo have since moved on from the show.
The final episode brought in 2.5million viewers as they said their final farewells to the beloved French project.
Source: Read Full Article