EXCLUSIVE: Netflix faces the MOST damage amid ongoing Hollywood strike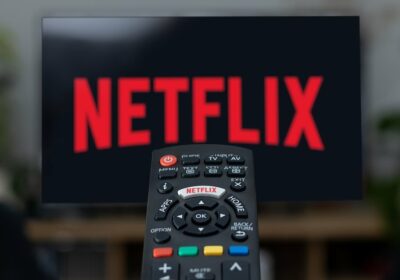 EXCLUSIVE: PR expert warns Netflix could suffer MAJOR damage from strikes because it's viewed as ultimate 'villain' – while rivals like HBO Max and Disney have slipped under the radar
The streaming giant's reputation will be in the gutter in the aftermath of the WGA and SAG-AFTRA strikes, expert predicts
Netflix has been impacted by the ongoing industrial action, which began in May

Rival brands such as Disney and HBO are forecasted to come out less unscathed 
A PR expert has warned that Netflix could suffer major damage to its reputation as a result of the ongoing Hollywood strikes – because it has been positioned as the ultimate 'villain' in the narrative, while rivals like Disney+ and HBO Max go relatively unscathed. 
The streaming giant is one of several to be majorly impacted by the ongoing industrial action, with hugely popular shows such as Stranger Things, Emily In Paris, and Outer Banks on hold until further notice while actors, writers, and crew take a stand against the threat of artificial intelligence and low wages.
The Screen Actors Guild–American Federation of Television and Radio Artists (SAG-AFTRA), which represents approximately 160,000 actors, has been on strike since July 14 after failing to reach an agreement with the Alliance of Motion Picture and Television Producers (AMPTP) over concerns about residuals and the use of AI.
They followed the Writers Guild of America (WGA), which has been on strike since May 2.
Netflix is set to bear the brunt of the reputational damage in the aftermath of the Hollywood strikes due to being painted as the 'villain' over other brands
The Screen Actors Guild–American Federation of Television and Radio Artists (SAG-AFTRA) and the Writers Guild of America are both on strike
While there currently seems to be no end in sight – especially given that the latest offer from the Hollywood studios was rejected by the WGA – PR expert Louise Findlay-Wilson believes that Netflix's reputation will be in the gutter in the aftermath – although she insists the damage won't be 'irreparable.'
Sharing her forecast exclusively with DailyMail.com, Findlay-Wilson, who is the managing director of Energy PR, said: 'Disney and HBO are more established brands with a potentially stronger sense of loyalty from audiences and it is Netflix which is being painted as the villain of the piece. 
'That's never a good position to be in reputationally. It also comes at a time when people are looking for excuses to cut costs and subscriptions – tolerance is low.
'People love brands that align with their values, tie with their identity and become part of their lives, so, when a brand's behavior undermines one of more of these things, that brand will lose the support of that person.
'In this case, Netflix is perceived to be acting unfairly, impacting peoples' livelihoods during a cost-of-living crisis, and risking preventing it from providing what its audience wants – fresh new content. 
'This sort of behavior would be a brand turn off, and for Netflix that turn off could be literal.'
In Findlay-Wilson's view, Netflix has more to lose as the strike rages on because of its high profile. And given that it is a service that is only available on its streaming platform, this could also pose a problem.
While the giant is the biggest producer of original content compared to its rivals, with Media Play News citing that its unique output makes up 37 per cent of all its movies and shows, it could fall into troubled waters given that US production has grinded to a halt. 
Netflix star Sarah Paulson pictured on the picket line outside the streaming giant's office in Los Angeles
Netflix, which is home to hit series Stranger Things, is perceived to be acting unfairly and impacting peoples' livelihoods during a cost-of-living crisis
On the other hand, its rivals HBO and Disney+ both have viewing opportunities outside of its streaming platforms, with both networks having its own cable television distribution. 
'In the short run the strikes are actually reducing costs for these companies,' she pointed out.
'Looking at its latest figures, Netflix's cash flow had improved by some $1.5 billion, thanks to strike-driven cutbacks on content. Similarly, Disney said it anticipated a $3 billion production cost cut due to the strikes.
'Also, Netflix isn't as dependent on content produced in the US as you might think. It has a massive network of international studios to draw on. Some of that foreign language programming has done really well. Added to this, a lot of Netflix content is licensed or old material.'
However, Findlay-Wilson stressed that eventually, all the streamers would be hurt by the industrial action.
'Cushions of stockpiled content won't last forever,' she said. 'They will all need US writers to write and actors to act.'
According to Findlay-Wilson, Netflix's reputation will be more in the firing line than most.
A-List actor Adam Driver took aim at Netflix while promoting his new movie, Ferrari, at Venice Film Festival
'It's the most high-profile player, the disruptor who created this unstable and unsustainable working environment for writers,' she said.
'Given its position, I think Netflix would be well placed to reach a deal – look like they're listening to and wanting to support the industry. I think their reputation would benefit if they did so sooner rather than later.'
Findlay-Wilson's insights come after A-list actor Adam Driver, who appeared in the Netflix film Marriage Story, slammed the streamer for not being 'willing to support' people in the industry. 
While promoting his movie Ferrari at Venice Film Festival, which has been boycotted by many stars during the SAG-AFTRA strikes, the 39-year-old said: 'I'm very proud to be here to be a visual representation of a movie that's not part of the AMPTP and to promote the SAG leadership directive which is an effective tactic which is the interim agreement.
'The other objective is obviously to say, why is it that a smaller distribution company like Neon and STX International can meet the dream demands of what SAG is asking for — this is pre-negotiations — the dream version of SAG's wishlist, but a big company like Netflix and Amazon can't?
'And every time people from SAG go and support a movie that has met the terms of the interim agreement, it just makes it more obvious that these people are willing to support the people that they collaborate with, and the others are not.
'Understanding the interim agreement, it's a no-brainer for all of these reasons why you'd want to support your union, and I'm here because of that: to stand in solidarity with them by showing up, and further proving the point that it's really about the people you make it with.' 
DailyMail.com has contacted Netflix for comment. 
Tommy Dorfman picketed outside the Netflix office in New York City, showing her solidarity for her fellow members of SAG-AFTRA and WGA 
Jane Fonda, who appeared in the Netflix comedy Grace and Frankie, picketed outside Netflix HQ in June
Several Netflix stars have picketed outside the streamer's offices since strikes began, including 13 Reasons Why star Tommy Dorfman, who attended a New York rally just last week. 
Dorfman's appearance at the rally came one month after she opened up on social media about her less-than-acceptable wages for appearing in the teen drama. 
'My earnings for the entire first season of 13 Reasons Why were $29,953.24 prior to agency and manager fees (20 per cent) and taxes. Eight episodes over six months,' she wrote.
'I did all of the promo and had KEY ART for this show, flew round trip from NYC to SF to shoot for every episode, was kept for days without pay/working.
Dorfman also shockingly claimed to 'barely qualify for insurance' while filming scenes.
In June, Jane Fonda, who starred in the Netflix comedy Grace and Frankie for seven series, was joined by her co-star Lily Tomlin at a demonstration at Netflix headquarters in Los Angeles.
Speaking to the crowds, she said at the time: 'If Lily Tomlin, Dolly Parton and I were making 9 to 5 today, we'd be gig workers,' Fonda told crowds.
'Contracted out by one company to another — we probably wouldn't know who our boss was. We wouldn't know who to complain when there's wage theft; we'd likely be working two to three jobs to make ends meet.'
Source: Read Full Article