LOLz! Watch David Beckham Stop Victoria From Lying About Growing Up 'Working Class'!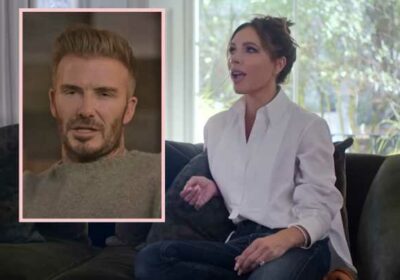 There's a nice tease in the trailer for David Beckham's Netflix documentary, where he pokes his head in to tell his wife to "be honest" when speaking to the cameras.
What was Victoria Beckham fibbing about? Now we know! In a clip that went viral very quickly after the premiere of Beckham on Wednesday, Victoria can be seen trying to claim she grew up poor! POSH Spice, y'all!
She tells the interviewer:
"We were very working… working class."
David pops in out of nowhere and tells her:
"Be honest!"
She claims she is being honest, to which he replies simply:
"What car did your dad drive you to school in?"
Posh hems and haws and tries to evade, but Becks holds her to it. And eventually she admits:
"Okay. In the '80s my dad had a Rolls Royce."
David, knowing he's scored the goal, simply says "Thank you" and disappears again. Amazing. We love how, even after amassing such a fortune, he's still down-to-earth enough to call BS! Watch for yourself (below)!
Tories trying to relate to working class people for the ✨aesthetics✨ #beckham #workingclass #netflix
♬ original sound – meg jepson
Source: Read Full Article