Noel Gallagher spills reason Adele 'riled me' after branding her 'f***ing awful'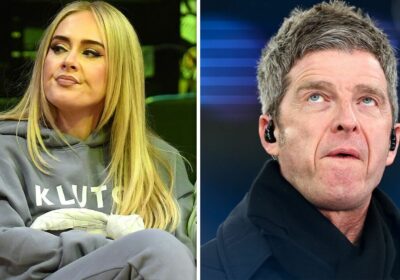 Noel Gallagher has claimed Adele "riled" him by sending an assistant to speak to him on her behalf, after aiming a previously unexplained swipe at the Hello hitmaker.
The Oasis performer addressed the reason behind his brutal comments about Adele's music in a new interview, seemingly accusing her of exhibiting diva behaviour.
Speaking on the Matt Morgan podcast, Noel doubled down and said he had never initiated a row with Adele, before explaining his dig at the Easy on Me singer.
Noel said: "I don't think I have ever gone out of my way to start anything, it's always been a reaction to some f***ing idiot having a go in the first place.
"You know me, I keep myself to myself."
READ MORE: Zoe Ball apologises for 'taking it too far' on air as she overshares issue
However, when the musician was reminded of his scathing comments about Adele, and how she had never been critical of him, he revealed the truth behind his fury.
Noel explained: "No, but she sent someone over to f***ing ask, 'Did I want to meet her?'. That's what riled me.
"I'm not one for causing a scene, I just stick it in the vault and just think revenge is a dish best served cold."
Express.co.uk has contacted a representative for Adele for comment.
Don't miss…
Jimmy Buffett dies aged 76 as family say singer 'will be missed beyond measure'[LATEST]
Scott Mills left 'devastated' as he 'didn't speak to fiancé for six months'[COMMENT]
Madonna performance mistaken for 'karaoke impersonator' as fans left divided[OPINION]
We use your sign-up to provide content in ways you've consented to and to improve our understanding of you. This may include adverts from us and 3rd parties based on our understanding. You can unsubscribe at any time. More info
It comes after Noel launched into a rant about Adele's music earlier this year.
When asked if he's a fan of her music, Noel said: "F**k off, f***ing hell. Name one?
"They're f***ing s**t. It's f***ing awful. It's f***ing Cilla Black. I find it and that whole thing offensive."
Back in 2015, Noel also didn't hold back when discussing Adele, as he fumed: "If someone wants to know what I think of Adele, I'll f***ing tell them.
"I just don't see what all the fuss is about.
"I don't like her music. I think it's music for f***ing grannies."
His remarks followed Adele breaking Oasis' record for releasing the fastest-selling album in UK chart history.
In 2016, Noel aimed further criticism at Adele, after she made her comeback to music with her hit Hello, which reached number one in the charts.
He responded when quizzed about the pop star: "Adele? I'm not a fan.
"She always comes on the radio when I'm having my cornflakes. Hello? No, f*** off!"
Source: Read Full Article