Prince Harry is a 'completely different person since US move' says expert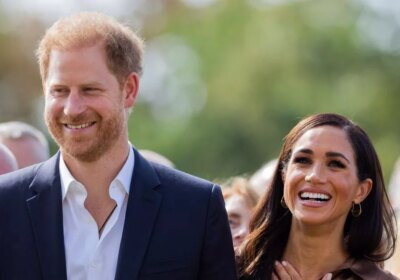 Prince Harry is "more relaxed" and "a completely different person" since his move to the US with Meghan Markle, a body language expert said.
The Duke of Sussex, who was celebrating his 39th birthday on Friday, has "reconnected with himself" and has found a "sense of peace" since he and the Duchess, 42, stepped back from senior royal duties in 2020 and left the UK, Darren Stanton added. The body language expert, analysing Harry's demeanour since the release of his tell-all memoir Spare, said the Prince was "genuinely happy" despite "breaking the mould" to become an "outspoken" Royal.
Darren went on to say that Harry and Meghan, who this week have been putting in several loved-up appearances at the Invictus Games, have 'grown' since the 'honeymoon stage' of their romance and have both "developed their confidence" – with them doing the things they want to do 'individually'.
Speaking on behalf of Betfair Casino, Darren said: "Harry has become a lot more relaxed since moving to the States. He is a completely different person.
"When he was still in the UK, he had to adhere to a lot of the Royal protocols and we get the impression now that he couldn't really be himself."
The body language expert added: "In terms of his body language, we've seen Harry show fewer pacifying gestures, meaning he doesn't feel the need to reassure himself as much as he did when he was a working Royal in the UK."
"There seems to be less pressure on him now and his aura presents that he rarely seems frustrated or nervous when he's in America," Darren concluded.
Going on to speak of Harry's criticisms of the Royal Family in his memoir, Darren said: "Harry has also become a lot more outspoken over the past few years. A member of the Royal Family would never, ever get angry, or display their personal opinion.
"They're always told to follow the words of, 'never explain, never complain'. But Harry has broken this mould, which has given him the chance to be more open and honest with himself.
"You can tell through Harry's body language that he is genuinely happy. It's clear he has a sense of peace now. He's been able to do what he needed to do."
Darren went on to say that Harry and Meghan appeared to have passed 'the head-over-heels, giddy' early stages of their relationship. He said: "They've moved on from their honeymoon period and are now in a place where they love each other, but they both have a lot more independence too.
"In the early days, they often were seen together at every event, and put on quite affectionate displays for the public. We now see Harry attending events alone, while she's the figurehead of her own charity work and organisations. This shows they're no longer in that bubble like the beginning and they've both developed in confidence, allowing them to do the things they want to do individually."
Source: Read Full Article