Queen 'had high hopes' Kate and Meghan would 'spearhead monarchy of future'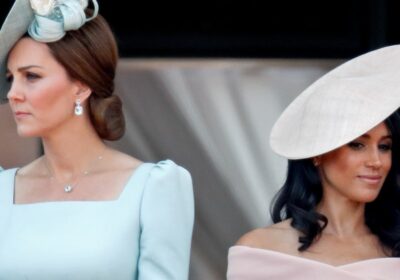 On Friday, the world commemorated a year since the passing of Her late Majesty, Queen Elizabeth II, and royal expert Ingrid Steward has claimed the monarch would likely have had very high hopes for the future of her granddaughter-in-law, Meghan Markle.
Speaking to The Mirror, Ingrid said The late Queen had aspirations for the Duchess of Sussex – who was recently was 'removed' from the Invictus Games schedule amid confusion – to work closely alongside Kate Middleton, wife of her other grandson, Prince William.
Discussing the Sussexes' role within the Royal family, which has seemingly altered since The Queen passed away last year, Ingrid says Prince Harry and Meghan were the "perfect foil" to the Prince and Princess of Wales.
"Prince Harry's place in the royal family has changed dramatically since the death of his grandmother and his father became King," she explained. "Instead of the prominent role, he would have had, Harry was relegated to the bottom of the royal list. Almost but not quite an outsider."
She continued: "The late Queen was deeply saddened when he and Meghan gave up their working roles within the family and left for California with her great grandchildren, Archie and Lilibet. The late Queen loved him. So did Prince Philip.
"Harry was good company and made them laugh. The Queen has always preferred the company of light-hearted young people like her grandson Harry, to that of intellectuals. Harry would be the first to admit that his expensive private school education gave him nothing more than a quick wit and an excellent talent for mimicry."
Ingrid added that both Harry and his American wife Meghan "got it", with the latter having "pressed flesh and hugged the public in an all-embracing way".
She also described them as the "perfect foil for William and Kate" who she adds were "polished and professional but still full of laughter".
The Queen allegedly had promising hopes for the once dubbed "Fab Four", with Ingrid believing she hoped for the quartet to "spearhead the monarchy of the future", which would involve sharing the demanding and sometimes dull duties and assisting Charles.
She said Her late Majesty considered Harry and Meghan to have had "universal appeal", until the "woes of the world and their lives", believing it is then that everything "began to go downhill".
While Queen Elizabeth emerged unscathed from their explosive Oprah Winfrey interview in March 2021, and Meghan's subsequent Spotify podcast, Archetypes, and their Netflix docuseries, Harry & Meghan, the latter two of which were released after her death, royal experts claim she would have been deeply upset by these projects and by the interviews Harry gave to promote them.
"I would surmise that she would have been very disappointed," royal commentator Richard Fitzwilliams previously told OK!. "There was no doubt that she would have perceived it as damaging to the institution of monarchy, especially among the young, so I think it would have aggrieved her."
Royal author Hugo Vickers agrees that the late monarch would have disapproved of Spare, pointing out that she had already tired of Harry and Meghan's stream of revelations in the months that led to her death last September.
"I think the Queen was just fed up with the whole thing," he says. "By that stage, her line was, 'Well, I've done my bit and if you're going to muck it all up later, that's up to you.'
"She was good at compartmentalising and good at getting on with the main job, ignoring things which were painful and difficult, but it must have been awful."
Source: Read Full Article