Travis Kelce's mom Donna thinks Taylor Swift is 'very sweet & down to earth'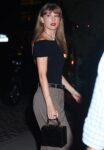 Embed from Getty Images
I never thought I would write this sentence, but here goes: the NFL is being way too extra about Taylor Swift. Yes, it's great gossip for the NFL's handsome, all-American tight end to be romantically involved with America's Snake Sweetheart, but holy yikes. This hard-sell is a real turnoff. There's "leaning into the fun gossip aspect" and then there's whatever is happening here, with the NFL changing their Twitter banner to Taylor Swift, and putting a line about "Swifties" in their bio. By most accounts, Taylor and Travis Kelce have only been seeing each other for a matter of weeks. I doubt it's even been a full month. Let's just take things down a notch, maybe? No? Okay then, let the hard sell continue. Someone slipped some info to People Magazine about how Travis's mom Donna really likes Taylor. Hm.
Taylor Swift has a fan in Donna Kelce! Amid the singer's rumored relationship with Donna's son, Kansas City Chiefs star Travis Kelce, a source close to the Kelce family tells PEOPLE, "Donna likes Taylor and thinks she's very sweet and down to earth."

Swift, 33, reunited with the NFL mom on Sunday at MetLife Stadium for the matchup between the Chiefs and New York Jets. The two were spotted hugging and giggling as Travis, 33, and his team defeated New York 23-20 in a close finish.
[From People]
Mothers of sons: what would you do if your son brought home Taylor Swift after only dating her for a matter of weeks? What would you do if Taylor's romantic history was just a few clicks away and you could see with your own eyes that Taylor always insists on meeting her boyfriends' moms really quickly? I mean… on one side, Taylor is smart, pretty, rich and independent and all of that is great. On the other side, when your son eventually dumps her, she's going to devote a f–king album to how much your son sucks. I guess what I'm saying is that Donna Kelce should play it a little closer to the vest. I don't know if that's possible at this point though – everyone seems overly invested in making this couple happen.
📺: #KCvsNYJ on NBC⁰📱: Stream on #NFLPlus https://t.co/cLJQ8MOopx pic.twitter.com/U6tmmR2oSP
— NFL (@NFL) October 2, 2023
— FOX Sports: NFL (@NFLonFOX) September 24, 2023
Embed from Getty Images
Embed from Getty Images
Photos courtesy of Getty, Backgrid.
Source: Read Full Article