Alexander Volkanovski in tears and has to pause mid-sentence as he opens up on mental health struggles before UFC 294 | The Sun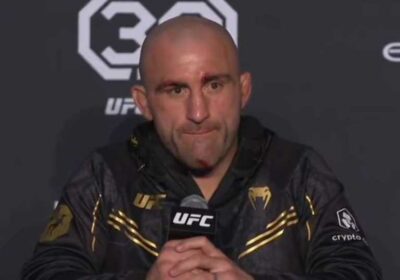 ALEXANDER VOLKANOVSKI was left in tears as he emotionally opened up on his mental health struggles before defeat at UFC 294.
The featherweight champion filled in for Charles Oliveira on just 11 days' notice to rematch lightweight king Islam Makhachev in Abu Dhabi.
Volkanovski, 35, had been beaten by Makhachev, 31, on points in his initial 155lb title challenge in February but beat Yair Rodriguez in July.
And the Australian legend revealed the mental battle he had fought during the three months of not being in training camp.
Volkanovski said: "It is hard. It really is hard for athletes.
"I never thought I'd struggle with it but for some reason when I wasn't fighting or in camp…"
READ MORE IN UFC
BALLS UP
UFC star's testicles 'swell to size of SATSUMAS' after ref accuses him of faking
MAKH OF THE HEAD
McGregor reacts to controversial new footage from Makhachev's UFC 294 win
Volkanovski had to pause to gather his thoughts before adding: "F***, sorry. It (not being in camp) was just doing my head in.
"So when this opportunity came up, I'll be honest I wasn't training as much as I should've, but I thought I had to do it.
"Had to take it. I thought it would be… I was telling myself it was meant to be. I was doing my head in not fighting.
"Don't know why. I've got a beautiful family. I think you just need to keep busy. So I ask the UFC to keep me busy.
Most read in MMA
BALLS UP
UFC star's testicles 'swell to size of SATSUMAS' after ref accuses him of faking
PUSH & PULL
Watch moment UFC ace SHOVES ref after waving off fight with Dana White involved
BLOOD AND CUTS
Volkanovski suffers HORRIFIC cuts as he's KO'd by Makhachev at UFC 294
MAKH DADDY
Islam Makhachev knocks out Alexander Volkanovski with insane HEADKICK at UFC 294
"I need to be in camp or I'm gunna do my head in. I'll leave it at that."
Oliveira, 34, was pulled out of facing Makhachev due to suffering a cut in sparring so Volkanovski agreed to step in on late notice.
He said: "Too many details, so I apologise for that.
"I think it (mental health issues) is a common thing, but it's OK to touch on it a little bit.
"Pretty much all I wanted to get out was that it was about much more than money."

Source: Read Full Article