Arsenal news LIVE: Partey OUT until 2024, Bukayo Saka INJURY updates, Mikel Arteta demands rival bosses to join VAR war | The Sun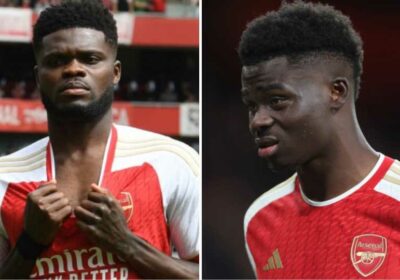 ARSENAL will be without midfield maestro Thomas Partey until at least the end of 2023.
And in more bad news, the Gunners are sweating on the fitness of Bukayo Saka for this weekend as their star man hobbled off injured in the win over Sevilla in the Champions League.
Meanwhile, Gunners boss Mikel Arteta has called for rival Prem managers to join war on VAR.
It comes after Newcastle beat the Gunners via a controversial winner last weekend.
PADDY POWER WELCOME OFFER – Get £40 in free bet builder bets
Follow ALL of the latest from the Emirates Stadium below…
By Cosmo Teare




Arteta provides fitness update

Mikel Arteta has provided a fitness update on his squad ahead of Arsenal hosting Burnley at 3pm today.

He had this to say on the fitness of the squad: : "A few are still in contention. We need to give them 24 more hours to give them a chance to be involved in the game, but we won't know anything until tomorrow. Timber is for sure not [available]. Partey is for sure out & probably Emile [Smith Rowe] is out. There might be a few more."

By Cosmo Teare




Arteta provides Bukayo Saka update

Mikel Arteta has provided an update on the fitness of Bukayo Saka and hopes the winger will not have to miss out on England duty.

He said: "Hopefully not [pull out of England squad]. We want our players to play for their club & play for their national teams.

B [Bukayo Saka] had to leave the pitch because he was in quite a lot of pain. He didn't train yesterday & let's see if he can make it tomorrow."

By Cosmo Teare




Good morning Arsenal fans

Arsenal take on Burnley today at 3pm.

Bukayo Saka is expected to be fit, despite coming off with a knock, but Martin Odegaard is set to miss out.

The game likely comes too soon for Eddie Nketiah too, with Kai Havertz or Leandro Trossard expected to deputise in the false nine position.
By Mark Irwin




Arteta demands best-ever season

Mikel Arteta has told Arsenal they will have to be even better than their 2003-4 Invincibles if they are going to end their 20-year title drought.

The Gunners boss reckons that his team will need at least 96 points to see off perennial Champions Manchester City.

Credit: Getty

Those calculations mean they can only afford to drop seven more points from their 27 remaining League games between now and the end of the season.

Little wonder that Arteta was so upset at last week's controversial 1-0 defeat at Newcastle, which came just hours after City had hammered Bournemouth 6-1.

And it means there is absolutely no margin for error against struggling Burnley at the Emirates this afternoon.

Arteta says: "We are going to need between 96 and 100 points to win this League. This is the target.

"In order to achieve that we will have to play so well and win more matches than this club has ever won before."

By Rob Maul




Prem search for VARs 'capable of self-reflection'

EXCLUSIVE: Refs' chiefs have placed an ADVERT for people to take on football's toughest job as VARs, writes ANDY DILLON.

The PGMOL are hunting for brave souls with little or no experience.

And the job ad is asking for people who can: "PROVIDE clear communication under pressure," and are "capable of SELF-REFLECTION on how they have performed."

"IDENTIFY when VAR needs to intervene," and have the "ability to FOCUS and have great communication skills."

An advert is circulating among around 75 refs at elite level in the men's and women's game to recruit new "Specialist VAR" staff.

It comes as VAR is under the biggest scrutiny since launching in 2016. Arsenal and Liverpool have both issued strong statements this season, demanding reform.

Gunners boss Mikel Arteta branded VAR calls "disgraceful" after Anthony Gordon's Newcastle winner was allowed to stand last Saturday.

Liverpool boss Jurgen Klopp demanded a replay after Luis Diaz's goal was wrongly ruled out for offside in Liverpool's 2-1 defeat at Tottenham.

And Wolves boss Gary O'Neil accused VAR of huge blunders which have cost his side points.

By Ian Tuckey




Utd and Arsenal linked to Todibo

Arsenal and Manchester United are being linked with Jean-Clair Todibo.

Nice, however, hope to retain the France central defender until the end of the season or beyond.

Credit: Alamy

So say Sport as the 23-year-old shines again in Ligue 1.

Barcelona would be happy if Todibo departed as they have a 20% sell-on clause for their ex-defender.

By Rob Maul




Arsenal's next five games

Here are Arsenal's next five fixtures – four of which come after the international break.

It appears to be a kind run of games coming up for Mikel Arteta's men.

Burnley (H) – November 11
Brentford (A) – November 25
Lens (H) – November 29
Wolves (H) – December 2
Luton (A) – December 5

Ferguson snubs Prem elite

Much-wanted striker Evan Ferguson has signed a new six-year contract with Brighton.

Manchester United were among Prem giants linked with the £100million-rated Republic of Ireland star, 19.

But it's understood Ferguson told Seagulls boss Roberto De Zerbi in the summer he was happy to maintain his progress on the south coast rather than move on.

Now the former Bohemians kid, already capped nine times, is under contract at the Amex until 2029.

His wages are likely to have risen significantly from £20,000 a week.

Refs' chiefs advertise for by VAR the hardest job

EXCLUSIVE: Refs' chiefs have placed an ADVERT for people to take on football's toughest job as VARs, writes ANDY DILLON.

The PGMOL are hunting for brave souls with little or no experience.

And the job ad is asking for people who can: "PROVIDE clear communication under pressure," and are "capable of SELF-REFLECTION on how they have performed."

"IDENTIFY when VAR needs to intervene," and have the "ability to FOCUS and have great communication skills."

An advert is circulating among around 75 refs at elite level in the men's and women's game to recruit new "Specialist VAR" staff.

It comes as VAR is under the biggest scrutiny since launching in 2016. Arsenal and Liverpool have both issued strong statements this season, demanding reform.

Gunners boss Mikel Arteta branded VAR calls "disgraceful" after Anthony Gordon's Newcastle winner was allowed to stand last Saturday.

Liverpool boss Jurgen Klopp demanded a replay after Luis Diaz's goal was wrongly ruled out for offside in Liverpool's 2-1 defeat at Tottenham.

And Wolves boss Gary O'Neil accused VAR of huge blunders which have cost his side points.

By Mark Irwin




Mikel urges crock replacements to 'shine'

Mikel Arteta reckons Arsenal's injury woe could take a fortnight to ease – as he urged fringe players to grab their chance to "shine".

Long-term absentees Jurrien Timber,  Thomas Partey and Emile Smith Rowe are definitely out, Gabriel Jesus, Martin Odegaard and Eddie Nketiah are also missing while Bukayo Saka and Takehiro Tomiyasu are still feeling knocks sustained during the midweek Champions League win against Sevilla.

Ahead of tomorrow's game with Burnley, Arteta said: "I would love to have everyone available, but at the moment that's not the case.

"Maybe in two weeks' time the picture will be better but this is an opportunity for the rest to shine because it's really tough when a player is sitting on the bench and looking at me going 'what are you doing?'

"So this gives them a chance to show how good they are."

By Mark Irwin




'We have to beat Clarets'

Mikel Arteta urged his Gunners side to forget Man City's three-point title lead as they prepare for tomorrow's "must win" home Prem clash with Burnley.

Arteta told his fourth-placed squad: "We cannot be looking at what other teams are doing when we have only played 11 games because things are going to change and the momentum is going to shift.

"But against Burnley we know that we have to win so now we have to focus on how we're going to give our best and deserve to get the three points and then the result will take care of itself."

When Arsenal last won the title under Arsene Wenger in 2004, they became the only team in Premier League history to go an entire season unbeaten yet still only finished with 90 points.

Last season's 84-point tally was the third highest in the club's history yet it still wasn't enough to prevent City from strolling to their fifth League title in six years.

By Mark Irwin




We must be better than our Invincibles

Mikel Arteta has told Arsenal they will have to be even better than their 2003-4 Invincibles if they are going to end their 20-year title drought.

The Gunners boss reckons that his team will need at least 96 points to see off perennial Champions Manchester City.

Those calculations mean they can only afford to drop seven more points from their 27 remaining League games between now and the end of the season.

Little wonder that Arteta was so upset at last week's controversial 1-0 defeat at Newcastle, which came just hours after City had hammered Bournemouth 6-1.

And it means there is absolutely no margin for error against struggling Burnley at the Emirates this afternoon.

Arteta says: "We are going to need between 96 and 100 points to win this League. This is the target.

"In order to achieve that we will have to play so well and win more matches than this club has ever won before."

By Ian Tuckey




Gunners may speed in for Vlahovic

Juventus hitman Dusan Vlahovic could be targeted again by the Gunners in January.

Arsenal boss Mikel Arteta loves the Serb hero's pace and poaching ability.

And Football Transfers report Arteta "would jump at the chance to sign" the 23-year-old "if the opportunity presented itself again".

By Ian Tuckey




Gunners and Red Devils de-Clair an interest

Arsenal and Manchester United are reportedly monitoringJean-Clair Todibo.

But Nice aim to keep hold of their France centre-back until at least the summer.

Credit: Alamy

That's the verdict of Spanish outlet Sport as the £35million-rated star enjoys another stand out season in Ligue 1.

It's also suggested Barcelona would be delighted if Todibo moves on because they have a 20% sell-on clause for their former player.

The 23-year-old won his only cap so far in March this year.

By Ian Tuckey




Blow to Prem giants as Evan signs long Brighton deal

Much-wanted striker Evan Ferguson has signed a new six-year contract with Brighton.

Manchester United were among Prem giants linked with the £100million-rated Republic of Ireland star, 19.

But it's understood Ferguson told Seagulls boss Roberto De Zerbi in the summer he was happy to maintain his progress on the south coast rather than move on.

Now the former Bohemians kid, already capped nine times, is under contract at the Amex until 2029.

His wages are likely to have risen significantly from £20,000 a week.

By Ian Tuckey




Luiz is 'fav option' for Gunners in January

Douglas Luiz is Arsenal's "favourite option" for January.

So says transfer guru Fabrizio Romano as Emirates boss Mikel Arteta reportedly seeks another world-class midfielder.

Credit: PA

Luiz, 25, is back in the fold with Brazil after stunning form for Aston Villa.

Andit's claimed Thomas Partey's latest injury woe has persuaded Arteta to consider bringing in a replacement in the upcoming transfer window.

Romano posted on X: "Arsenal are gonna look again into the midfielders market in January after Thomas injury.

"Understand Douglas Luiz remains the fav option in #AFC list since long time. Arsenal love him but ambitious #AVFC want to keep Douglas. Not easy."

By Ian Tuckey




Aurelien rated as Gunners' dream signing

Aurelien Tchouameni is regarded as Arsenal's ideal signing to partner Declan Rice.

But Real Madrid are reportedly keen to keep the France anchorman, who was previously linked to Manchester United.

Fellow midfielders Mohamed Elneny and Jorginho cold depart the Gunners when their contracts expire in the summer.

And the future of injury-plagued Thomas Partey beyond this summer is also in doubt.

Tchouameni, 23, joined Real from Monaco in June 2022 on a six-year deal.

And Arsenal would need to hike up a huge sum to have any chance of luring him.

By Ian Tuckey




Kai 'could be sold for £35m'

Claims that Arsenal might be happy to offload Kai Havertz have increased.

That's because reports tonight suggest the Gunners would consider accepting £30million for the attacker – despite paying Chelsea £65million for the German in the summer.

There's also speculation midfielder Thomas Partey might be offloaded by the end of last season at the latest.

By Ian Tuckey




Gunners 'scout Zubimendi'

Arsenal watched midfield target Martin Zubimendi help Real Sociedad beat Benfica in Wednesday's Champions League clash, reports say.

The twice-capped Spaniard has been an ever-present in Sociedad's European and LaLiga campaigns this season.

The Gunners have been linked with Zubimendi, 24, for a couple of seasons.

But Barcelona are also said to be keen – as a potential replacement for 143-cap Spain legend Sergio Busquets, 35.

By Ian Tuckey




Gunners 'scout Zubimendi'

Arsenal watched midfield target Martin Zubimendi help Real Sociedad beat Benfica in Wednesday's Champions League clash, reports say.

The twice-capped Spaniard has been an ever-present in Sociedad's European and LaLiga campaigns this season.

The Gunners have been linked with Zubimendi, 24, for a couple of seasons.

But Barcelona are also said to be keen – as a potential replacement for 143-cap Spain legend Sergio Busquets, 35.

By Ian Tuckey




Partey definitely out

Mikel Arteta says Thomas Partey is certain to miss tomorrow's home Prem game with Burnley.

Fellow midfielder Emile Smith Rowe is also unlikely to make it, with long-term injury victim Jurrien Timber still sidelined in defence.

Boss Arteta said: "Timber is for sure. Thomas Partey for sure out.

"Probably Emile is out. There might be a few more."

However, Arteta said of Partey: "He's progressing really well, but it was a significant injury.

"I said hopefully it will be weeks not months and he's working towards that."

By Ian Tuckey




Arteta 'hopes' Saka is fit for England

Mikel Arteta insists he is keen for injury doubt Bukayo Saka to make the England squad.

The Arsenal boss is uncertain if Saka will make tomorrow's Prem clash at home to Burnley after he hobbled off late in Wednesday's 2-0 victory over Sevilla.

And asked if the star winger will be out of next week's Euro qualifiers against Malta and North Macedonia, Arteta said: "Hopefully not.

"We want our players to play for their club and their national team. B had to leave the pitch because he was in quite a lot of pain.

"He didn't train yesterday. Let's see if he can make it tomorrow."

By Ian Tuckey




Gunners again tipped to bid for Dusan

Arsenal are tipped to target Dusan Vlahovic in January.

Emirates boss Mikel Arteta has long been rated a huge fan of the Serbia striker – commonly linked with Manchester United in recent seasons.

Football Transfers say Arteta "would jump at the chance to sign" the Juventus hero "if the opportunity presented itself again".

But Juve would surely be reluctant to sell the 23-year-old now they are back challenging for the Serie A crown in second place.

By Mark Irwin




Gunners again tipped to bid for Dusan

Arsenal are tipped to target Dusan Vlahovic in January.

Emirates boss Mikel Arteta has long been rated a huge fan of the Serbia striker – commonly linked with Manchester United in recent seasons.

Football Transfers say Arteta "would jump at the chance to sign" the Juventus hero "if the opportunity presented itself again".

But Juve would surely be reluctant to sell the 23-year-old now they are back challenging for the Serie A crown in second place.

By Mark Irwin




Arteta breaks silence on Aaron

Arsenal boss Mikel Arteta has spoken out on Aaron Ramsdale's situation – as loanee David Raya continues to keep the No1 shirt.

Arteta said: "I haven't spoken to Aaron about his situation but my door is always open to any player.

"We want what is best for all our players and will always try to do our best to help them.

"But this is a team sport that needs 24 players and they all have a role to fulfil.

"The role you have in August might be very different to the one you have in March, so in my experience making early decisions is not something good at all.

"The team has certain needs and we cannot do that with 14 players. That is impossible.

"So Aaron has a really important role at the club and we want him with us at Arsenal, that's for sure."

Source: Read Full Article