Australian sport has done the right thing regarding the Voice referendum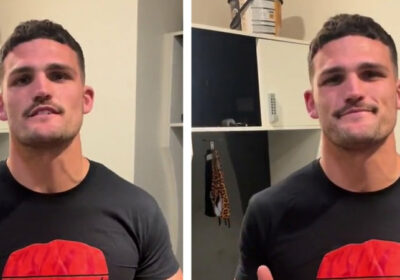 Save articles for later
Add articles to your saved list and come back to them any time.
A word for a moment, on the sporting world's stance on The Voice?
That word is bravo.
Yes, the referendum will likely go down on Saturday, and there will be a lot of nyah-nyah yahboo-sucks from the nyet camp. So be it. I believe that in generations to come Australia will look back on this vote with a mix of horror and amazement that we could possibly have rejected so simple a proposal as "giving the Aboriginal people a say on matters that affect Aboriginal people".
But let the record show that, by and large, Australian sport and sporting champions were solidly behind YES. All the major sports declared and proselytised for yes, as did nearly all of our Indigenous champions from Evonne Goolagong-Cawley and Ash Barty to Cathy Freeman, Adam Goodes and Johnathan Thurston – not to mention a slew of non-Indigenous sportspeople led by the likes of Darcy Moore and Nathan Cleary.
The only sportsperson I can think of who came out against it, who people took even half-seriously was Sam Newman, yes? And when Newman called for people to boo the Welcome to Country at the AFL and NRL Grand Finals a fortnight ago, that call was magnificently rejected.
The unity and beauty engendered by that rejection as Australian sports fans listened to the Welcomes to Country in respectful silence was brilliant.
Nathan Cleary declares support for the VoiceCredit: TIKTOK/@ROYAHSEE
I repeat, the referendum will likely go down. But Australian sport can be proud of the role it played in at least trying for unity and respect.
Fire at will. I care about this, and cannot help but say it.
No Wallabies, but the grand show goes on
And so to the pointy end of the Rugby World Cup.
I am not sure if the shadow that just flitted over my soul is contemplation of the Wallabies recent demise, or comes from them actually passing by overhead on their way home . . . but this weekend will still bring some great rugby clashes.
TFF, in Marseilles as we speak, will be attending Wales versus the Michael Cheika-coached Argentina side late Saturday afternoon.
That's the same Wales, who – did we mention? – put 40 points on the Wallabies a fortnight ago. They will win.
The next day, also at Marseilles, I'll be reporting on Fiji against England, where you must bear in mind that our Pacific island cousins beat England at Twickenham six weeks ago. What a wonderful thing for rugby if Fiji could make it through to the semi-finals. It is unlikely, but possible – helped by the fact it is against nature for such an ordinary English side to make it to the World Cup semis.
Maro Itoje and England have some work ahead of them.Credit: Getty
The other quarter-finals, in Paris, are the truly colossal clashes. It is one of the few failings of this grand tournament that – because the seedings were locked in years ago and are now totally out of date – the four best sides in the tournament are all on one side of the draw. It will see mighty Ireland take on the All Blacks late on Saturday evening, French time.
Ireland has never won a quarter-final in any World Cup, but if there is still any justice in the world they will do it this time. This All Blacks side is a pale imitation of the great All Blacks sides of the past, and should be handed their hats.
And finally, tomorrow, the brilliantly skilled French hosts play a brutal South African side, which will see a real contest of two completely different styles. It will be good for rugby if the jour de gloire for France arrives, and I hope it does.
Eddie can end the drama … if he wants
Which brings us to Eddie Jones, and the ongoing saga of whether he is or isn't going to hook up with Japanese rugby.
Not only has Tom Decent's scoop a fortnight ago – of Eddie liaising with Japanese officials just before the Cup, in Paris, when he is not even a year into his five-year contract with Rugby Australia – not gone away, it gains gravitas with every passing day.
Endless stories in the Japanese media appear to confirm he is the front-runner for the spot. Eddie says he can't control what the Japanese media write.
But yes, you can, Eddie. You need to take a page out of the book of US Civil War general William Sherman, who, when back in the 1860s was asked to run for US President, famously said: "If nominated, I will not run. If elected, I will not serve."
And that would be the end of it.
Put out a statement to the Japanese media: "This is all nonsense. I have never been interviewed, and am not available any time in the next four years."
Boom. Game over. What I can't figure is why, if the stories are not true, you appear to have made no such statement? This is continuing to make Australian rugby bleed. You have to end it, one way or another.
Australian Cameron Smith is one of the stars of the LIV Golf series.Credit: Getty Images
LIV golfers get their money, but that's it
TFF has been bemused by the recent whinges from LIV Golf identities over how their efforts are not being recognised by the Official World Golf Ranking, meaning – as their rankings drift south with every passing month – those with no major wins entitling them to automatic invitations – can neither play majors nor qualify for the Olympics.
Guys, bring it in tight.
When you decided to take your clubs and ball to join LIV; when you decided to leave the tour that had made you and take the blood money of the Saudis, ignoring the stench, that came with a couple of other things.
One was that you were joining an absolutely private golf tour, a closed shop where no one can simply qualify. It was pointed out to you that by joining LIV you would damage golf, and the tour.
Dustin Johnson sprays champagne after his 4 Aces team won LIV Golf Adelaide.Credit: Getty
You didn't care. You had made your choice to take the money, and so you did. You gave up all the rest, the rankings, the glory, the chance of Olympic selection because the money was just too good to knock back.
But now you want back into legitimacy, to a comfy seat in the very clubhouse that LIV tried to burn down?
No. Just, no.
Still, speaking of LIV, may I pose a serious question: does anyone have an update? I know they played a tournament in Adelaide a few months back, but have not heard of them since. I thought Greg Norman told us the new format, and these players, were going to take the world by storm? It hasn't. It is out there, drifting around somewhere I guess, but no one seems to care. It is not rating, making headlines or generating even the tiniest amount of buzz. The players are drowning in money, no doubt, but that's all they've got.
What They Said
Victorious Collingwood skipper Darcy Moore: "I'll be voting yes. To me, I feel like it's an intuitive next step and seems to be an important and practical way to help Indigenous Australians and recognise them in the constitution. There's sort of nothing in there that I'm in the wording of the question that seems to be problematic to me. It all seems pretty straightforward. So I'll be voting yes."
Sir Clive Woodward on our Eddie: "When we started to fall out was that [2019] World Cup final. They played a brilliant [semi-final] game against the All Blacks, but that final was a complete no-show. I don't think Jones ever recovered from that. It was such a massive disappointment; he's never been the same coach since."
Melbourne's Steven May thinks they should have won the AFL premiership: "And I don't want to talk about them constantly. But you know, we lose to Collingwood, and they go on to win the flag, and it f***ing hurts. Because we're a better team than them, we should have smoked them. And to sit there on grand final day and watch them hoist the cup, and get the medals, I'm sitting there going, 'Jeez, our team's so much better than these guys'. We should've been out there, but we weren't." Give him a gold medal in the oldest game of the lot: shoulda-woulda-coulda?
Collingwood's Jordan De Goey with the ultimate look at the scoreboard response: "I guess I'm the one with the medal around my neck at the moment, so that's all I can really say."
Michael Lynagh on the Wallabies: "In Australia, we have a federated system and states are their own little fiefdoms and they don't like each other and don't trust Rugby Australia. There's got to be a change in how we're doing those things. They are big, bold decisions that will not be popular but if we don't there will be real problem in going the same way we're going . . . there's a real possibility of Australian rugby disappearing down a big sinkhole."
Letter from Official World Golf Ranking advising saying it won't recognise LIV tournaments: "Simply put, the board committee does not believe it is equitable to thousands of players who strive every day to get starts in OWGR eligible tournaments to have a tour operate in this mostly closed fashion."
Michael Payne, who was the IOC's director of marketing and TV for 20 years on why cricket – absurdly, in my view – has been let into the Olympics: "The TV revenue from India is currently peanuts. And if you are Thomas Bach at the IOC, with a mission to promote the Olympic movement around the world, you look at your globe and you're doing pretty well except for one glaring geographic hole: India, Pakistan and Bangladesh. And one way to short-circuit that is to put their sporting religion into the Olympic programme."
Ange Postecoglou on Australia as a soccer nation: "I just don't think the nation as a whole has that inside them to understand you can make an impact on the world of football, but it requires a kind of nationalistic approach that I just don't think Australians at their core are really interested in. It's kind of insurmountable, you can't make the necessary steps."
Bryson DeChambeau on how LIV changed golf for the better, no, seriously: "People are going to say that it's sad that we came over here. But . . . we want to continue to change and grow the game in places like Saudi Arabia, like Singapore, like Australia." Yes, mate, such selfless devotion to growing the game, you are the Christian missionaries of your age.
Statement attributed to Josh Addo-Carr after he weighed in to the Middle East situation: "As a proud First Nations man, I saw a message of support against displacement and land rights, and I shared this without full consideration to, or understanding of, the current events happening overseas."
Team of the Week
Ange Postecoglou. Led Tottenham to the top of the Premier League standings.
Oscar Piastri. Australian Formula One driver came third last week and second this week – he also won the sprint race in Qatar. That means he's scheduled to win the next race, the USA Grand Prix.
Jake Fraser-McGurk. Australian cricketer hit the fastest century in List A history. He needed just 29 deliveries for South Australia against Tasmania.
Cricket. Along with flag football, squash, baseball/softball and lacrosse will be at the 2028 Olympics. (And yes, I, too, thought squash had died some time ago?)
Kelvin Kiptum. Set a new marathon world record of 2:00:35. This means he's running 21km/hr for two hours.
Bill Belichick. It used to be an upset if the Patriots didn't win the Super Bowl. Now well into the post-Tom-Brady era, it's an upset if they win a game.
Twitter: @Peter_Fitz
Sports news, results and expert commentary. Sign up for our Sport newsletter.
Most Viewed in Sport
From our partners
Source: Read Full Article