Boxer Ellie Scotney pays tribute to nan after her death aged 99 – whose X-rated antics were cut by TV chiefs | The Sun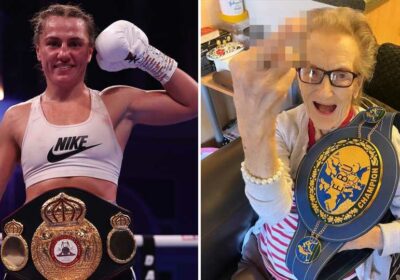 ELLIE SCOTNEY'S nan will have the best view of her world title defence on Saturday, gazing down proudly from heaven with her trademark x-rated two-finger salute.
The 25-year-old super-bantamweight won the IBF belt in June and raced it around to the 99-year-old to complete a lifetime goal and out came her infamous V-sign – not for victory!
Sadly Eileen passed away at the end of August and Scotney's rapid ring return will be about honouring her life and unwavering support.
Dexy's Midnight Runners tune 'Come on Eileen' will boom around Wembley arena, before the bout with Laura Griffa, and Scotney will be even more inspired than usual.
"She's watching from up there now, best seat in the house, but to get it done while she was still here was amazing," she told SunSport.
"There was a panicking stage because last year she had a hip replacement and the doctors were not sure what would happen so we all had to say our goodbyes.
Read More in Boxing
GOING FOR THE DUB
Caroline Dubois has gone from disguising herself as a boy to title fight
I'VE GOT A TEXT!
How to join The Sun's brilliant new WhatsApp channel in three easy steps
"But we said she was like the cat with nine lives, she kept coming back.
"To make sure I got that world title before she passed was everything to me. It's the biggest thing I'm grateful for.
"She was so stubborn, she waited until her 99th birthday and then 10 days later she passed. She wanted to see 100 but we can forgive her the year."
It might seem a tragedy to some that Eileen never made it to 100 and that famous letter from Buckingham Palace.
Most read in Boxing
CHAMP CLEARED
Ex-World boxing champ cleared of sex assault after 'calling waitress "pet"'
SHOCK MOVE
Major rule change for KSI vs Tommy Fury boxing fight just two weeks before clash
'A JOKE'
Tyson Fury's dad says he 'hopes Ngannou is playing possum' after open workout
BOXING BEAUTY
Model turned boxer Avril Mathie stuns fans with glimpse of her vacation