Can YOU guess what sports these celebrities are talented at?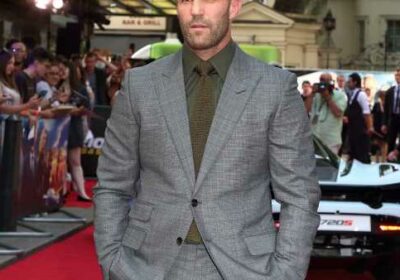 Jason Statham is best known for his Hollywood career, but can YOU guess what sport he represented Great Britain at? And which other celebrities boast secret sporting talents after actor Javier Bardem revealed he used to be an international rugby star
Many celebrities have little-known backgrounds in sporting competition
After Javier Bardem revealed he rugby credentials, MailOnline explores a few
Can YOU guess what Gordon Ramsay, Clare Balding, and Ronald Reagan did?
The world was shocked when Hollywood actor Javier Bardem recently revealed that he used to be an international rugby star. 
It turns out that he played for Spain and only left the sport at 23, going on to win Oscars and fame as an actor. 
It got us thinking: which other celebrities have had obscure sporting pursuits?
From gymnastics to diving to football, it turns out lots of household names have represented their country in years gone by. 
MailOnline looks at the sporting exploits of 10 stars. How many of them did you know about?  
Javier Bardem revealed he played rugby from the age of nine until he was 23
The Oscar-winning Hollywood star played rugby for Spain some 30 years ago
Gordon Ramsay (football)
He might now be known for his delicious meals and outbursts towards unsuspecting restaurant owners, but Ramsay once cooked up a storm on the football pitch. 
Ramsay played for Oxford United in his youth and caught the eye of Rangers, causing his family to move back north of the border so he could train in their youth set-up.
The Beef Wellington magnate even managed a couple of non-league appearances as a trialist and played in a testimonial game, but as with many budding sports careers, injury struck. 
A knee ligament injury ensured he would spend his career in the kitchen rather than the Ibrox pressure cooker, but Ramsay spoke fondly of his old talent.
'I did very well,' he told the Observer Sport Monthly. I was a naturally aggressive left-back, a cut-throat tackler. If you were to compare me to anyone, I guess it could be Stuart Pearce.'
Gordon Ramsay used to train with Rangers as a youngster (pictured playing for Rest of World against England in the 2006 Soccer Aid match)
Gabby Logan (gymnastics)
Perhaps it's no surprise that Gabby Logan, a popular sports presenter, was once on the other side of the equation. 
Logan was an enthusiastic gymnast and represented Great Britain at the 1990 Commonwealth Games in Auckland, finishing 11th in rhythmic gymnastics. 
Unfortunately, she had to retire from gymnastics aged just 17 because of sciatica, but she never lost her passion for sport.
When she went to Durham University, she was a big part of college sport and would sometimes train in the gym alongside Newcastle United players, she told Palatinate. 
Her father, Terry Yorath, won the First Division with Leeds United in 1973-74 and captained Wales 42 times. 
Gabby Logan was once a gymnastics competitor in the Commonwealth Games in 1990
Jason Statham (diving)
It turns out the 1990 Commonwealth Games was a hotbed for athletes who would later have on-screen careers.
Statham represented Great Britain in diving at the competition, eight years before his silver screen debut. 
Sadly he did not walk away clutching a medal, as he finished no higher than eighth across three events. 
'I think what I didn't achieve [in sport] has probably helped me focus more and take my acting career more seriously," Statham told the BBC.
Known as a tough man actor, he also did martial arts when he was growing up.  
Jason Statham competed at the 1990 Commonwealth Games in three different categories
Louis Tomlinson (football)
When Louis Tomlinson was substituted on for Doncaster Rovers' reserves in 2014, he got perhaps the most rapturous welcome a B-team benchwarmer could hope for. 
By this time he was a hugely well-established star after his exploits with One Direction, and he finally got the chance to play for his boyhood club. 
The fans went wild as he was subbed on for his debut and he managed to get a few touches of the ball against Rotherham United. 
Tomlinson grew up supporting the Yorkshire outfit and even launched a failed attempt to buy the club in the same year as he featured for them.
While he never made it as a professional, football was always a passion for the popstar.  
Louis Tomlinson had the chance to show his X Factor playing for Doncaster Rovers' reserves
Uzo Aduba (sprinting)
Aduba's acting career has been a marathon rather than a sprint, having started on stage in 2006 – but that doesn't mean she wasn't a talented sprinter! 
Back at Boston University, Aduba was a dedicated athlete and excelled at 55-metre, 100-metre, and 200-metre events. 
Her time of 7.03 seconds in the 55-metre dash comes just 0.04 seconds off the university's all-time women's record. 
She had inspiring coaches, describing her instructors Bruce and Lesley Lehane in glowing terms. She said: 'Even though we were there as athletes, they really put into our spirits how to take the sport and apply it to becoming good, solid human.' 
Since then, she has built a career across stage, television, and film. She starred in Orange is the New Black, for which she won two Emmy Awards.
Actress Uzo Aduba still almost holds the Boston University women's 55-metre dash record
Mark Wright (football)
TV personality Mark Wright has dazzled under the lights of Strictly Come Dancing,  I'm A Celebrity, and The Only Way Is Essex, but his football career saw him frequent more humble surroundings. 
Between 2006 and 2012, Wright was a non-league body-for-hire, turning up for clubs as luxurious as Heybridge Swifts and Bishop's Stortford. 
His semi-pro career was balanced alongside nightclub promoting, but he did manage to pull on the prestigious national team shirt… with England C, against Bosnia and Herzegovina B in 2008.
After years away, Wright's football career was reignited in December 2020 by nobody other than Crawley Town of League Two on a non-contract basis.
He finally made his professional debut in January 2021 alongside his brother, Josh, as a late substitute in a giant-killing against Leeds, but only played once more before being released the following summer. 
All the sane, he had achieved the dream. After being released from Tottenham in 2005, he had made his professional debut and finally appeared on FIFA with a 47 rating. 
TOWIE star Mark Wright played for Crawley Town in League Two in 2021 after a non-league journeyman career
Clare Balding (horse racing)
Balding has led the BBC's coverage of many sports, but her first and lasting love is horses. 
She was born into a family of horse fanatics – among her parents and close relatives she could count Grand National, Epsom Derby, and Gold Cup-winning trainers. 
Her father, Ian, trained horses for Queen Elizabeth, and in between 1988 and 1993 she was an amateur flat jockey, winning championships. 
Later in life, she has become a patron of the charity Retraining of Racehorses, helping former racehorses find 'a happy and meaningful second career'. 
Clare Balding was born into a family of horse trainers and competed as an amateur jockey
Matt Smith (football)
One of the more surprising revelations on this list is that former Doctor Who frontman Matt Smith used to be a promising youth footballer for Leicester City and Nottingham Forest. 
In fact, until an injury at 16 forced him into pursuing drama, he hadn't even considered a career on acting. 
'I remember crying, because that was all I'd ever invested in. I hadn't really considered acting,' he told Esquire Magazine in 2010. 
He also told Radio 4: 'I felt like I was so certain that that is what I was going to do. It was very difficult for me to tell people that I had been released because the vain part of me was like, I am that and I am the footballer, you know, and at school I was the footballer and suddenly I wasn't that.'
All the same, things went okay for him – at age 27, he became the youngest-ever Doctor Who and has featured in The Crown and House of the Dragon.
Matt Smith, pictured playing football in Doctor Who, was a promising youth player
Mollie King (skiing) 
With The Saturdays, Mollie King scaled the heights of the British charts. 
In the ice cold, she was descending from even greater heights as a downhill slalom skier. 
As a youngster, she was part of the British Children's Ski Team and got to travel the world with them. 
She has talked about how daunting racing can be, speeding downhill at 70mph in the super giant slalom. 
From age 11 she represented the country and later went on to ski for the British Alpine Squad, but she turned down the chance to do it as a career to pursue singing. 
Mollie King, formerly of the Saturdays, was an international skier as a youngster 
Ronald Reagan (American football)
Former US President Ronald Reagan, who died in 2004, was handy on the American football field. 
Reagan played for Eureka College for three years.
Although he never made it to the professional level, Reagan was a life-long fan of the game.  
Fans of old cinema might connect the dots and remember Reagan playing American footballer George Gipp in the 1940 film Knute Rockn.
After leaving university, he worked as a sports broadcaster in Iowa and the rest, they say, is history. 
Ronald Reagan represented Eureka College in American football but never made it professionally
He remained a fan of the game and in this photograph duplicates his style when he appeared in Knute Rockne
Source: Read Full Article