Fans spot Newcastle have been forced to make major change to kit due to little known Uefa Champions League rule | The Sun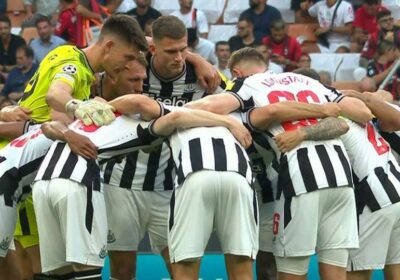 NEWCASTLE were forced to change their kit for their Champions League opener against AC Milan due to a little-known Uefa rule.
Eddie Howe led his side out in Europe's elite competition for the first time in 20 years at the San Siro on Tuesday night.
Follow live updates of the Champions League clash between AC Milan and Newcastle
But the black and white stripes that usually stretch down the back of the shirt – through the players numbers – were removed to adhere with the competition's guidelines.
Uefa's rules state "the area on the back of a playing shirt [is] reserved exclusively for the shirt number" and that the number zone "must extend 2cm above the highest point and 3cm below the lowest point of the two digits, and horizontally 3cm from the left edge of the left-hand digit and 3cm from the right edge of the right-hand digit".
The zone also has to be "free of any team, manufacturer or other identification or advertising".
READ MORE IN FOOTBALL
I'm footie club owner who sold golf balls as a poor kid, now I work with J-Lo
Get £20 in free bets when you stake £5 on football with Ladbrokes
And those on social media could instantly see something about Newcastle's kit had been changed.
One said: "That Newcastle kit looks strange."
While another added: "Something about Newcastle's kit looks weird."
But others were loving the look, with a viewer reacting: "That Champions League edition Newcastle kit is 🔥🔥🔥🔥🔥."
Most read in Football
FAN KNIFED
Newcastle fan stabbed three times by 'pack of thugs' ahead of AC Milan match
DEVIL MAY CARE
Four Man Utd stars in furious dressing room bust-up after Brighton defeat
FOR REAL?
Fans spot 'sickening' sign on side of Forest's stadium as they slam how it looks
EUR JOKING
Newcastle could face Uefa punishment with Champions League plans in chaos
Newcastle have been drawn in an incredibly tough Group F.
FREE BETS – BEST BETTING OFFERS AND BONUSES NEW CUSTOMERS
Alongside seven-time winners AC Milan, Howe's men will also face 1997 champions Borussia Dortmund and French champions Paris Saint-Germain.
Newcastle did not have the best preparation for the Milan clash as their flight was delayed due to bad weather.
As a result, Howe's press conference took place after the 8pm deadline set by Uefa.
After eventually arriving and speaking to the media, the Newcastle boss said: "I believe it was a weather problem, so we were delayed taking off. We were sat on the runway for quite some time.
"It was nothing that's too out of the ordinary for us. We do a lot of travelling in the UK, and it can happen from time to time. We're here now.
"It's just part and parcel of the job that we do. It's not out of the normal that that can happen. This was a weather problem, but we've been in similar situations.
"It's been a long day for us, we had an early start and a late finish. It's been a day of preparation, trying to get all of our game plan right and make sure we're as well organised as we can be for tomorrow's game. It's been intense. As soon as the game finished against Brentford, we immediately turned our attention to this one.
"It's something we're used to, although it's a slightly later arrival time than we would have liked for the players. It's no big deal though.
READ MORE SUN STORIES
Female comedian warned of 10 predators in industry before Brand claims
Major brand quietly starts charging for returns – will you pay more?
"The thought of not coming earlier in the day was so we could do our tactical work behind closed doors. For me, that's so important, that we get our work done and are able to work because it's such a small amount of time between games. It was really valuable that we did that.
"I don't think it impacted the flight schedule, the weather did that. We wanted to train and prepare for the game, whereas if you train here then that goes out of the window."
Source: Read Full Article