Former snooker star who set unwanted record quit sport to become a MAGGOT FARMER and used to be a dustman | The Sun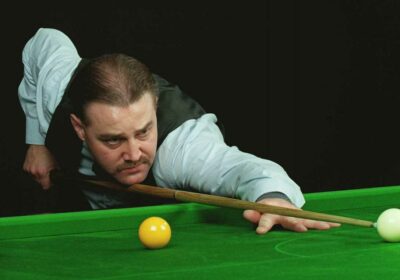 NOT many people can say that they played snooker at The Crucible and also farmed maggots.
But former potter Danny Fowler, 67, can say that he's done both.
Fowler's rise to professional snooker was remarkable in itself.
The potter, from Worksop, only played snooker recreationally from the age of 15 to 20.
He then stopped for a few years while he worked as a miner and local government waste collector.
But returning to the cue in the early '80s, Fowler began finding amateur success – and was able to turn pro in 1984.
READ MORE IN SNOOKER
I'VE GOT A TEXT!
How to join The Sun's brilliant new WhatsApp channel in three easy steps
RON & ONLY
I don't keep my trophies… I'm preparing for death, says Ronnie O'Sullivan
After playing in the 1985 World Snooker Championship, Fowler began working his way up the rankings – ranking 55th in the world for the 1985-86 season.
He would go on to spend an impressive 13 years as a professional snooker player, before retiring at the end of the 1996-97 season ranked 114th in the world.
His best ranking tournament finishes came at the 1989 snooker Grand Prix and the 1989 Dubai Classic – where he reached the semi-final.
But it was at the 1993 World Championship that Fowler picked up a record that he would unfortunately be remembered for.
Most read in Sport
GONE TOO SOON
Tragedy as Sheffield United star dies at 27 after signing new deal
ACE TRAGEDY
Maddy Cusack's death not suspicious, police say as they release update
LLEW BEAUTY
Apollonia Llewellyn almost suffers wardrobe malfunction with Instagram post
PLAYING AWAY
Defoe's wife blasts star's 'lover' who was guest at their £200k wedding
CASINO SPECIAL – BEST CASINO WELCOME OFFERS
He was thrashed 1-10 by defending two-time World Championship winner Stephen Hendry with a record low points tally of 191.
Thankfully for him, that record has now been taken by Luo Honghao who lost 10-0 and scored just 89 to become the worst player in Crucible history.
Speaking to the Jersey Evening post, he detailed his delight at the unwanted record being eclipsed.
He said: "If I'd known I'd have been watching a bit more closely and counting the points.
"I still like following the game but I didn't expect to be back in the news."
He said that drawing Hendry in 1993 was a result of him and a friend having a bet, saying: "I bet my mate a tenner that I'd draw Hendry and of course it happened. He completely out-played me for nine frames and I spent the night telling myself I just had to avoid a whitewash, which fortunately I did."
While some ex-snooker players like Lee Hendry now have careers in the media and YouTube, Fowler went in another direction according to The Times.
After retiring, Fowler entered the niche world of maggot farming when he agreed to work on a mate's farm.
Source: Read Full Article