Francis Ngannou trolls Tyson Fury with Simpsons sketch after shocking world with incredible display against Gypsy King | The Sun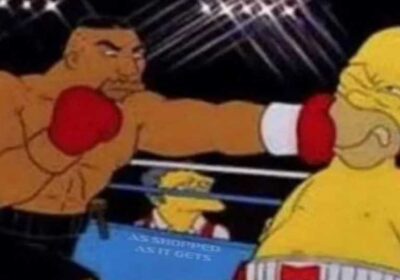 FRANCIS NGANNOU trolled Tyson Fury by comparing him to Homer Simpson.
The former UFC heavyweight came close to defeating the Gypsy King in their crossover fight last month, after knocking Fury down in the third round.
Ngannou has now poked fun at his opponent by sharing a photo which shows him throwing a punch at Fury alongside an almost identical snap of Simpson's character Drederick Tatum punching Homer.
In the Simpson's episode Tatum toys with Homer in a dominant display – and some boxing experts felt Ngannou beat Fury too.
Boxer Chris Eubank Jr said: "Watching from ringside I thought Ngannou won the fight.
"It was close but he was the aggressor, landed heavier shots & scored a knockdown.
READ MORE IN BOXING
HOT WHEELS
Win a stunning Ferrari or £110k cash alternative from just 71p with our discount
BOX OF SURPRISES
Mayweather announces next fight with opponent, date and location CONFIRMED
"Fury deserved to lose after having so much trouble against a man who has never boxed before… too much time filming Netflix specials not enough time in the gym I'm guessing. Unlucky Francis."
Fellow fighter Carl Froch shared the same view, saying: "Ngannou was very very good, I thought exceptionally good for a debutant and I didn't score the fight.
"I certainly watched it, didn't score it but you get a feel for who you think's won the fight and with that knockdown in round three I just think Ngannou's won that fight."
Several fans claimed Ngannou was robbed and England football legend Gary Lineker was in agreement, tweeting: "We've just seen a robbery."
Most read in Boxing
HEAD ON
Tyson Fury and Usyk pulled apart at heated presser after butting heads
FACE THE USYK
Fury vs Usyk finally CONFIRMED with all belts on the line as details revealed
BEN AND DONE IT
Fans say 'this looks SCARY' as Joshua trains with Fury's ex-coach
JOSH BOSH
AJ sent stark warning as Fury's ex-coach says 'they're CRAZY' over fight choice
CASINO SPECIAL – BEST CASINO WELCOME OFFERS
One judge scored the bout 95-94 in his favour but the deciding two officials had it 96-93 and 95-94 for Fury, 35.
Fury landed more punches than Ngannou with 71 to 59 and the Brit felt he deserved to win.
He said: "I am not taking anything away from Ngannou.
"I trained very well and prepared very good.
"But it's boxing where you have good nights and bad and you just need to crack on forward and continue.
"I felt my timing was quite off, I have been out of the ring nearly a year again.
"I had a bit of ring rust, it was not one of my best performances, it was far from vintage Tyson Fury."
Source: Read Full Article