I'm a former French Open champ and US Open tennis star – now I'm pop singer who performed at Live 8 | The Sun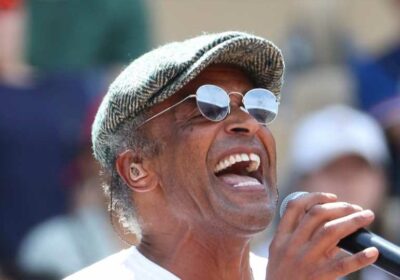 YANNICK Noah has lived two lives – one of a tennis star and another of a singer.
The Frenchman turned to music in 1991, five years before retiring from tennis.
Noah, 63, whose dad was a Cameroonian soccer player, was discovered by Arthur Ashe during a tennis clinic in his father's homeland.
Sports always ran in the family's blood – the tennis icon's son, Joakim, would be a top-10 draft pick and two-time All-Star in the NBA.
Noah turned pro in 1977, at the age of 17, before winning his first top-level singles title in Manila the following year.
During his 14-year career, the 6-foot-4 Frenchman ranked as high as the world's No. 3 in the singles ranking.
READ MORE on Tennis
Brits use wacky ways to refer to money including 'bacon' and 'cheddar'
He also reached the No. 1 in doubles, enjoying the most success alongside Henri Leconte.
Noah won two Grand Slam titles – one in singles (1983) and the other in doubles (1984).
Both came at Roland-Garros where to this day, no other Frenchman has claimed the singles title since the start of the Open era.
Four decades later, he returned to France's sacred tennis ground to perform his music: a mix of African pop and reggae.
Most read in Sport
DEVIL MAY CARE
Four Man Utd stars in furious dressing room bust-up after Brighton defeat
EUR JOKING
Newcastle could face Uefa punishment with Champions League plans in chaos
double trouble
Star's lunge leaves TWO rivals in agony as fans demand 'life sentence'
PAEDO COACH
Paedo football coach who abused more than 20 boys at top clubs dies aged 69
"I lived my best moment here," Noah said later before the gig, per The New York Times.
"I have memories everywhere here, including my first kiss."
Noah won 23 ATP titles in his tennis career.
But in its later stages, his focus shifted toward music – so much so that when he lost matches, he would sometimes joke he was just a singer.
Now, sports and music make for two distinct and very different phases in the Sedan-born legend's life.
In 2005, his music talent even allowed him to join the likes of U2, Madonna, and Robbie Williams in performing at Live 8 – a string of benefit concerts that fundraised money to fight poverty in Africa.
"Once every 10 years, you know, they remind me I was a tennis player," Noah said earlier in 2023.
Source: Read Full Article