Joe Cordina: Covered in goosebumps, backed by God, surrounded by gold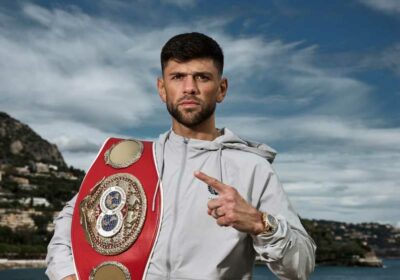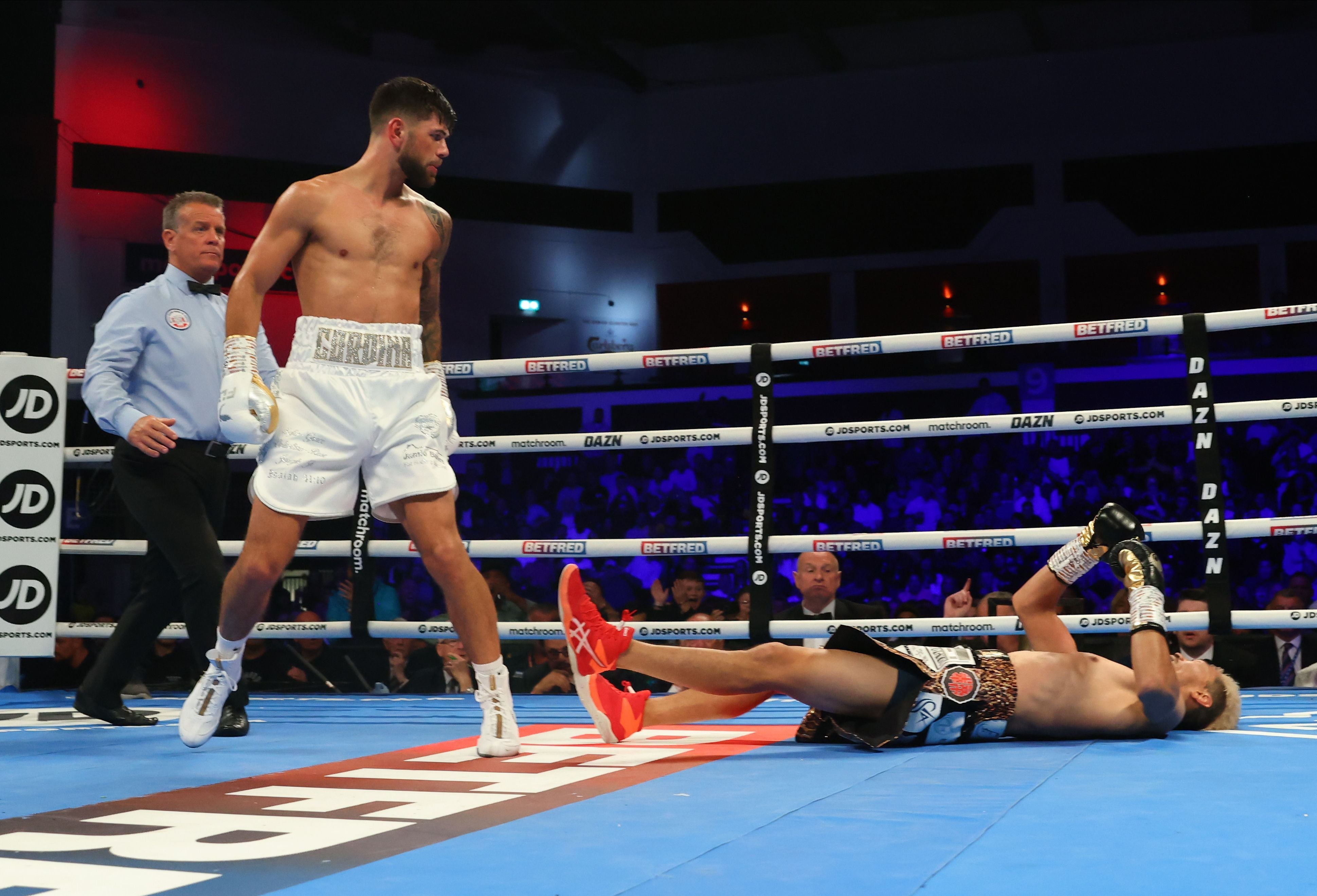 Cordina floors Kenichi Ogawa with a brutal right cross in 2022
Cordina has certainly become a better boxer, building on a promising amateur career to compile an unbeaten pro record and, in June 2022, winning the IBF title. Cordina may aspire to a place in heaven but, make no mistake, it was a right hand from hell that obliterated Kenichi Ogawa that night. Matchroom chairman Eddie Hearn tells The Independent: "When you start ticking all the boxes to be an all-round fighter … Some people said, 'Oh, I don't know if he carries the power,' then he delivers the knockout of the year."
Cordina was denied his first title defence, five months later, after suffering a hand injury. The Welshman was stripped of his belt, but he would soon get a shot at new champion Shavkat Rakhimov, in April. "[After the Ogawa knockout], it's, 'Yeah, but he's a bit of a pretty boy, isn't he? Is he actually very tough?'" Hearn continues. "Then he fights Rakhimov in a war, in a fight of the year." Cordina emerged a split-decision winner, making it back-to-back title triumphs in his home city of Cardiff.
"Plus, he's got all the amateur credentials and attributes," Hearn says. "He's a family man, from Cardiff, man of the people, good-looking kid, carries himself well." Frank Smith, CEO of Matchroom, agrees: "He's a standout star from a lot of those amateurs who came through. He's not just got the ability and skillset, he's got the looks – which are a big part of it – and the personality to go even further than he has right now. We've just got to deliver him the big fights, a stadium fight."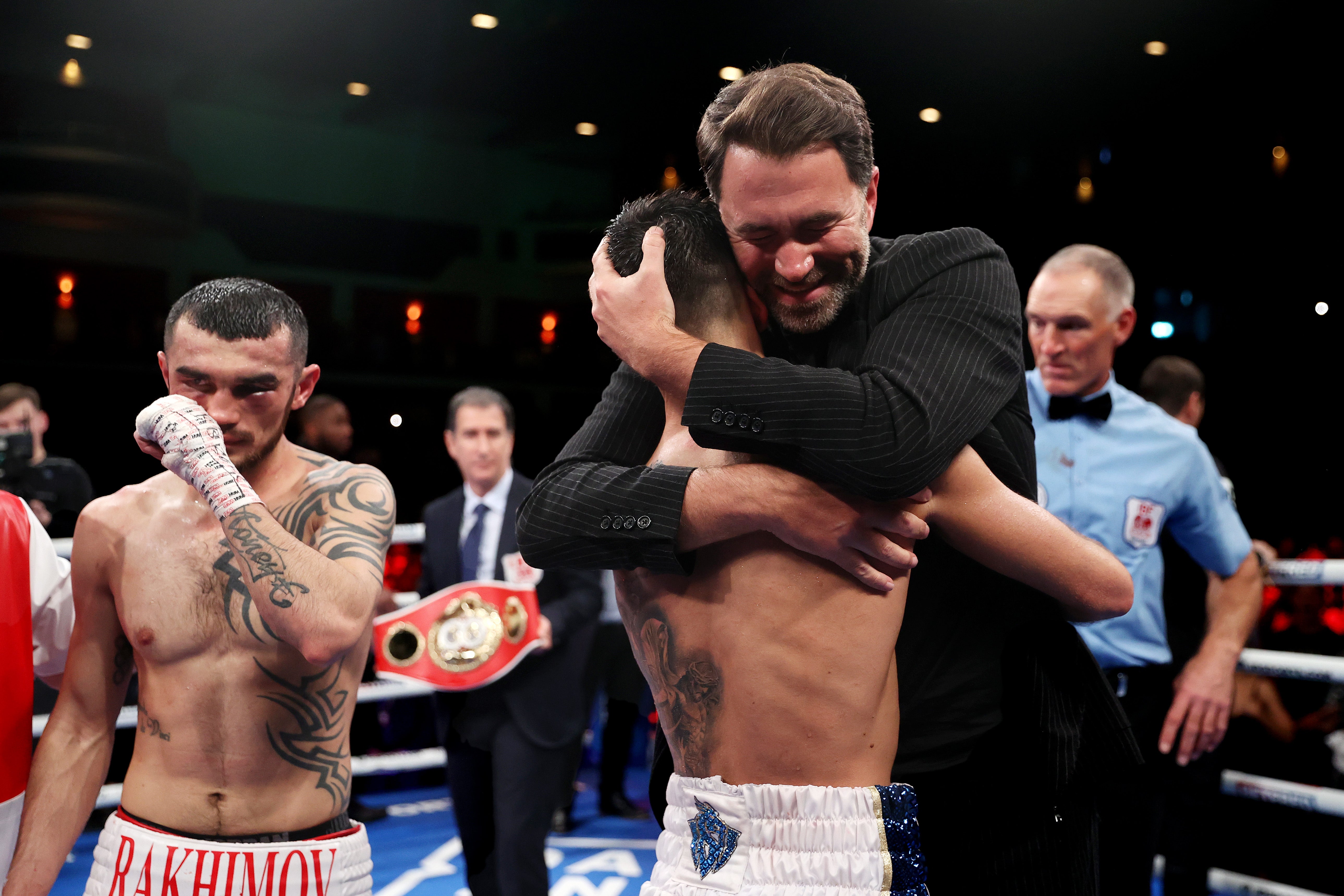 Eddie Hearn congratulates Cordina on his victory over Shavkat Rakhimov
A stadium fight in Cardiff would ink Cordina into the pages of Welsh sporting folklore, if he is not already there. "I'm the 13th Welsh world champion. I looked at all of them before me and thought, 'I'd love to be there,'" he says. "Now I'm one of them. You go into a gym and people go, 'There's Joe Cordina!' They want photos with you."
One of the very champions whom Cordina looked up to, Barry Jones, now looks on with pride. "For Cardiff, I was their last world champion, which was in 1997, so it'd been a long wait," Jones says. "We've had some fantastic fighters, but they couldn't get over the line, so when Joe challenged Ogawa and when he landed that shot – of all shots – it was one of the proudest moments of my life, I have to be honest. Boxing's been in my life as long as I can remember, and I take joy out of my own career before anyone else's – as we all do – but I am patriotic, especially when I have a connection, which I do with Joe through a family friend. The night Joe won a world title, I hadn't been so happy for someone else doing so well since my other friend called Joe – Calzaghe, of course."
As Jones acknowledges, Cordina is "pivotal for Welsh boxing at the moment". "It went a little bit flat for a while, let's be honest," Jones says, "but other fighters can build off Joe and relate to him." The 49-year-old, who held the WBO belt in Cordina's division, also references Cordina's faith as a reason for his relatability among a segment of fans.
And so, we come back to religion, and its importance to Cordina. "You thank God every day, whether things go right or badly," Cordina says. "We're always thankful when things go right, but not when they don't go our way. Some people are afraid or embarrassed to pray when people are watching. I don't give a s***, that's my religion. [But] it's not like I'm going into a fight thinking, 'Please, God, help me'; he's already protecting me. I'm blessed. He's put me in this position for a reason, it's not a fluke. I've trained hard, I've done all the work, and he's got my back."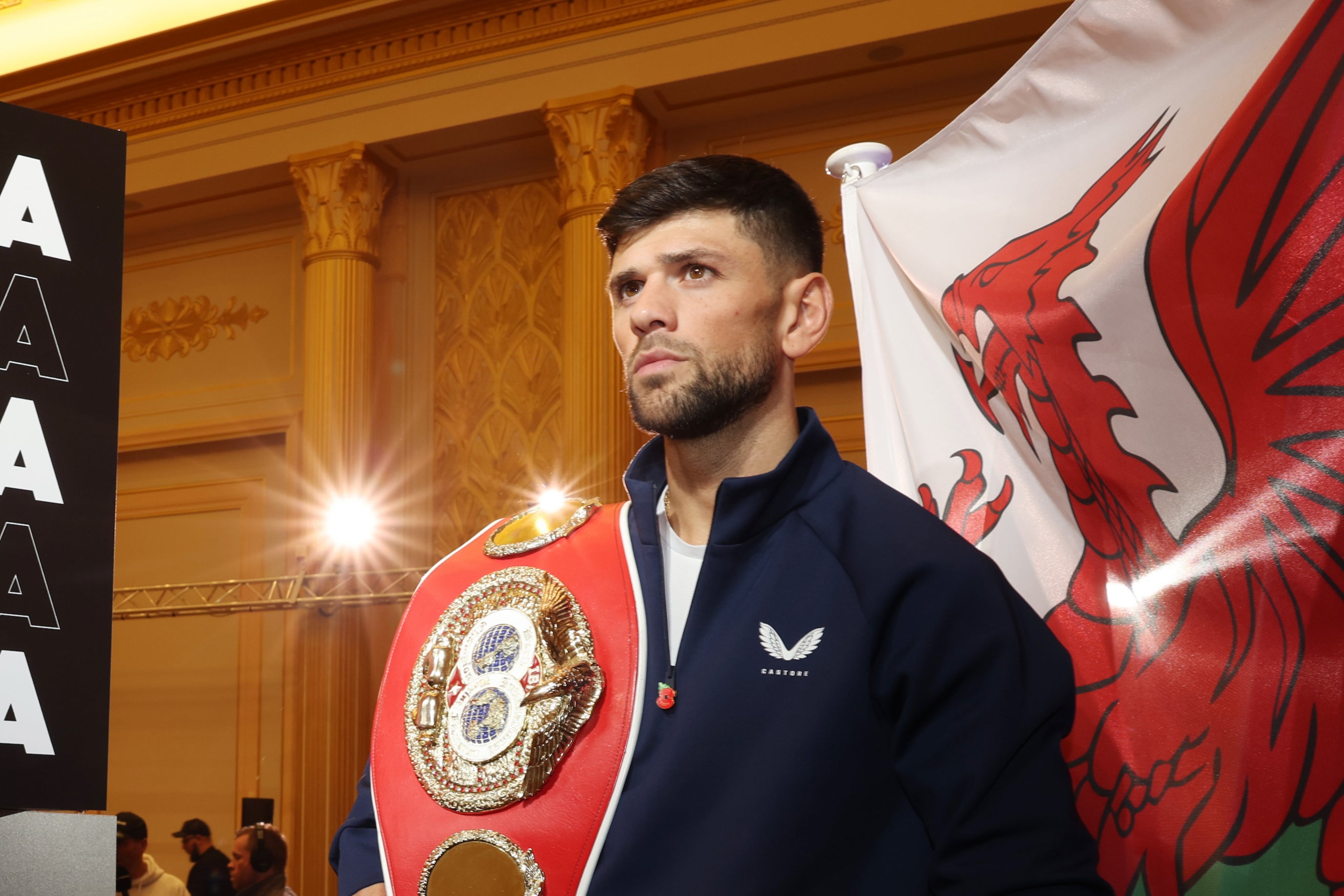 Cordina at the press conference for his title defence against Vazquez
Cordina derives "power" from that feeling, and also from his children. The father of three says: "As long as I'm thinking of my kids, that gives me power. I saw something the other day: 'You do everything as though your kids don't owe you anything.' Even if you invest hundreds and thousands into them, they don't owe you anything. As long as they have good morals and respect… obviously, they get to an age where they start drifting off and there's not much you can say, but if they respect me as a father, that's all I want.
"I said to my wife the other day when I was home: 'At this present moment while I'm fighting – only for another two or three years – I can't commit to you and the kids [like I want to]. I just can't do it.' I don't know if it's me feeling weak, because I go home and sit with my kids and don't want to go back to camp, but I know that my sacrifice is going to set them up for life. But all you're trying to do is make them better people – better than you are.
"Whether I'm a world champion or not, it doesn't matter, as long as I did everything I could as a father."
Note: Article first published on 3 Nov 2023; updated on 9 Nov 2023.
Source: Read Full Article