Lewis Hamilton slapped with huge fine for dangerously breaking F1 rules during Qatar Grand Prix | The Sun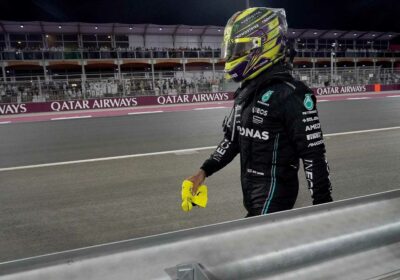 LEWIS HAMILTON was fined a whopping €50,000 for walking across the race track following his first lap shunt with George Russell.
Half will be suspended, so long as he does not make the same mistake between now and the end of the year.
It means that €25,000 of the total fine, which was worth about £43,000, will be heading to the FIA coffers.
Speaking of the FIA, their lavish end of year gala is still due to be held in Baku, despite growing political tensions with Azerbaijan's neighbours, Armenia.
Hamilton crashed out of Sunday's Qatar Grand Prix after colliding with Mercedes team-mate Russell at turn one.
He was forced to retire from the race on the opening lap, while Russell went on to finish fourth despite suffering damage to his car.
Read More on F1
FASHION WEEK
Lewis Hamilton leaves fans stunned with outfit choice at Qatar Grand Prix
SPORTY
Win a stunning Audi RSQ3 Sportback + £1,000 or £47,500 from just 80p with our code
After the race, the seven-time world champion took full responsibility for the incident.
He told Sky Sports: "I think we are a great team. George and I still have a great relationship. We will discuss things and work away.
"I'm happy to take responsibility as the older guy. I don't think George had anywhere to go at that point.
"I was trying to get ahead of both of them and just an unfortunate situation. I had the worst tyre of everyone around me, so I needed to try and get ahead. Big risk, big penalty."
Most read in Motorsport
'all my fault'
Hamilton apologises to Mercedes and team-mate Russell after Qatar F1 crash
HEAT AND MISS
F1 star VOMITS in helmet as rival rushed to medical centre in Qatar GP farce
TON DONE
Hamilton CRASHES into team-mate in Qatar GP first lap as Verstappen wins again
FASHION WEEK
Lewis Hamilton leaves fans stunned with outfit choice at Qatar Grand Prix
He later tweeted: "I've watched the replay and it was 100% my fault and I take full responsibility. Apologies to my team and to George."
Max Verstappen went on to win the race, with McLaren's Oscar Piastri and Lando Norris taking the other two spots on the podium.
Source: Read Full Article