Marathon 'disqualifies eleven thousand runners after trackers showed mass cheating using CARS mid-race' | The Sun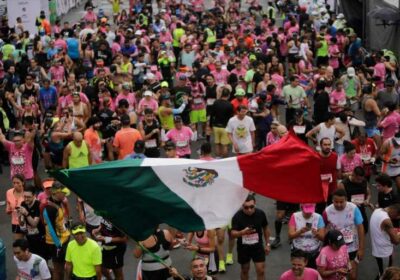 ORGANISERS of the Mexico City Marathon have disqualified 11,000 runners for cheating.
An investigation of the electronic trackers worn by the participants found that thousands had cheated during the race.
In total, 11,000 runners from the 30,000-strong field have been disqualified by the organisers.
Methods used to cheat included using cars and public transport during the race.
According to Marca, the trackers were investigated following a number of anonymous complaints that runners had failed to complete the course.
An investigation was subsequently launched by the Mexico City Sports Institute.
READ MORE SPORT NEWS
Adam Peaty in horror punch-up with Team GB teammate over ex-girlfriend jibe
Get £30 in FREE BETS when you place any amount on any sports market with Sky Bet
"The Mexico City Sports Institute informs that it will proceed to identify those cases in which participants of the XL Mexico City Marathon Telcel 2023 have demonstrated an unsportsmanlike attitude during the event and will invalidate their registration times," read a statement.
"This great event not only represents an outstanding celebration for all the inhabitants of the capital, but also an occasion to reaffirm the transcendental values of sport."
Some runners have claimed that their trackers were not working properly and that they did not cheat.
Instead, they argue that the faulty trackers caused their times to be recorded inaccurately despite passing through the checkpoints.
Most read in Other Sports
MUSCLE MAN
All you need to know about Ross Dickerson
'CARNAGE'
Adam Peaty in horror punch-up with Team GB teammate over ex-girlfriend jibe
ACE IN THE PACK
I used to be chess player – in my new career I travel and play with Neymar
SHELF LIFE
I'm an ex-darts world champ but now stack shelves at the Co-op for £9 an hour
FREE BETS – BEST BETTING OFFERS AND BONUSES NEW CUSTOMERS
It is not the first time that thousands of competitors have been disqualified from the Mexico City Marathon.
6,000 runners were kicked out in 2017 after 20 per cent of the field failed to complete the course.
A year later, 3,090 runners had their race results annulled by the organisers.
This year's race, which was the 40th anniversary edition, was held in the Mexican capital on August 27.
Bolivia's Hector Garibay won the men's race with a time of 2:08:23, meanwhile, Kenyan Celestine Chepchirchir won the women's race in 2:27:17.

Source: Read Full Article