Newcastle break silence on Sandro Tonali as £55m star faces ban over gambling addiction | The Sun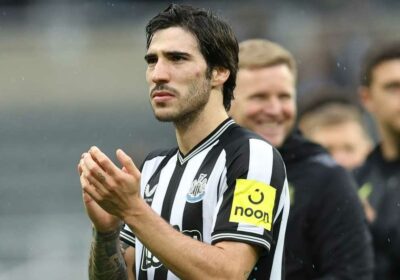 NEWCASTLE have released a statement regarding Sandro Tonali's potential ban for breaching betting regulations.
Tonali is subject to a wider investigation into several high-profile Serie A players allegedly breaching betting rules.
Both Tonali and Aston Villa's Nicolo Zaniolo were sent home from the Italy squad during the international break after being questioned by Italian police ahead of their games against Malta and England.
Tonali and Zaniolo are at the centre of the investigation alongside Juventus midfielder Nicolo Fagioli.
The Juventus man has received a "12-month disqualification," five of which "will be commuted to alternative prescriptions."
The midfielder has been fined nearly £11,000 and must "participate in a therapeutic plan lasting at least six months and in a cycle of at least 10 public meetings, to be held within five months."
READ MORE ON FOOTBALL
BIANC SPACE
Former Sky Sports Soccer Saturday star lands 'dream job' two months after exit
CLEAN UP
Trent says I'm his toughest opponent… now I have no club & run a cleaning company
Should Tonali be found guilty of breaching Italian regulations, he could also face a ban.
Newcastle's statement reads: "Newcastle United can confirm that Sandro Tonali is subject to investigation by the Italian Prosecutor's Office and Italian Football Federation (FIGC) in relation to illegal betting activity.
"Sandro is fully engaging with the investigation and will continue to cooperate with all relevant authorities.
"He and his family will continue to receive the club's full support.
Most read in Sport
'UNBELIEVABLE'
Fans think Southgate has unlocked 'cheat code' after tweak destroys Italy
A PIZZA CAKE
England book Euro 2024 spot in style as Bellingham runs rings around Italy
POST HASTE
Ex-Man Utd target SUSPENDED over social media post month after joining new club
NEV-ER BETTER
Gary Neville told he 'owned the chair' in 'utterly brilliant' BBC debut
"Due to this ongoing process, Sandro and Newcastle United are unable to offer further comment at this time."
Yesterday, Tonali's agent Giuseppe Riso confirmed that his client is a gambling addict and hopes that the scandal could be the wake up call to "save his life".
Speaking outside the Italian embassy in London, Riso said: "Sandro suffers a gambling addiction. He's fighting to avoid that and I'm sure he will win this difficult game.
"He is in shock, he is shaken and sad. I hope that this experience saves his life and that of many others, that it helps those who fall into the same habit as him."
He added that Tonali remains available to play for Newcastle and said: "Sandro is training, and on Saturday he could also play.
"He understood that he has to face this problem in a determined way. The club is absolutely at the moment on his side."
Riso's statement followed  La Gazzetta dello Sport's report that the midfielder is ready to "collaborate" with FIGC and Turin Prosecutors in the investigation.
It will take up to a month for Tonali's sentence to be delivered as authorities continue to conduct a search of his mobile phone and tablet for evidence.
Following Tonali's interrogation by prosecutors in Turin, he returned to Newcastle on Wednesday and remains available to face Crystal Palace on Saturday and Borussia Dortmund on Wednesday.
Source: Read Full Article