Pat Jennings reveals the truth about those 'big hands'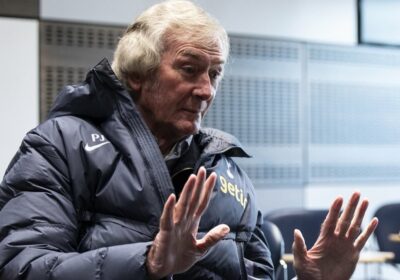 EXCLUSIVE INTERVIEW: As a statue celebrating the glory of Pat Jennings is unveiled, the legendary Northern Irish goalkeeper reveals the truth about those 'BIG HANDS'
Jennings will have a statue unveiled in his honour in his home town of Newry
The 78-year-old starred as part of Bill Nicholson's all-conquering Tottenham side
Listen to the latest episode of Mail Sport's podcast 'It's All Kicking Off!'
Pat Jennings will stand over Newry, depicted at the peak of his powers in the World Cup he feared he would never reach. 
Flowing hair, Northern Ireland goalkeeper's jersey, Copa Mundials laced just the way he liked it, no shin pads, never any shin pads, Uhlsport gloves and one of those famously large hands wrapped around an adidas Tango ball, about to fling it down the pitch.
'They're not as big as people keep saying,' says Jennings, turning his hands to inspect them front and back as he reflects on a legendary career to be honoured with a statue unveiled in his home city on Wednesday.
'They're big but they're not massive. They weren't big enough sometimes.'
He puts the reputation down to two things. One was a photo taken with his arms out and hands up beside his face. 'It looked like this little head and these big hands, you know.'
Jennings will have a statue unveiled in his honour in his home town of Newry, Northern Ireland
The former Tottenham goalkeeper claims his hands 'aren't as big as people keep saying'
Jennings had no broken bones despite playing more than 1,100 games in goal before keepers wore gloves
Jennings' native Newry will unveil a statue honouring him on 8 November
The other was his knack for pulling the ball casually out of the air with one hand. 'That was all timing,' he says. 'I was brought up with Gaelic football because I went to a Catholic school and we weren't allowed to play soccer.  
'I played in midfield, competing for the ball when it came from the back and transferring it to the forwards so you're taking all the knocks and competing against everybody with the hands.
'When I started playing serious soccer there were crosses coming in and people trying to head it and I'm three foot above them like.'
When artist Andy Edwards took measurements for the statue, he found Jennings had hands an inch and a quarter larger than those of Gordon Banks, the England World Cup-winning goalkeeper whom he sculpted for a statue at Stoke City.
Edwards took an impression of Big Pat's palms using dental alginate, and has the prints set into the statue's plinth, which is aptly made from the granite of the Mourne Mountains. The people of Derry can stop in Kildare Street to make up their own minds.
Most importantly, those celebrated hands remain in good condition, despite years keeping goal for Tottenham and Arsenal, and 119 international appearances.
Jennings is seen in conversation with Mail Sport's Matt Barlow at Tottenham's training ground
Banks, who died in 2019 at the age of 81, suffered eight fractures or dislocations in his fingers, thumbs and wrists during his career. Jennings had no broken bones. At 78, there is some stiffness in an elbow from the years of diving around but few complaints and his golf game is strong.
'Unbelievable with over 1,100 games and in the old days with no gloves,' he says. 'We had cotton gloves that were next to useless. When we turned up on a match day and the ball was dry, that was half our problem. Wet ball, nightmare.
'In the last 10 years or so I had the modern gloves. They were different class with the grip on a wet ball. Sepp Maier was the first, the big German. I remember saying to Bill Nicholson, "Any chance we can get some of these gloves?" He said, "What price are they?" Forty pounds they were. No chance.'
Jennings had a pair by the time he led his country into the World Cup finals in 1982, some 18 years after his first cap, won against Wales in Swansea in the same game George Best made his debut. 'Once you get to 35, 36 you're thinking you're not going to make it,' he says. 'Then all of a sudden, we qualified but I had a serious groin injury in January. I was breaking down every six or seven weeks. We got to May and I played one half against Wales, and Billy Bingham came in at half time and said, "Pat that'll do you, you've a month to get ready for Spain". That was how close I was to not making it.'
Jennings conceded only once in three games as Northern Ireland won their group ahead of Yugoslavia, Honduras and hosts Spain, who they beat 1-0, a sensational victory in Valencia despite playing for almost half an hour with 10 men.
'What a night,' he says, but the injury caught up with him and he missed the first game of the second group stage.
Your browser does not support iframes.
The stopper was a crucial part of Bill Nicholson's all-conquering Tottenham team
Jennings, capped 119 times, welcomed Johnny Evans to the ranks of Northern Irish centurions 
When Jennings left school at 15, the idea of professional football had never occurred to him. He was not even playing the game as he started work in a linen factory before joining the timber gang where his father worked clearing a mountainside.
'The sawyer would fell 70-80 100-foot trees,' says Jennings. 'It was my job then to go in with a hatchet and trim all the branches. My dad would come along with a horse and drag them from the top to the bottom of the mountain so they could be cut up and put on the lorry and taken to the saw mill.'
His elder brother, Brian, was a winger who went on to have a successful amateur career, and was responsible for luring him into the youth ranks of Newry Town (now Newry City) when their goalkeeper moved to England in search of work.
'He said, "The goalkeeper's gone, the boys want you down". They probably remembered me from playing in the street league years earlier. I said, "You must be crazy". I brushed it off but the next week he was back. I let him take me down there on a Thursday night, and I trained, played in the team on the Saturday, kept a clean sheet and went from there.'
They won the Irish Junior Cup. The next season, he was in the first team and selected for Northern Ireland's youth team who reached the European Championship final against England at Wembley Stadium in front of more than 34,000.
'Ten days after coming off the mountain I'm playing in the final at Wembley,' says Jennings. All these years later, he wonders about destiny. 'What if the goalkeeper hadn't gone to England looking for work?'
Watford signed him after seeing him at Wembley and a year later, he joined Tottenham as Bill Nicholson freshened up the Double-winning team.
'It was all about winning cups and medals with Bill, and his record at Tottenham speaks for itself. The Double, the first English team to win a European competition. The FA Cup in 1967, two League Cups and the UEFA Cup. What a manager he was, brilliant.'
And, what a goalkeeper Jennings became. Agile, with sharp reactions and courageous in his youth. In one performance for Tottenham in 1972/73, the season he won the Football Writers' Association Footballer of the Year, he saved penalties from Kevin Keegan and Tommy Smith, in a draw at Liverpool on the morning of the Grand National. Bill Shankly remarked that had he been riding at Aintree later he would have put money on him.
There was even a goal by Jennings in the Charity Shield of 1967, scored against Manchester United at Old Trafford.
'One of those miracle things that happens,' he says, although he admits he might be tempted to shoot in the modern game, with goalkeepers regularly well out of their penalty area.
Jennings was a hero for Northern Ireland, Tottenham and then their rivals Arsenal
'Did you see Harry Kane's goal from his own half? The goalkeeper is in no-man's land. I played in 1,100 games and never stuck out of my goal like that.
'Bill Nick would have dropped you for a mistake like that.'
Jennings bridged the divide in north London. After 13 years at Tottenham, he left for eight years at Arsenal before returning without bitterness to White Hart Lane as cover for Ray Clemence, enabling him to stay in shape for another World Cup.
His displays were integral to Northern Ireland's qualification, which was clinched with a goalless draw against England, and he played against Brazil on his 41st birthday at the Mexico World Cup.
By that time, Jennings relied on different goalkeeping strengths.
'Experience,' as he puts it. 'Not only what I could do but what I could get the players in front of me to do. Close the gaps, keep them wide, don't let them inside, all sorts of information to help them to help you and help the team.'
Jennings still works at Spurs, coaching and mentoring young keepers and in ambassadorial roles.
Dispensing wisdom with his impossibly deep voice and exuding the regal serenity that prompted former Northern Ireland boss Bingham to claim that he carried the aura of an ancient Irish king.
Jennings bridged the divide in north London. After 13 years at Tottenham, he left for eight years at Arsenal where he won another FA Cup
To many, he will always represent excellence and reliability. 'My father used to say, "Pat Jennings has never let anyone down",' says Kevin McAllister, one the driving forces behind Friends of Big Pat, campaigners who raised more than £100,000 for the Newry statue. 'He had an ability to reach all communities and he represented us well.'
Jennings has worked for decades, setting out initially with former Wolves striker Derek Dougan, one of them Protestant and the other Catholic, to raise funds for Co-operation Ireland, a cross-community non-political charity dedicated to peace and reconciliation.
Next year will be his 30th annual golf day for them at Royal County Down. He is proud to have worked for nearly 20 years with McDonald's and the Irish FA raising funds for grassroots football. He received a CBE for his efforts this year.
'Should've been a knighthood,' says Gerry Armstrong, a former team-mate at Spurs and Northern Ireland, and goal hero of that win in Spain. 'Pat is a great man, who has achieved so much and given so much and he is so humble he'd never say it.
'He has been a unifying figure and created opportunities for kids so they don't go through what we did growing up.'
IT'S ALL KICKING OFF! 
It's All Kicking Off is an exciting new podcast from Mail Sport that promises a different take on Premier League football.
It is available on MailOnline, Mail+, YouTube, Apple Music and Spotify.
Your browser does not support iframes.
Source: Read Full Article