Rapper 50 Cent makes surprising move to sponsor Welsh Under 14s team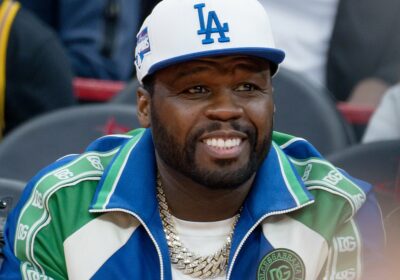 You can find him in da (football) Club! Rapper 50 Cent makes surprising move to sponsor Welsh Under 14s girls team with his brand 'G-Unit', as he follows Wrexham owners Ryan Reynolds and Rob McElhenney's lead
50 Cent is now a sponsor for local Welsh Under 14s football team AFC Rumney

The rapper's name and stable G-Unit will be included on club's away shirt 

Listen to the latest episode of Mail Sport's podcast 'It's All Kicking Off!' 
A Welsh Under 14s team is the talk of the town after bagging a sponsorship from superstar rapper 50 Cent. 
Hot on the heels of Wrexham's Hollywood injection from owners Ryan Reynolds and Rob McElhenney, AFC Rumney's girls side now have the hip-hop mogul's name alongside his stable G-Unit. 
Manager Richie Brown explained the unlikely hook-up is down to one of the player's fathers who worked with 50 Cent on a recent tour and was jokingly asked by parents to see if he would sponsor the local team. 
The Rumney players are buzzing to be associated with such a big name and will wear the kits for their first away trip next week, and Brown explained how the parent managed to bag the deal for the club. 
'He said he would ask the question – worst case scenario was [50 Cent] would have just said no. Thankfully he didn't, he agreed to it,' the club's manager told the BBC. 
50 Cent has sponsored Welsh Under 14s girls team AFC Rumney in a surprising link-up 
AFC Rumney show off their 50 Cent sponsored tracksuits that they'll be wearing this season 
Manager Richie Brown models the Runmey away shirt that will bear the 50 Cent name 
Your browser does not support iframes.
'He sponsored our away kit first of all, and then we were a little bit cheeky. We asked for a little bit more, and he sponsored us again for our tracksuits.'
WHO IS 50 CENT? 
50 Cent – born Curtis James Jackson III in July 1975 – shot to fame after being discovered by rapper Eminem and signed to his label Shady Records.
In 2003 he released his debut album Get Rich or Die Trying and spawned the No 1 single In Da Club as well as 21 Questions, and went 9x Platinum. 
Jackson has since released four more studio albums and set-up is own record label and stable in G-Unit. 
The rapper has also starred in a hatful of notable movies including Escape Plan, Southpaw and Expen4ables. 
He's ventured into the sporting world too, forming boxing promotion TMT, which later became SMS Promotions. 
'We're massively appreciative of everything he's doing for us right now. We love the support.'
50 Cent – real name Curtis James Jackson III – shot to fame in 2003 with his hip-hop classic In Da Club after being discovered by rapper Eminem. 
He has gone on to become one of the biggest rappers in the world as well producing and transitioning into films and television, with him starring in the upcoming Expend4bles movie alongside Sylvester Stallone. 
His involvement with the Welsh team has seen the kids full of excitement for the link-up, but Mr Brown admits the parents are just as excited. 
'I'm sure more of them know who he is than the players because of their ages, but the buzz around the team and the whole club really is amazing and its all down to him,' he said.
'It's huge for grassroots football teams to get people and businesses support us to be able to get better things.'
The local side will be hoping the superstar touch will have the same effect that Wrexham have felt since their Hollywood takeover and see results improve for Mr Brown's side. 
Brown added: 'We've had a bit of a slow start and lost a few games. But hopefully now this can get our confidence back – fingers crossed it brings the results back on the pitch as well. I think Ryan Reynolds has got a bit of competition now.'
Since taking over at the Racecourse, Reynolds and McElhenney have helped the club get promoted from the National League and created a popular documentary telling the story of the takeover called Welcome to Wrexham, which streams on Disney+.  
It follows Wrexham's takeover from Hollywood actors Rob McElhenney and Ryan Reynolds 
50 Cent was initially discovered by Eminem (right) and has gone on to became a megastar 
IT'S ALL KICKING OFF! 
It's All Kicking Off is an exciting new podcast from Mail Sport that promises a different take on Premier League football.
It is available on MailOnline, Mail+, YouTube, Apple Music and Spotify.
Your browser does not support iframes.
Source: Read Full Article