Roy Keane vented his fury about Arsenal and Man Utd players being too friendly before being 'headbutted by fan' | The Sun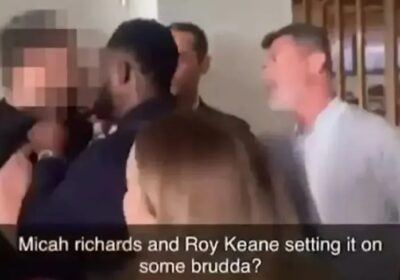 ROY Keane vented his fury about Arsenal and Man Utd players being too friendly before he was allegedly headbutted by a fan.
Dramatic footage shows fellow Sky Sports pundit Micah Richards stepping in and pinning the fan against the wall moments after the alleged assault at The Emirates.
The suspect was accused of aiming a headbutt at the United legend but reportedly struck him on the chest and chin.
Moments earlier Keane slammed the friendly greetings exchanged by the rival teams – with Marcus Rashford hugging England teammates Bukayo Saka and Declan Rice.
He said: "Look, all jokes aside, I am looking in the tunnel there.
"Everyone thinks I am old school, but you don't want to be chatting with people you are going into battle with – because you are going to be kicking lumps out of each other.
Read More Football
Harry can't hide excitement as he joins star-studded crowd to watch Messi in LA
I'm a Prem cult hero & starred at the World Cup… but now I'm a greengrocer
"I'll shake your hand after the game, but not before you go into a battle.
"But hey, maybe these younger players will educate me.
"I'm disgusted with players. You're going to war, they're hugging and kissing.
He added: "Don't even look at the opposition. You're going into battle against them.
Most read in Football
STEPPING OUT
'Shaken' Roy Keane breaks cover after fan 'headbutted' him at Arsenal match
ROY ASSAULT
Roy Keane 'shaken' after 'headbutt' by fan with Sky set to 'beef up' security
SEEING RED
Roy Keane 'headbutted' as Micah Richards holds 'attacker'
VARCICAL
Shock moment ref uses phone in VAR check.. as club demand match is CANCELLED
"The game hasn't changed that much. The players have changed.
"You're going to war against these players, and they're hugging each other.
"Chat to them after the game, or don't even chat to them after the game."
BUTT OUT
Keane, 52, and Richards were waiting for a lift at the members-only Highbury Bar at the top of the West Stand when he was allegedly headbutted.
They had been making their way pitchside during the closing minutes of the tense game to give their post-match verdicts for Sky Sports.
But the pair are understood to have then tried to race back to the studio after Alejandro Garnacho's late goal, which was later ruled out by VAR for offside.
The pundits were eventually escorted down to the pitch, where they were able to continue their broadcast alongside Theo Walcott and presenter Dave Jones.
The alleged attack was caught off camera, but viral Twitter footage showed Richards, who was wearing a black backpack, angrily collaring the suspect.
However, the fan was prevented from inflicting serious physical damage.
Ex-City defender Richards was said to be "acting to defuse a situation", according to a Sky Sports spokesperson.
SEEING RED
Cops confirmed they were investigating the "alleged assault" but said no arrests had been made.
A spokesperson for Sky Sports said: "We understand the police are investigating an alleged assault by a member of the public immediately preceding the footage circulating on social media.
"In the footage seen, Micah Richards was acting to defuse a situation."
A Met Police spokesman confirmed the force has launched an investigation.
A statement read: "Police are investigating following an assault that is alleged to have occurred at the Emirates Stadium during an Arsenal v Manchester United match on Sunday, 3 September.
Read More on The Sun
Spanish seaside you've never heard of with unspoilt beaches & cheap hols
Lottery players warned check tickets NOW as £1million prize goes unclaimed
"There have been no arrests. Inquiries are ongoing."
The off-pitch drama at the Emirates followed a pulsating 113 minute match riddled with VAR controversy as Arsenal beat United 3-1.

Source: Read Full Article